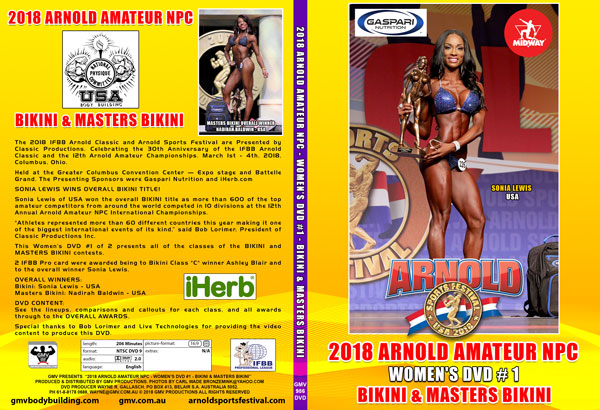 2018 Arnold Amateur NPC Women's DVD # 1 - BIKINI & MASTERS BIKINI

The 2018 IFBB Arnold Classic and Arnold Sports Festival are Presented by Classic Productions.
Celebrating the 30th Anniversary of the IFBB Arnold Classic and the 12th Arnold Amateur Championships.
March 1st - 4th, 2018, Columbus, Ohio.

Held at the Greater Columbus Convention Center – Expo stage and Battelle Grand. The Presenting Sponsors were Gaspari Nutrition and iHerb.com
VIDEO FILES:
YOU MAY ALSO ORDER AN HD VIDEO FILE OF ANY CLASS OF YOUR CHOICE INCLUDING THE CLASS AWARDS, TO BE EMAILED TO YOUR INBOX, US$35 PER CLASS.
EMAIL tina@gmv.com.au for a PayPal invoice.
SONIA LEWIS WINS OVERALL BIKINI TITLE!
Sonia Lewis of USA won the overall BIKINI title as more than 600 of the top amateur competitors from around the world competed in 10 divisions at the 12th Annual Arnold Amateur NPC International Championships.
"Athletes represented more than 60 different countries this year making it one of the biggest international events of its kind," said Bob Lorimer, President of Classic Productions Inc.

This Women's DVD #1 of 2 presents all of the classes of the BIKINI and MASTERS BIKINI contests.
2 IFBB Pro card were awarded being to Bikini Class "C" winner Ashley Blair and to the overall winner Sonia Lewis.


THE COMPLETE COLLECTION OF ARNOLD CLASSIC USA DVDs & DOWNLOADS.
See the COMPLETE 2018 ARNOLD AMATEUR NPC WOMEN'S RESULTS FOR ALL CLASSES.
OVERALL WINNERS - WOMEN'S DVD #1:
Bikini: Sonia Lewis - USA
Masters Bikini: Nadirah Baldwin - USA

Class Winners in Women's DVD #1:
MASTERS BIKINI:
Class A: Nadirah Baldwin (Overall Winner)
Class B: Nicole Tovey
BIKINI OPEN:
Class A: Kristen Paulitzky
Class B: Jodi Fox
Class C: Ashley Blair
Class D: DiAnnelly Aquino
Class E: Larissa Francis
Class F: Sonia Lewis (Overall Winner)
Class G: Brooke Daniels
Class H: Yuliya Dozorcha

DVD CONTENT:
See the lineups, comparisons and callouts for each class, and all awards through to the OVERALL AWARDS.

Special thanks to Bob Lorimer and Live Technologies for providing the video content to produce this DVD.

Running time: 206 mins


2018 Arnold Amateur NPC Women's DVD # 2 - PHYSIQUE, FITNESS, OPEN & MASTERS FIGURE, MODELS.

Christelle Zarovska of the Netherlands won the overall WOMEN'S PHYSIQUE title as more than 600 of the top amateur competitors from around the world competed in 10 divisions at the 12th Annual Arnold Amateur NPC International Championships.
DVD CONTENT: See the lineups, comparisons and callouts for each class, and all routines and awards through to the OVERALL AWARDS. This is Women's DVD #2 of 2.


Complete Results from this Women's DVD:


MASTERS BIKINI:


CLASS A

1. Nadirah Baldwin
2. Brandy Williams
3. Mar Balestasmeza
4. Alice Mendes
5. Crissi Carvalho
6. Rebecca Lee
7. Gina McEvoy
8. Joy Sugahara
9. Lisa Kibler
10. Marinez "Lola" Burnett
11. Annie Possis
12. Ibon Palacio
13. Eunhee Chung
14. Darlene Tommelleo
15. Catherine Rudnick
16. Roselin Carrera
CLASS B
1. Nicole Tovey
2. Kynyetta Lester
3. Alexandra Braun
4. Adrianna Felix
5. Jennifer Lee
6. Wendi O'Brien
7. Caithleen Heffernan
8. Marie-Lise Levesque
10. Mindy Irish
11. Cecilia Aleman
12. Carol Milkins
13. Rebecca Lisska
14. Kerry McNie
15. Amanda Benard
16. Heather Robbins
17. Lilja Ingvadottir
16. Alicia Staneart
16. Veronica Bogdan
BIKINI OPEN:
CLASS A
1. Kristen Paulitzky
2. Erryn Costa
3. Adalheidur Gudmundsdottir
4. Yenirfer Zerpa Pernia
5. Petra Mace
6. Courtney Tidona
7. Sierra Hartwig
8. Valentina Rodriguez
9. Meghan Ede
10. Meghan Polce
11. Karen Pham
12. Bronwyn LeBusque
13. Badamkhand Nyamandeleg
14. Sarah Ziselman
CLASS B
1. Jodi Fox
2. Carolyn Lee
3. Danielle Claypool
4. Adrienne Fraser
5. Breanna Berry
6. Siri Streeter
7. Jessica Arruda
8. Gina McEvoy
9. Eunhee Chung
CLASS C
1. Ashley Blair
2. Melanie Cyr
3. Tanya Aziz
4. Marisol Sosa
5. Anastasia Smith
6. Tiffany Nielsen
7. Claire Wheeler
8. Elizabeth Berens
9. Megan Adams
10. Debra Crover
11. Crissi Carvalho
12. Lottie Siann
13. Joy Sugahara
14. Catherine Rudnick
15. Maria Magdalena Behran
16. Orsolya Magyar
16. Michaela Cooperider
CLASS D
1. DiAnnelly Aquino
2. Skylyn Mickler
3. Stephanie Kalms
4. Nadirah Baldwin
5. Pamela Burgos
6. Patrycja Krawiecka
7. Victoria Schlumbrecht
8. DaNee White
9. Jessica Da Costa
10. Cristina Rifo
11. Jacquelyn Gwin Thompson
12. Courtney Whitten
13. Alice Mendes
14. Mar Balestasmeza
15. Chin Wen Hsiao
16. Asta Lilja Solveigardottir
16. Supawadee Pongsua
16. Cloe Benoliel
16. Kat Massie
16. Miriam Reyes
16. Marta Woodkowski
16. Susanne Kovalcheck
16. Kirstie Coleman
16. Diana Leigh Todd
16. Shelly Wilkes
CLASS E
1. Larissa Francis
2. Carmen Dicu
3. Laura Coulsell
4. Capree Robinson
5. Annie Petitpas
6. Elaine Martinez
7. Alexa Epstein
8. Jessica Henry
9. Ariel Jones
10. Tiffany Lynn Solomon
11. Caithleen Heffernan
12. Krishawnda Allen
13. Jessica Halphen
14. Cecilia Aleman
15. Anna Hagley
16. Rebecca Lisska
16. Jeannie Spear
16. Brandie Sharp
CLASS F
1. Sonia Lewis
2. Samantha Hall
3. Bruna Boaventura
4. Olyvia McIntyre
5. Tiffany Laing
6. Irina Nesterova
7. Olena Sanogo
8. Lauren D'Amico
9. Mollie Simecek
10. Suzie Doll
11. Alexandra Braun
12. Rebecca Taylor
13. Daniela Alejandra
14. Kristin Gunnarsdottir
15. Megan Bachelder
16. Veronica Bogdan
16. Bethany Drover
CLASS G
1. Brooke Daniels
2. Sophie Guidolin
3. Etila Santiago
4. Racquel Hutchinson
5. Morgan Glodowski
6. Nicole Tovey
7. Jennifer Lee
8. Mackenzie Corkum
9. Angelica Wetzel
10. Krista Hanson
11. Kate Collins
12. Toccara Brooks
13. Heather Robbins
14. Lorena Aristizabal
15. Paulina Pauls
CLASS H
1. Yuliya Dozorcha
2. Paula Ribeiro
3. Lejla Cosovic
4. Kynyetta Lester
5. Bara Jonsdottir
6. Lyazzat Akshayeva
7. Laurah Hallock
8. Shelby Friday
9. Anastasia Ivanova
10. Karen Perez Ayala
11. Katrina Roy
12. Stephanie Vaccaro
13. Alyssa Brinkley
14. Kelly Yager
15. Kaylin Pyles
16. Wendi O'Brien
16. Lacy Hill
16. Michelle Day
16. Robyn Wilkie
16. Ryen Robinson
16. Elizabeth Nutile
16. Christina Ramirez
16. Sarah Behrensmeyer
*************************************
The 2018 IFBB Arnold Classic & Arnold Sports Festival are Presented by Classic Productions.
www.arnoldsportsfestival.com
www.arnoldclassicbrasil.com.br
www.arnoldclassiceurope.es
www.arnoldclassic.com.au
www.arnoldclassicafrica.com
This Event is Officially Sanctioned by the IFBB Professional League.
President
Jim Manion
Event Promoters
Jim Lorimer
Bob Lorimer
Classic Productions

Meet Director
Arnold Schwarzenegger
Amateur Contest Producers
Bob Lorimer
Mike Davies
Event Chair
Bob Lorimer
Expo & Events Coordinator
Paul Nagle
Expo & Events Director
Kathy Nagle
Director of Communications
Brent LaLonde
Strongman Contest
Dr. Terry Todd
Steve Slater
Public Relations
Lorz Communications
Matt Lorz
Masters of Ceremony
Lonnie Teper
Clint Richards
Head Judge
Steve Weinberger
Photography for Pro DVDs
Jason Breeze jasonbreeze.com
Video footage
LIVE! TECHNOLOGIES
Columbus, Ohio
www.reallivepros.com
The NPC Arnold Amateur
Masters of Ceremony
Shawn Ray
Cory Elzey
Head Judges
Gary Udit
Sandy Williamson
On Stage Expeditors
Rick Bayardi
Andy Bartolovich
Back Stage Expeditors
Cory Elzey
Evette Cano
Photographer for Amateurs
Carl Wade
GMV would like to thank:
Bob Lorimer
Brent LaLonde
Matt Lorz
Shawn Loevenguth
Live! Technologies
Alyssa Messner
NPC News Online
Jason Breeze
Wayne Gallasch for extra video content
2018 Arnold Sports Festival Crew List
Event Producer
Shawn Loevenguth
Assistant Event Producer
Alyssa Messner
Stage Managers
Ashley Harbison
Beth Siracuse
Michelle Blank
FOH Audio Engineer
Steve Jones
Audio Engineer
Kevin Brown
FOH Lighting Technician
Michael Hesmond
Lighting Technician
Jordan Auge
Video Director
Ian Martin
Video Technician
Alex Nowak
Tape Operator
Jim Miller
Camera Operators
Dave Love
Eric Obert
Randy Silcott
Head Carpenter
Dave Steinmetz
Carpenters
Rick Scholz
Shawn Scholz
Set Design
Jocelyn McDaniel
Expo Stage
Site Supervisor
Doug Maynard
Audio Technician
Gus Caulk
Lighting Technician
Matt Reid
Video Director
Casey Payne
Tape Operator
Schehera McKissack
Camera Operators
Art Hearl
Matt Gault
General Technician
Travis Haag
Seth Powell
ENG Team
Jerman Abney
Grant Lawhorn
Tyler Chapman
Jon Ebright
Jeff Martin
Catherine Quamme
Lincoln Meikle
Travis Fishburn
Jarred Lawson
Sarah Manns
******************
GMV Editing
Wayne Gallasch
Ollie Parke
Authoring & Cover Design
Ollie Parke
DVD & Blu-Ray Produced by
GMV PRODUCTIONS
Australia
WEB:
GMV.COM.AU
GMVBODYBUILDING.COM

© WORLD COPYRIGHT 2018.

**********************************

2018 Arnold Classic USA Sponsors:

Presenting Sponsor: Midway Labs USA
Diamond Sponsor: ROGUE Fitness
Gold Sponsors: Animal, HOMAGE, Europa Sports Products, Jan Tana, Optimum Nutrition, VPX
Silver Sponsors: 5-Hour Energy, ALLMAX Nutrition, Blackstone Labs, BlenderBottle, Body Fortress, Bodybuilding.com, BSN, EAS Abbott Nutrition, GAT, Grunt Style, Iso-Sport, Lyft, MET-Rx, MHP, Monster Energy/Monster Muscle, Muscle & Fitness Magazine, Muscle Egg, Musclegen Research, PROSUPPS, Pure Protein, Ricart, Rivalus, Rule One, Sweet Sweat by Sports Research
Bronze Sponsors: Arena District, Black Skull USA, Body Engineers BV, BPI, Concept2 CTS, Inc., Einstein Forearm Bench, ELITE Mobility, Gorilla Wear, Jaybird, Magnum Nutraceuticals, Max Effort Muscle, Phit App, Quest Nutrition, Rich Piana 5% Nutrition, ShoulderSphere, Vital Proteins.