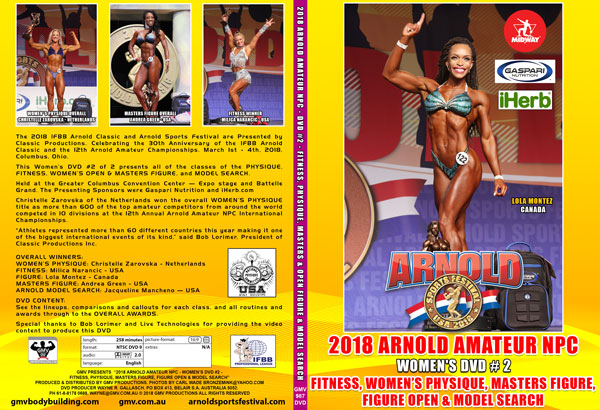 2018 Arnold Amateur NPC Women's DVD # 2 -
PHYSIQUE, FITNESS, WOMEN'S OPEN & MASTERS FIGURE, MODEL SEARCH.
The 2018 IFBB Arnold Classic and Arnold Sports Festival are Presented by Classic Productions.
Celebrating the 30th Anniversary of the IFBB Arnold Classic and the 12th Arnold Amateur Championships.
March 1st - 4th, 2018, Columbus, Ohio.

Held at the Greater Columbus Convention Center – Expo stage and Battelle Grand. The Presenting Sponsors were Gaspari Nutrition and iHerb.com
VIDEO FILES:
YOU MAY ALSO ORDER AN HD VIDEO FILE OF ANY CLASS OF YOUR CHOICE INCLUDING THE CLASS AWARDS, TO BE EMAILED TO YOUR INBOX, US$35 PER CLASS.
EMAIL tina@gmv.com.au for a PayPal invoice.
Christelle Zarovska of the Netherlands won the overall WOMEN'S PHYSIQUE title as more than 600 of the top amateur competitors from around the world competed in 10 divisions at the 12th Annual Arnold Amateur NPC International Championships.

PHOTO GALLERY.
"Athletes represented more than 60 different countries this year making it one of the biggest international events of its kind," said Bob Lorimer, President of Classic Productions Inc.

This Women's DVD #2 of 2 presents all of the classes of the PHYSIQUE, FITNESS, WOMEN'S OPEN & MASTERS FIGURE, and MODEL SEARCH.


THE COMPLETE COLLECTION OF ARNOLD CLASSIC USA DVDs & DOWNLOADS.
See the COMPLETE 2018 ARNOLD AMATEUR NPC WOMEN'S RESULTS FOR ALL CLASSES.

OVERALL WINNERS:
WOMEN'S PHYSIQUE: Christelle Zarovska - Netherlands
FITNESS: Milica Narancic - USA
FIGURE: Lola Montez - Canada
MASTERS FIGURE: Andrea Green - USA
ARNOLD MODEL SEARCH: Jacqueline Mancheno – USA (PICTURED LOWER RIGHT)
DVD CONTENT:
See the lineups, comparisons and callouts for each class, and all routines and awards through to the OVERALL AWARDS.

Running time: 258 mins
Class Winners in Women's DVD #2:
WOMEN'S PHYSIQUE:
CLASS A: Christelle Zarovska
CLASS B: Fabiana Rossa
MASTERS FIGURE:
CLASS A: Michelle Bailey
CLASS B: Andrea Green
CLASS C: Caroline Zawadzki
FIGURE OPEN:
CLASS A: Anne Tran
CLASS B: Ericka Moraes Morgan
CLASS C: Lola Montez
CLASS D: Andrea Green
CLASS E: Asrun Osp Vilmundardottir
CLASS F: Elise Fargie
FITNESS: Milica Narancic
ARNOLD MODEL SEARCH: Jacqueline Mancheno
Special thanks to Bob Lorimer and Live Technologies for providing the video content to produce this DVD.
Complete Results from this Women's DVD: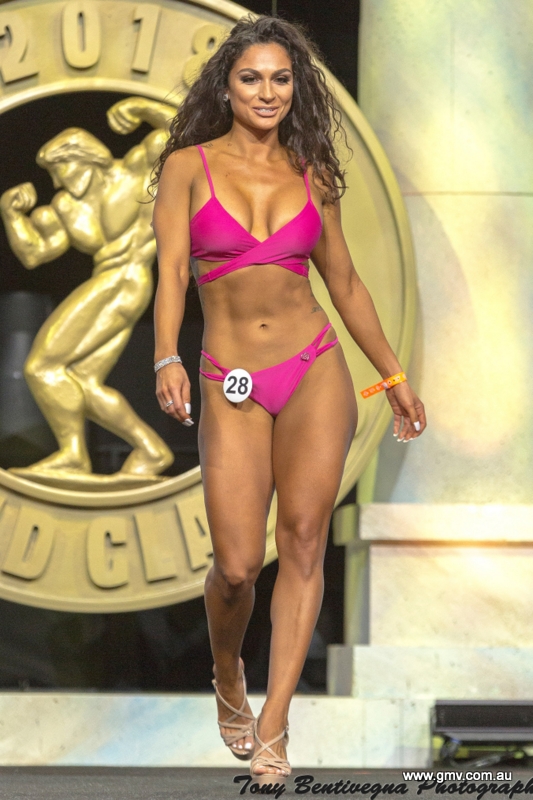 WOMEN'S PHYSIQUE:


CLASS A

1. Christelle Zarovska
2. Lina Varela
3. Angela Yeo
4. Hronn Sigurdardottir
5. Lea Geiger
6. Basia Everett
7. Priscila Kavaliausku
8. Tanya Sablic
9. Robin Gray
10. Lisa Janusz
11. Amanda Snooks
12. Melissa Nero
13. Wendy Martinez
14. Robin Eve
15. Brigitte Blais
16. Natalie Woodward
16. Teneacia Smith
16. Mary Love
16. Monique Cormier
16. Kayla Pijor
CLASS B
1. Fabiana Rossa
2. Gisela Nunes Chan
3. Jennifer Mims
4. Alexandra Dr. Heberger
5. Jessica Belt
6. Kimberly Turner
7. Julie Foery
MASTERS FIGURE:
CLASS A
1. Michelle Bailey
2. Angela Carter-Spencer
3. Famella Haryanto
4. Brenda Brouillard
5. Michelle Matthews
6. Erica Rantucci
7. Irene Gonzalez
8. Monique Cormier
9. Jenny Montgomary
10. Ruta Bunkute
CLASS B
1. Andrea Green
2. Yukina Betz
3. Rosemeire Freitas
4. Danielle Treiger
5. Christelle Zarovska
6. Tricia Sherrick
7. Michell Balcombe
8. Tonya Casey
9. Connie Baker
10. Margret Thorgrimsdottir
11. Angela Urbancik
12/ Pat Patzer
13. Gisele Forget
14 Jacqueline Gilvydis

CLASS C
1. Caroline Zawadzki
2. Marcela Melo
3. Jennifer Mims
4. Natalie Danclar-Rodney
5. Terrie Rabon
6. Gabriella Hernandez
7. Melanie Dufour
8. Alfiya Kosilova
9. Amanda Benard
10. Tammie-Maria Allen
FIGURE OPEN:
CLASS A
1. Anne Tran
2. Chie Terui
3. Ashley Jones
4. Chikako Akiyama
5. Angela Carter-Spencer
6. Famella Haryanto
7. Erica Rantucci
8. Jenny Montgomary
9. Meghan Ede
10. Kimberly Haller
CLASS B
1. Ericka Moraes Morgan
2. Ana Carolina Doliveira
3. Maria Rivera
4. Sara Karhunen
5. Kelsey Wilson
6. Alaine Webber
7. Kristy Fenster-Avery
8. Michelle Bailey
CLASS C
1. Lola Montez
2. Alicia Bell
3. Mary Marji
4. Maria Alejandra Mora Ibarra
5. Elisa Malorana
6. Mary Cate Anderson
7. Angela Perkins
8. Irene Gonzalez
9. Ruta Bunkute
CLASS D
1. Andrea Green
2. Yukina Betz
3. Jessica Large
6. LaToyia Farley
7. Rosemeire Freitas
8. Danielle Treiger
9. Amber Laforest
10. Lauren Peel
11. Michell Balcombe
12. Tricia Sherrick
13. Pat Patzer
CLASS E
1. Asrun Osp Vilmundardottir
2. Camila Lyra
3. Natalia Marrero
4. Sara Willis
5. Caroline Zawadzki
6. Jada Beverly
7. Marissa Kubota
8. Katherine Larabie
9. Samantha Tunchez
10. Jillian Rusk
11. Kate Griffiths
12. Paulina Pauls
13. Alfiya Kosilova
14. Tonya Casey
15. Jacqueline Gilvydis
CLASS F
1. Elise Fargie
2. Angela DiMattia
3. Kirsty Mirchell
4. Neli Mitreva
5. Sarah Hussain
6. Marcela Melo
7. Taylor Paton
8. Kalli Sheppard
9. Natalie Danclar-Rodney
10. Terrie Rabon
11. Eliza Hadyka
12. Jessica Lacour
13. Gabriella Hernandez
FITNESS:
1. Milica Narancic
2. Vanessa Bousquet
3. Kristy Fenster-Avery
4. Allison Dominquez Kramer
5. Tracy Adams
6. Sarah Koubek
7. Janelle Morris
2018 Arnold Classic Women's Model Search:
1. Jacqueline Mancheno
2. Tatiele Polyana
3. Cassandra Bell
4. DaNee' White
5. Melinda Guidera
6. Haley Wright
7. Brianda Carrasco
8. Kayla Shane
9. Stephanie Vaccaro
10. Bára Jónsdóttir
NP
Tracy Nicholas
Yvette Foose
Daisy Ward
Elena Soboleva
Lindsay Squier
Sierra Hartwig
Jessica Henry
Laura Hallock
Lauren Ewashko
Hayley Urfer
Marcy Dunn
Suzie Doll
Amanda Dolan
Alyssa Brinkley
Nicole Amsberry
Jillian Interlandi
Rischia Phinisee
Liz Mason
Megan Barnes
Michaella Angelo
Darlene Tommelleo
Robyn Wilkie
Asta Solveigardottir
*************************************
The 2018 IFBB Arnold Classic & Arnold Sports Festival are Presented by Classic Productions.
www.arnoldsportsfestival.com
www.arnoldclassicbrasil.com.br
www.arnoldclassiceurope.es
www.arnoldclassic.com.au
www.arnoldclassicafrica.com
This Event is Officially Sanctioned by the IFBB Professional League.
President
Jim Manion
Event Promoters
Jim Lorimer
Bob Lorimer
Classic Productions

Meet Director
Arnold Schwarzenegger
Amateur Contest Producers
Bob Lorimer
Mike Davies
Event Chair
Bob Lorimer
Expo & Events Coordinator
Paul Nagle
Expo & Events Director
Kathy Nagle
Director of Communications
Brent LaLonde
Strongman Contest
Dr. Terry Todd
Steve Slater
Public Relations
Lorz Communications
Matt Lorz
Masters of Ceremony
Lonnie Teper
Clint Richards
Head Judge
Steve Weinberger
Photography for Pro DVDs
Jason Breeze jasonbreeze.com
Video footage
LIVE! TECHNOLOGIES
Columbus, Ohio
www.reallivepros.com
The NPC Arnold Amateur
Masters of Ceremony
Shawn Ray
Cory Elzey
Head Judges
Gary Udit
Sandy Williamson
On Stage Expeditors
Rick Bayardi
Andy Bartolovich
Back Stage Expeditors
Cory Elzey
Evette Cano
Photographer for Amateurs
Carl Wade
GMV would like to thank:
Bob Lorimer
Brent LaLonde
Matt Lorz
Shawn Loevenguth
Live! Technologies
Alyssa Messner
NPC News Online
Jason Breeze
Wayne Gallasch for extra video content
2018 Arnold Sports Festival Crew List
Event Producer
Shawn Loevenguth
Assistant Event Producer
Alyssa Messner
Stage Managers
Ashley Harbison
Beth Siracuse
Michelle Blank
FOH Audio Engineer
Steve Jones
Audio Engineer
Kevin Brown
FOH Lighting Technician
Michael Hesmond
Lighting Technician
Jordan Auge
Video Director
Ian Martin
Video Technician
Alex Nowak
Tape Operator
Jim Miller
Camera Operators
Dave Love
Eric Obert
Randy Silcott
Head Carpenter
Dave Steinmetz
Carpenters
Rick Scholz
Shawn Scholz
Set Design
Jocelyn McDaniel
Expo Stage
Site Supervisor
Doug Maynard
Audio Technician
Gus Caulk
Lighting Technician
Matt Reid
Video Director
Casey Payne
Tape Operator
Schehera McKissack
Camera Operators
Art Hearl
Matt Gault
General Technician
Travis Haag
Seth Powell
ENG Team
Jerman Abney
Grant Lawhorn
Tyler Chapman
Jon Ebright
Jeff Martin
Catherine Quamme
Lincoln Meikle
Travis Fishburn
Jarred Lawson
Sarah Manns
******************
GMV Editing
Wayne Gallasch
Ollie Parke
Authoring & Cover Design
Ollie Parke
DVD & Blu-Ray Produced by
GMV PRODUCTIONS
Australia
WEB:
GMV.COM.AU
GMVBODYBUILDING.COM
© WORLD COPYRIGHT 2018
*****************************************
2018 Arnold Classic USA Sponsors:
Presenting Sponsor: Midway Labs USA
Diamond Sponsor: ROGUE Fitness
Gold Sponsors: Animal, HOMAGE, Europa Sports Products, Jan Tana, Optimum Nutrition, VPX
Silver Sponsors: 5-Hour Energy, ALLMAX Nutrition, Blackstone Labs, BlenderBottle, Body Fortress, Bodybuilding.com, BSN, EAS Abbott Nutrition, GAT, Grunt Style, Iso-Sport, Lyft, MET-Rx, MHP, Monster Energy/Monster Muscle, Muscle & Fitness Magazine, Muscle Egg, Musclegen Research, PROSUPPS, Pure Protein, Ricart, Rivalus, Rule One, Sweet Sweat by Sports Research
Bronze Sponsors: Arena District, Black Skull USA, Body Engineers BV, BPI, Concept2 CTS, Inc., Einstein Forearm Bench, ELITE Mobility, Gorilla Wear, Jaybird, Magnum Nutraceuticals, Max Effort Muscle, Phit App, Quest Nutrition, Rich Piana 5% Nutrition, ShoulderSphere, Vital Proteins.