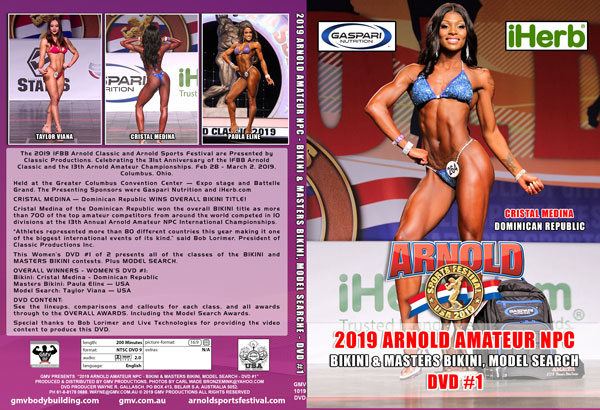 2019 Arnold Amateur NPC Women's DVD # 1 - BIKINI & MASTERS BIKINI, MODEL SEARCH.

The 2019 IFBB Arnold Classic and Arnold Sports Festival are Presented by Classic Productions.
Celebrating the 31st Anniversary of the IFBB Arnold Classic and the 13th Arnold Amateur Championships.
Feb 28 - March 2, 2019, Columbus, Ohio.

Held at the Greater Columbus Convention Center – Expo stage and Battelle Grand. The Presenting Sponsors were Gaspari Nutrition and iHerb.com
VIDEO FILES:
YOU MAY ALSO ORDER AN HD VIDEO FILE OF ANY CLASS OF YOUR CHOICE INCLUDING THE CLASS AWARDS, TO BE EMAILED TO YOUR INBOX, US$40 PER CLASS.
Or EMAIL tina@gmv.com.au for a PayPal invoice.
*****************************************************
CRISTAL MEDINA – Dominican Republic WINS OVERALL BIKINI TITLE!
Cristal Medina of the Dominican Republic won the overall BIKINI title as more than 700 of the top amateur competitors from around the world competed in 10 divisions at the 13th Annual Arnold Amateur NPC International Championships.
"Athletes represented more than 80 different countries this year making it one of the biggest international events of its kind," said Bob Lorimer, President of Classic Productions Inc.

The Women's DVD #1 of 2 presents all of the classes of the BIKINI and MASTERS BIKINI contests. Plus MODEL SEARCH.
OVERALL WINNERS - WOMEN'S DVD #1:
Bikini: Cristal Medina - Dominican Republic
Masters Bikini: Paula Eline – USA
Model Search: Taylor Viana – USA
Class Winners in Women's DVD #1:
MASTERS BIKINI:
Class A: Linda Pearson - USA
Class B: Paula Eline - USA (Overall Winner)
Class C: Hanna Miron - Ukraine
BIKINI OPEN:
Class A: Tasana Kongcharoen
Class B: Carolyne Nazario Correa
Class C: Charisse Briguera
Class D: Angie Majeed
Class E: Iryna Frantsuz
Class F: Jessica McLeod
Class G: Cristal Medina (Overall Winner)
Class H: Courtney Lemmings

DVD CONTENT:
See the lineups, comparisons and callouts for each class, and all awards through to the OVERALL AWARDS. Including the Model Search Awards.

Special thanks to Bob Lorimer and Live Technologies for providing the video content to produce this DVD.

Running time: 270 mins


THE COMPLETE COLLECTION OF ARNOLD CLASSIC USA DVDs & DOWNLOADS.
See the 2019 ARNOLD AMATEUR NPC WOMEN'S RESULTS FOR ALL CLASSES.
Complete Results for the Women seen in this DVD:
February 28 – March 2, 2019.
Women's Bikini – Overall Winner: Cristal Medina – Dominican Republic
Women's Bikini – Class A
1. Tasana Kongcharoen
2. Bruna Vilarva
3. Jessica Ferringer
4. Lindsey Breslauer
5. Hong Chen
6. Jessica Ambeau
7. Jessica Iniguez
8. Alejandra Caraballo
9. Myka Clark
10. Meghan Polce
11. Erin Queen
12. Serina Phavixay
13. Johanna Carlson
Women's Bikini – Class B
1. Carolyne Nazario Correa
2. Kateryna Zhbanova
3. Jodii Fox
4. Jessica Arruda
5. Marissa Vargas
6. Rachel Pinti
7. Ibon Palacio
8. Kiki Cunningham
9. Rose Cain
10. Stephanie Fratus
11. Chantal Seng
12. Marissa Ishihara
13. Jada Blanchard
14. Meghan Ede
15. Courtney Stigall
16. Eunhee Chung
17. Katalin Gabbard
18. Elizabeth Okpodu
Women's Bikini – Class C
1. Charisse Briguera
2. Angela White
3. Erin Dennis
4. Monica Teixeira
5. Megan Harris
6. Nicole Black
7. Ashley McDermott
8. Celeste Romano
9. Karla Pereda
10. Stephanie Hessling
11. Lori Moreno
12. Maria Salete Maciel
13. Samantha Biagi
14. Julia Farfan
15. Tamara Robertson
16. Olga Tribel
17. Haley Lisenba
18. Lisa Tarugott
19. Kathia Herrera
20. Harley Tomanek
21. Holly Blair
22. Brittany Burke
Women's Bikini – Class D
1. Angie Majeed
2. Sunnie Viegas
3. Jess Greene
4. Brooke Nyland
5. Courtney Bertrand
6. Caitlin Currey
7. Linda Pearson
8. Lorena Vera
9. Melissa Perettp
10. Ana Casanova
11. Lauren Ashbaugh
12. Michelle Mazza
13. Laura Chapman
14. Staci Kruisenga
15. Jessica Nightingale
16. Lindsay Honaker
17. Elena Dzhambazova
18. Nicole LeBlanc
19. Olga Kochurova
20. Carla Jacone
Women's Bikini Class E
1. Iryna Frantsuz
2. Candace Gordon
3. Isamar Hansen
4. Jess Welton
5. Carmen Dicu
6. Paula Eline
7. Rachel Forsyth
8. Jennifer Nowicki
9. Samantha Hayden
10. Allex Granger
11. Briana Saldana
12. Amber Connor
13. Anastasia Todorova
14. Oksana Fore
15. Yelena Yermolenko
16. Erin Cooper
17. Bianca Guess
18. Alina Cernih
19. Elaine Martinez
20. Kimberly Waszak
21. Eszter Adamek
22. Charlene Jeter
23. Kayla Shane
Women's Bikini – Class F
1. Jessica McLeod
2. Annelle Petitpas
3. Vanisha Walker
4. Ana Gonzalez
5. Celesta Ellis
6. Kate Ackland
7. Brea Medlock
8. Loreta Masoline
9. Maiarii Fry
10. Nicole Tovey
11. Samantha Overstreet
12. Arielle Lopez
13. Kori Miller
14. Jessica Rist
15. Stephanie Bellavance
16. Jennifer Woods
17. Vanessa Hernandez
18. Casey Hessler
19. McKenna Murphy
20. Judith Gadde
21. Jessica Rivard
22. Lydia Tanner
Women's Bikini – Class G
1. Cristal Medina
2. Marissa Bell
3. Lia Landes
4. Brooke Daniels
5. Nadia Chiaramonte
6. Valeria Roshak
7. Christine Schick
8. Hanna Miron
9. Tiffany White
10. Sarah Forsythe
11. Olga Skorczewski
12. Kellie Clark
13. Katie Reeves
14. Margie Serrato
15. Soraya Grumann
16. Taneesha Harris
17. Toccara Brooks
18. Leah Anderson
19. Emma Schultz
20. Jessica Smart
Women's Bikini – Class H
1. Courtney Lemmings
2. Anastasia Tavare
3. Jeanine Delorme
4. Marie Blanchard
5. Jennifer Botha
6. Melody Meason
7. Ida McMillan-Zapf
8. Roseline Naomi
9. Kelsey Matthews
10. Mariana Lashta
11. Kristen Castellan
12. Nicole Ollandezos
13. Amy Ehinger
14. Jessica Parsell
15. Melissa Nelson
16. Lara Braddy
17. Kathleen Streiber
18. Jamela Barber
19. Alyssa Brinkley
20. Hannah Hosey
21. Aurora Mechel
22. Maela Miller
Women's Bikini Masters – Overall Winner: Paula Eline – USA
Women's Bikini Masters – Class A
1. Linda Pearson
2. Lindsey Breslauer
3. Ibon Palacio
4. Tamara Robertson
5. Lori Moreno
6. Julia Farfan
7. Maria Salete Maciel
8. Jada Blanchard
9. Nancy Slifco
10. Krystle Rose
11. Eunhee Chung
12. Olga Tribel
13. Laura Chapman
14. Melissa Lindsay
15. Carmen Stewart
16. Kati Latorovszki
Women's Bikini Masters – Class B
1. Paula Eline
2. Dina Windsor
3. Celesta Ellis
4. Connie Marshall
5. Samantha Overstreet
6. Antrinia Cardona
7. Cecilia Izaurieta
8. Bianca Guess
9. Maggie Faiella
10. Amanda Kozakevich
11. Stephanie Wagner
12. Erin Cooper
13. Kerri Simas
14. Clorissa Williams
15. Yelena Yermolenko
16. Jennifer Woods
17. Lisa Tarugott
Women's Bikini Masters – Class C
1. Hanna Miron
2. Jeanine Delorme
3. Kathleen Streiber
4. Jennifer Botha
5. Olga Skorczewski
6. Tanya Grach
7. Amy Ehinger
8. Marla VanWassenhove
9. Inessa Gelman
10. Kellie Clark
11. Toccara Brooks
12. Oxana Bogdan
13. Margie Serrato
14. Taneesha Harris
15. Judith Gadde
16. Lara Braddy
2019 Arnold Model Search Results
1. Taylor Viana – USA
2. Jordyn Harris
3. Cristal Peguero
4. Babett Vongsanti
5. Bethany Bartlett
6. Bernadine McCracklin
7. Keri Shaw
8. Kaycee Dobbins
9. Emily Pribula
10. Erin Brown
11. tie – Amber Conner
11. tie – Jill Interlandi
13. Lillian Baker
*******************

The 2019 IFBB Arnold Classic & Arnold Sports Festival are Presented by Classic Productions.
www.arnoldsportsfestival.com
www.arnoldclassicbrasil.com.br
www.arnoldclassiceurope.es
www.arnoldclassic.com.au
www.arnoldclassicafrica.com

This Event is Officially Sanctioned by the IFBB Professional League.
President
Jim Manion
Event Promoters
Jim Lorimer
Bob Lorimer
Classic Productions

Meet Director
Arnold Schwarzenegger
Amateur Contest Producers
Bob Lorimer
Mike Davies
Event Chair
Bob Lorimer
Expo & Events Coordinator
Paul Nagle
Expo & Events Director
Kathy Nagle
Director of Communications
Brent LaLonde
Strongman Contest
Dr. Jan Todd
Public Relations
Lorz Communications
Matt Lorz
Masters of Ceremony
Tony Doherty
Clint Richards
Amanda Latona

Model Search MC
Natalie Betsko

Strongman MCs
Mark Henry
Matt Iseman

Head Judge
Steve Weinberger
Photography for Pro DVDs
Jason Breeze jasonbreeze.com
Video footage
LIVE! TECHNOLOGIES
Columbus, Ohio
www.reallivepros.com
The NPC Arnold Amateur
Masters of Ceremony
Shawn Ray
Amanda Latona

Head Judges
Gary Udit
Sandy Williamson
On Stage Expeditors
Rick Bayardi
Andy Bartolovich
Back Stage Expeditors
Cory Elzey
Evette Cano
Photographer for Amateurs
Carl Wade
GMV would like to thank:
Bob Lorimer
Brent LaLonde
Matt Lorz
Shawn Loevenguth
Live! Technologies
Alyssa Messner
NPC News Online
Jason Breeze
Wayne Gallasch for extra video content
Richard Baldwin for interviews.
****************

2019 Live! Technologies Crew List.
Arnold Sports Festival, USA
Event Producer
Shawn Loevenguth

Assistant Event Producer
Alyssa Messner

Stage Managers
Beth Siracuse
Autumn Cleveland
Samantha Barnes

FOH Audio Engineer
Steve Jones

Audio Engineer
Kevin Brown

FOH Lighting Technician
Michael Hesmond

Lighting Technician
Jordan Auge

Video Director
Ian Martin
Video Technician
Julian Dorsett

Tape Operator
Travis Haag

Camera Operators
Jim Miller
Eric Obert
Randy Silcott

Head Carpenter
Dave Steinmetz

Carpenters
Rick Scholz
Shawn Scholz
Set Design
Jocelyn McDaniel

Expo Stage:

Site Supervisor
Doug Maynard

Audio Technician
Gus Caulk

Lighting Technician
Matt Reid

Video Director
Casey Payne
Tape Operator
Schehera McKissack

Camera Operators
Art Hearl
Steve Mitchell
General Technician
Oscar Smith
Seth Powell

ENG Team
Jerman Abney
Grant Lawhorn
Tyler Chapman
Catherine Quamme
Lincoln Meikle
Travis Fishburn
Jarred Lawson
Joshua Chandler
Jamie Comisford
****************

GMV Editing
Wayne Gallasch
Ollie Parke
Authoring & Cover Design
Ollie Parke
DVD & Blu-Ray Produced by
GMV PRODUCTIONS
Australia
WEB:
GMV.COM.AU
GMVBODYBUILDING.COM
© WORLD COPYRIGHT 2019.