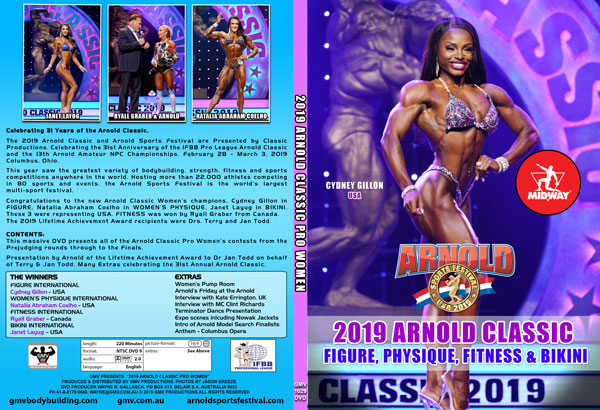 2019 Arnold Classic Pro Women
FIGURE, PHYSIQUE, FITNESS & BIKINI.

Celebrating 31 Years of the Arnold Classic.
The 2019 Arnold Classic and Arnold Sports Festival are Presented by Classic Productions. Celebrating the 31st Anniversary of the IFBB Pro League Arnold Classic and the 13th Arnold Amateur NPC Championships. February 28 - March 3, 2019 Columbus, Ohio.
Held at the Greater Columbus Convention Center and the Battelle Grand Ballroom. The Presenting Sponsor was Midway Labs USA.
This year saw the greatest variety of bodybuilding, strength, fitness and sports competitions anywhere in the world. Hosting more than 22,000 athletes competing in 80 sports and events, the Arnold Sports Festival is the world's largest multi-sport festival.
Congratulations to the new Arnold Classic Women's champions, Cydney Gillon in FIGURE, Natalia Abraham Coelho in WOMEN'S PHYSIQUE, Janet Layug in BIKINI. These 3 were representing USA. FITNESS was won by Ryall Graber from Canada.
The 2019 Lifetime Achievement Award recipients were Drs. Terry and Jan Todd.
THE COMPLETE RESULTS FOR EVERY PRO CLASS AT THE 2019 EVENT, MEN & WOMEN.
CONTENTS:
This massive DVD presents all of the Arnold Classic Pro Women's contests from the Prejudging rounds through to the Finals.
Presentation by Arnold of the Lifetime Achievement Award to Dr Jan Todd on behalf of Terry & Jan Todd.
Many Extras celebrating the 31st Annual Arnold Classic.
EXTRAS:
Women's Pump Room Highlights
Arnold's Friday at the Arnold
Interview with Kate Errington, UK
Interview with MC Clint Richards
Terminator Dance Presentation (Jake Mazhar & Yuliya Besarab)
Expo scenes including Nowak Jackets
Introduction of Arnold Model Search Finalists
Anthem - Columbus Opera
RUNNING TIME: 230 mins approx.
THE COMPLETE COLLECTION OF ARNOLD CLASSIC USA DVDs & DOWNLOADS.
This DVD is also available on Blu-ray, GMV-1030BRDVD, as well as on regular DVD.
DVD Photos: Jason Breeze jasonbreeze.com
2019 Arnold Classic Pro Women's Results:
FIGURE INTERNATIONAL
1. Cydney Gillon USA
2. Nadia Wyatt USA
3. Jessica Reyes Padilla Puerto Rico
4. Natalia Soltero Mexico
5. Bojana Vasiljevic USA
6. Sandra Grajales Mexico
7. Lola Montez Canada
8. Carly Starling-Horrell USA
9. Brittany Campbell USA
10. Maria Luisa Baeza Diaz USA
11. Zulema Duran Italy
12. Wendy Fortino USA
13. Michelle Lindsay USA
14. Noelia Segura Spain
15. Melissa Bumstead Canada
WOMEN'S PHYSIQUE INTERNATIONAL
1. Natalia Abraham Coelho USA
2. Sheronica Henton USA
3. Penpraghai Tiangngok Thailand
4. Brittany Watts USA
5. Margita Zamolova Czech Republic
6. Ashley Radiance Fuller USA
7. Valentina Mishina Russia
8. Candice Carr Trinidad/Tobago
9. Bridgett Annett Canada
10. Jeannie Feldman USA
11. Lauren Rutan USA
12. MayLa Ash USA
13. Robyn Mays USA
14. Mirea Henriquez Netherlands
15. Clarissa Rafanan USA
16. Lenka Ferencukova Czech Republic
16. Candrea Judd Adams USA
16. Jodi Lyons USA
16. Mariko Cobbs USA
16. Robin Connell USA
16. Caroline Gaume France
16. Diana Schnaidt USA
16. Antoinette Downie Barbados
DNF Liudmila Mikhailovskaia Russia
FITNESS INTERNATIONAL
1. Ryall Graber Canada
2. Whitney Jones USA
3. Tiffany Chandler USA
4. Missy Farrell-Truscott USA
5. Kate Errington United Kingdom
6. Allison Ethier Canada
7. Sara Kovach USA
8. Jaclyn Baker USA
9. Aurika Tyrgale USA
10. Emma Paveley England
11. Danielle Chikeles USA
BIKINI INTERNATIONAL
1. Janet Layug USA
2. Elisa Pecini Brazil
3. Ashley Kaltwasser USA
4. Jennifer Dorie Canada
5. Marcia Goncalves USA
6. Lauralie Chapados Canada
7. Camile Periat USA
8. Frida Paulsen Stern USA
9. Monica Ellis USA
10. Breena Martinez USA
11. Ashley Jenelle USA
12. Cristobalina Pajares Torres Spain
13. Sonia Lewis USA
14. Kim Gutierrez Chile
15. Jessica Palmer USA
16. Raphaela Milagres USA
16. Eli Fernandez Mexico
16. Karina Skowronska United Kingdom
****************************************************

The 2019 IFBB Arnold Classic & Arnold Sports Festival are Presented by Classic Productions.
www.arnoldsportsfestival.com
www.arnoldclassicbrasil.com.br
www.arnoldclassiceurope.es
www.arnoldclassic.com.au
www.arnoldclassicafrica.com

This Event is Officially Sanctioned by the IFBB Professional League.
President
Jim Manion
Event Promoters
Jim Lorimer
Bob Lorimer
Classic Productions

Meet Director
Arnold Schwarzenegger
Amateur Contest Producers
Bob Lorimer
Mike Davies
Event Chair
Bob Lorimer
Expo & Events Coordinator
Paul Nagle
Expo & Events Director
Kathy Nagle
Director of Communications
Brent LaLonde
Strongman Contest
Dr. Jan Todd
Public Relations
Lorz Communications
Matt Lorz
Masters of Ceremony
Tony Doherty
Clint Richards
Amanda Latona

Strongman MCs
Mark Henry
Matt Iseman

Head Judge
Steve Weinberger
Photography for Pro DVDs
Jason Breeze jasonbreeze.com
Video footage
LIVE! TECHNOLOGIES
Columbus, Ohio
www.reallivepros.com
The NPC Arnold Amateur
Masters of Ceremony
Shawn Ray
Amanda Latona

Head Judges
Gary Udit
Sandy Williamson
On Stage Expeditors
Rick Bayardi
Andy Bartolovich
Back Stage Expeditors
Cory Elzey
Evette Cano
Photographer for Amateurs
Carl Wade
GMV would like to thank:
Bob Lorimer
Brent LaLonde
Matt Lorz
Shawn Loevenguth
Live! Technologies
Alyssa Messner
NPC News Online
Jason Breeze
Wayne Gallasch for extra video content
Richard Baldwin for interviews.
****************

2019 Live! Technologies Crew List.
Arnold Sports Festival, USA
Event Producer
Shawn Loevenguth

Assistant Event Producer
Alyssa Messner

Stage Managers
Beth Siracuse
Autumn Cleveland
Samantha Barnes

FOH Audio Engineer
Steve Jones

Audio Engineer
Kevin Brown

FOH Lighting Technician
Michael Hesmond

Lighting Technician
Jordan Auge

Video Director
Ian Martin
Video Technician
Julian Dorsett

Tape Operator
Travis Haag

Camera Operators
Jim Miller
Eric Obert
Randy Silcott

Head Carpenter
Dave Steinmetz

Carpenters
Rick Scholz
Shawn Scholz
Set Design
Jocelyn McDaniel

Expo Stage:

Site Supervisor
Doug Maynard

Audio Technician
Gus Caulk

Lighting Technician
Matt Reid

Video Director
Casey Payne
Tape Operator
Schehera McKissack

Camera Operators
Art Hearl
Steve Mitchell
General Technician
Oscar Smith
Seth Powell

ENG Team
Jerman Abney
Grant Lawhorn
Tyler Chapman
Catherine Quamme
Lincoln Meikle
Travis Fishburn
Jarred Lawson
Joshua Chandler
Jamie Comisford
****************

GMV Editing
Wayne Gallasch
Ollie Parke
Authoring & Cover Design
Ollie Parke
DVD & Blu-Ray Produced by
GMV PRODUCTIONS
Australia
WEB:
GMV.COM.AU
GMVBODYBUILDING.COM
© WORLD COPYRIGHT 2019.