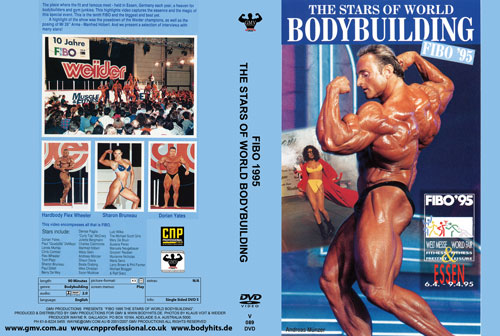 FIBO '95 The Stars Of World Bodybuilding
Also on Digital Download.

The place where the fit and famous meet. Held in Essen Germany each year, a heaven for bodybuilders and gym junkies. See it all on DVD now in this fascinating, hard core series. This is the first time we have been able to offer 3 different videos from FIBO. Each one capturing the essence and the magic of this special event. This is the 10th FIBO and the biggest and best yet.
A highlight of the show was the posedown of the Weider champions, as well as the posing of Mr. 26" Arms - MANFRED HÖBERL. The DVD also includes a selection of great interviews with many of the stars. It was the first time that the FIBO video was 100% shot by the GMV Productions team led by Wayne.

It was a rare occasion when the current Mr. Olympia Dorian Yates has been presented at FIBO as the major guest star. This is 90 minutes of muscle magic.
The other 2 DVDs from this event are a contest being GMV-199DVD 1995 NABBA Miss World FIBO Grand Prix Figure Class and GMV-204DVD FIBOROBICS '95.

I have recently learned from Berry de Mey that this is the correct way to write his name. He is variously listed on our GMV site as Berry DeMey, Berry De Mey or Berry deMey. The correct spelling of Berry de Mey will now be used in future.

Stars include:
Dorian Yates
Paul DeMayo
Lenda Murray
Flex Wheeler
Tom Platz
Muriane Nicolas
Charles Clairmonte
Beate Dräbing
Mike Christian
Chris Cormier
Paul Dillett
Susana Perez
Marjo Selin
Andreas Munzer
Sharon Bruneau
Denise Paglia
Berry de Mey
and many more.
Click here for the COMPLETE INDEX OF FIBO DVDs.

Running time: 90 mins

NTSC DVD, OPEN REGION

Customers who viewed this DVD also viewed:






Click here for GMV Productions complete list of Male Muscle DVDs.