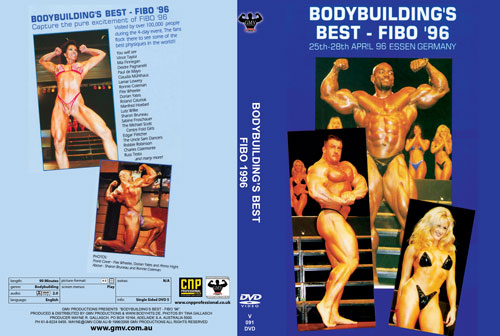 Click here for preview.

FIBO '96: Bodybuilding's Best
Visited by over 100,000 people during the 4-day event, this is THE biggest and best bodybuilding Expo in the world. The 1996 FIBO was no exception. The fans flock to Essen, Germany each year to see some of the best physiques on the planet.
Capture the pure excitement and adrenalin rush of FIBO '96. FIBO sees the coming together of every company that has anything to do with bodybuilding and fitness. From clothing and supplements to heavy duty exercise equipment to leather goods to DVDs to you name it. To entertain the mass of fans, the main show stage presents various super stars of bodybuilding in regular posing shows each day. This DVD brings you all the action from the various posing shows.
A highlight was having current Mr. Olympia DORIAN YATES and future Mr Olympia RONNIE COLEMAN on the same stage. Not to mention other huge stars such as FLEX WHEELER, VINCE TAYLOR and CHARLES CLAIRMONTE. It was almost a mini 1996 Mr. Olympia preview!
When you view this exciting DVD you become a part of this innovative and exciting bodybuilding fair. GMV, using their huge team captured all the action from hardcore bodybuilding to fitness to aerobics to the latest equipment to the 8th Miss World Grand Prix Figure Contest GMV-225DVD to the Jazz Dance Contest at FIBO '96 GMV-238DVD, and more.
See the magic of RUSS TESTO to the brute strength of the Double Deadlift event GMV-226DVD in Grudge Match Powerlifting - Germany v USA. All this and more in a complete overview of the 4 day event.
We produced separate in depth DVDs on all these extra events at the 1996 FIBO. See below.
NO WHERE ELSE IN THE WORLD WOULD YOU FIND SUCH A MAGICAL CROSS SECTION OF FITNESS STARS AND ENTHUSIASTIC FANS!! In fact we rated it so highly that we took a team of 5 people to cover this event. 2 cameramen, 2 interviewers and a still photographer/director.

We also included the posedown in the brand new class of men's bodybuilding called MEN'S FITNESS. We did interviews with most of the stars who literally lined up to talk with GMV's interview team. FIBO is still the place to see and the place to be seen if you are interested in the bodybuilding and fitness scene.

The photo below right of the late Paul DeMayo was given to us at FIBO by Paul.

You will see the following stars of bodybuilding:

Dorian Yates
Ronnie Coleman
Vince Taylor
Mia Finnegan
Deidre Pagnanelli
Paul DeMayo
Claudia Mülhaus
Lamar Lowery
Flex Wheeler
Roland Cziurlok
Manfred Höberl
Sabine Froschauer
Sharon Bruneau
The Michael Scott Centrefold Girls
Robby Robinson
Russ Testo
Lutz Wilke
Edgar Fletcher
Charles Clairmonte
Body & Soul
Danskin Dancers
Pepper Ferry
Theresa Hessler
Muriane Nicolas
Lucia Schmid
Thomas Scheu
Uncle Sam Dancers
Sabine Weeke
Main Stage MC - Anja Schreiner
Power lifting Teams USA v Germany:
Phil Farmer
Walt Austin
Michael Brugge
Ralf Gierz
Grudge Match: Germany Vs U.S.A. Powerlifting at FIBO Plus Jimmy Pellechia
The Exciting Annual 'Grudge Match' in Powerlifting Between Germany & USA! One of the most dynamic and popular events at FIBO '96. Three lifts - Bench Press, Squat and Double Deadlift.
USA was victorious this year winning two of the three lifts.

The DVD starts out with 4' (1 metre) tall German Markus Shick as he bench presses 180 kg, 190kg and 200kg attempting a new world record. Markus is 20 years old and weighs 63 kg. (140 lbs). This is followed by the fantastic Germany vs USA Grudge Match. Plus strongman Jimmy Pellechia from USA.


FIBO '96 Jazz Dance Competition
Held on the main stage, the contest was between various teams of aerobic style jazz dancers. The key to success was choreography, athleticism, well-toned bodies and great style and technique. All routines were performed in a brilliant jazz dance style. Some of the teams were entirely young women while others were mixed teams of men and women.
The power and grace displayed by some of the dancers was truly amazing. This was an amazing competition featuring some of the best fitness bodies performing at FIBO.
Fabulous Women - Live !! FIBO '96 Grand Prix Plus More!
Showcasing the very best European women in bodybuilding in 1996. LIVE!! On stage at FIBO '96, from NABBA and the IFBB, this is sensational all new footage.
See all the exciting contest action from the 8th Miss World Grand Prix Figure Class from the main show stage at FIBO 1996, Essen, Germany.

The top 4 women in this event in particular have achieved great things in the sport. Claudia Muhlhaus went on to win the NABBA Universe Overall Figure Class title in 1997.


Click here for the

COMPLETE INDEX OF FIBO DVDs

.

Running time: 90 mins

NTSC DVD, OPEN REGION
Customers who viewed this DVD also viewed:




Click here
for GMV Productions complete list of Female Muscle and Fitness DVDs.