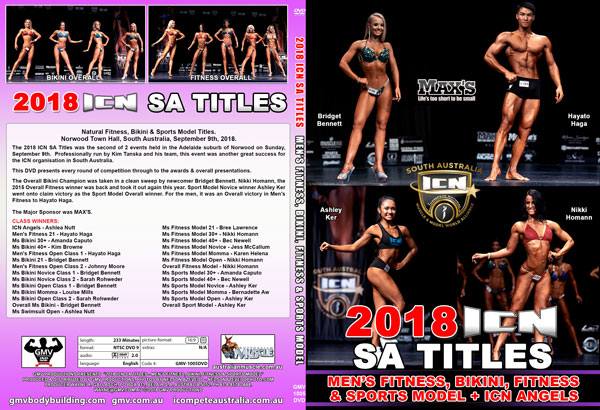 2018 ICN South Australia Titles - Men's Fitness, Bikini, Fitness & Sports Model + Angels

Natural Fitness, Bikini & Sports Model Titles.

Norwood Town Hall, South Australia, September 9th, 2018.

The 2018 ICN South Australia Titles Bikini, Models & Fitness Show was the second of 2 events held at Norwood on September 9th. Professionally run by Kim Tanska and his team, this event was another great success for the ICN organisation in South Australia. This DVD presents every round of competition through to the awards and overall presentations.

The Major Sponsor was MAX'S.

CLASS & OVERALL WINNERS in this DVD:
ICN Angels – Ashlea Nutt
Men's Fitness 21 – Hayato Haga
Ms Bikini 30+ – Amanda Caputo
Ms Bikini 40+ – Kim Browne
Men's Fitness Open Class 1 – Hayato Haga
Ms Bikini 21 – Bridget Bennett
Men's Fitness Open Class 2 – Johnny Moore
Ms Bikini Novice Class 1 – Bridget Bennett
Ms Bikini Novice Class 2 – Sarah Rohweder
Ms Bikini Open Class 1 – Bridget Bennett
Ms Bikini Momma – Louise Mills
Ms Bikini Open Class 2 – Sarah Rohweder
Overall Ms Bikini – Bridget Bennett
Ms Swimsuit Open – Ashlea Nutt
Ms Fitness Model 21 – Bree Lawrence
Ms Fitness Model 30+ – Nikki Homann
Ms Fitness Model 40+ – Bec Newell
Ms Fitness Model Novice – Jess McCallum
Ms Fitness Model Momma – Karen Helena
Ms Fitness Model Open – Nikki Homann
Overall Fitness Model – Nikki Homann
Ms Sports Model 30+ – Amanda Caputo
Ms Sports Model 40+ – Bec Newell
Ms Sports Model Novice – Ashley Ker
Ms Sports Model Momma – Bernadette Aw
Ms Sports Model Open – Ashley Ker
Overall Sports Model – Ashley Ker
Running time: 233 mins


2018 ICN South Australian Titles - Bodybuilding, Figure & Physique.

The 2018 ICN South Australia Titles Bodybuilding Show was the first of 2 events held at Norwood on September 9th. Professionally run by Kim Tanska and his team, this event was another great success for the ICN organisation in South Australia.

This DVD presents every round of competition through to the final posedowns and awards. Includes all routines from the Posing Round.


Complete Event Results:

2018 ICN South Australian Titles

Norwood Town Hall, South Australia, Sunday, September 9th, 2018.
BEST POSER AWARDS:
Male:
Wilbur Colaco
Female:
Wendy Broekx
Men's Bodybuilding Teenage
1. Connor Williams
1. Lochie Biele (tie)

Men's Physique 21
1. Anthony Moore
2. Cameron Whitters
3. Phillip Nyang
4. Waseem Riyaz
Men's Bodybuilding First Timers
1. Dan Kelly
2. Connor Williams
3. Kasey Reardon
4. Lochie Biele
5. Ryan Crilly
6. Andrew Bagshaw
Men's Physique 30+
1. Scott Pointon
2. Ryan Milligan
3. Tim Reeve
4. Douglas Barrientos
5. Willbur Colaco
Steve Penney
Michael Collins
Billy-Joe Kojic

Men's Bodybuilding Junior
1. Ali Yarkosh
2. Ryan Crilly
Men's Physique Open Class 1
1. Scott Pointon - Physique Overall Winner
2. Dylan Thorp
3. Callum McDougle
4. Anthony Moore
5. Jason Hu
Douglas Barrientos
Steve Penney
Abz Faizi
Willbur Colaco
Michael Collins
Ms Figure First Timers
1. Tamikha McNab
2. Erica Haskard
3. Amy Donaldson
Men's Physique Open Class 2
1. Timothy Mcintyre
2. Tim Reeve
3. Ryan Milligan
4. Kieran Reinboth
5. Christian Voudantas
Sam Barbara
Rhees Bishop
Billy-Joe Kojic
Daniel Arnold-Janz
Cameron Whitters
Men's Bodybuilding Novice
1. Dan Kelly
2. Rhys Katsoulis
3. Michael Campling
4. Kasey Reardon
5. Andrew Bagshaw
Ms Figure Novice
1. Tamikha McNab
2. Erica Haskard
3. Rosy Scaffidi-Muta
4. Amy Donaldson
Men's Bodybuilding 40+
1. Victor Spruyt
2. Dominic Lagana
3. Michael Campling
4. Andrew Osborn
Men's Bodybuilding 50+
1. Andrew Bagshaw

Ms Figure 40+
1. Rosy Scaffidi-Muta
2. Katrina Cole

Ms Figure 50+
1. Wendy Broekx
2. Lee Dinan

Men's Classic Physique
1. Hayato Haga
2. Willbur Colaco
3. Michael Abarno
4. Tim Reeve
5. Vijay Klair
Abz Faizi
Jason Van Hek
Jason Hu
Waseem Riyaz
Callum Mcdougle
Kieran Reinboth

Ms Figure International Open
1. Tamikha McNab
2. Simone Marshall
3. Wendy Broekx

Men's Bodybuilding Under 72kg
1. David Cuenca
2. Scott Nelson
3. Jason Van Hek
4. Rhys Katsoulis
5. Connor Williams

Men's Bodybuilding 72.1Kg - 77Kg
1. Luke Craggs
2. Victor Spruyt
Ms Figure Open
1. Simone Marshall - Figure Overall Winner
2. Wendy Broekx
3. Lee Dinan
4. Anita Brgles

Men's Bodybuilding Open
1. Luke Craggs - Men's Bodybuilding Overall Winner
2. David Cuenca
3. Scott Nelson
4. Dan Kelly
5. Jason Van Hek
Vijay Klair
Andrew Osborn

Angels
1. Ashlea Nutt
2. Amanda Caputo
3. Karen Helena
4. Ashley Ker
5. Tanya Watts
Kim Browne
Yuchen Hu
Tamika Spratley
Men's Fitness 21
1. Hayato Haga
2. Lance Reekie
3. Zak Botham
4. Avi Prasad

Ms Bikini 30+
1. Amanda Caputo
2. Beth Castell
3. Louise Mills
4. Nicole Harvey
5. Erin McGregor
Lauren Channon
Kelly Allen
Ali Donaldson

Ms Bikini 40+
1. Kim Browne

Men's Fitness Open Class 1
1. Hayato Haga - Men's Fitness Overall Winner
2. Sam Schreiber
3. Chester Villanueva
4. Lance Reekie
5. Shannon Menezes
Dave Boreham
Blake Ramsay
Ben Betelli
Steven Budgen
Ms Bikini 21
1. Bridget Bennett
2. Melanie Cowmeadow
3. Soraya Proude

Men's Fitness Open Class 2
1. Johnny Moore
2. Marc Beurskens
3. Damien Rowe
4. Saxon Farina
5. Abulfazl Faizi
Bala Udayakumar
Zak Botham
Avi Prasad

Ms Bikini Novice Class 1
1. Bridget Bennett
2. Melanie Cowmeadow
3. Vanessa Catalano
4. Courtney Samra
5. Alanah Mccormick
Yuchen Hu
Lauren Channon
Kimberley Foreman
Ashlea Nutt
Skye Thackray
Daniella Mufale - Tulipano
Ms Bikini Novice Class 2
1. Sarah Rohweder
2. Nicole Harvey
3. Louise Mills
4. Brooke Thom
5. Riarna Springbett
Kelly Allen
Ali Donaldson
Stacey Owen
Thea Nicola
Tamika Spratley
Beth Castell

Ms Bikini Open Class 1
1. Bridget Bennett - Overall Ms Bikini Winner
2. Melanie Cowmeadow
3. Vanessa Catalano
4. Simone Lewis
5. Ashlea Nutt
Skye Thackray
Daniella Mufale-Tulipano
Kim Browne

Ms Bikini Momma
1. Louise Mills
2. Riarna Springbett
3. Lauren Channon
4. Ali Donaldson
5. Kim Browne
Skye Thackray
Stacey Owen

Ms Bikini Open Class 2
1. Sarah Rohweder
2. Amanda Caputo
3. Soraya Proude
4. Kimberley Foreman
5. Tamika Spratley
Thea Nicola
Yuchen Hu

Ms Swimsuit Open
1. Ashlea Nutt
2. Alanah McCormick
3. Bec Newell
4. Simone Lewis
5. Louise Mills
Yuchen Hu
Lauren Channon
Kimberley Foreman
Kimberly Jackson
Melanie Barry

Ms Fitness Model 21
1. Bree Lawrence
2. Eva Jane
Ms Fitness Model 30+
1. Nikki Homann
2. Karen Helena
3. Jess McCallum
4. Jackie Veal
5. Shari Coggins
Susanna Mansell
Naomi Jenkinson
Ria Mestiza

Ms Fitness Model 40+
1. Bec Newell
2. Tam Elmore
3. Lisa Ienco
4. Deb Jones
5. Jo Harding
Ms Fitness Model Novice
1. Jess McCallum
2. Ashley Ker
3. Shari Coggins
4. Naomi Jenkinson
5. Eva Jane
Lisa Ienco
Tanya Watts
Megan Hill
Sara Cross
Ms Fitness Model Momma
1. Karen Helena
2. Tam Elmore
3. Lisa Ienco
Ms Fitness Model Open
1. Nikki Homann - Overall Fitness Model Winner
2. Jess McCallum
3. Bec Newell
4. Jackie Veal
5. Kimberly Jackson
Sara Cross
Susanna Mansell
Shari Coggins
Ms Sports Model 30+
1. Amanda Caputo
2. Bernadette Aw
3. Jackie Veal
4. Susanna Mansell
5. Ria Mestiza
Erin McGregor
Yazmine Storey
Nicole Harvey
Ms Sports Model 40+
1. Bec Newell
2. Tam Elmore
3. Deb Jones
4. Jo Harding
5. Tanya Watts
Ms Sports Model Novice
1. Ashley Ker
2. Bree Lawrence
3. Courtney Samra
4. Karen Helena
5. Eva Jane
Jo Harding
Megan Hill
Simone Lewis
Naomi Jenkinson
Alanah McCormick
Kimberley Foreman
Sarah Rohweder
Beth Castell

Ms Sports Model Momma
1. Bernadette Aw
2. Tanya Watts
3. Yazmine Storey
4. Stacey Owen
Ms Sports Model Open
1. Ashley Ker - Overall Sports Model Winner
2. Bernadette Aw
3. Kimberly Jackson
4. Courtney Samra
5. Bree Lawrence
Megan Hill
Erin McGregor
Ria Mestiza
Nikki Homann
Yazmine Storey

****************************
THIS EVENT IS SANCTIONED BY ICOMPETE AUSTRALIA
icompeteaustralia.com.au
AND WAS A DRUG TESTED EVENT
EVENT PROMOTER & MC:
Kim Tanska
australianmuscle.com.au
GRAPHICS & POSTER:
Ari Tanska
HEAD JUDGE:
Esther Pedisic
TROPHY PRESENTERS:
Kia Tanska
Melanie Barry

SPECIAL THANKS ICN STAFF:
Ari Tanska
Mathew Dobbinson
Adrian Musseau
Luke Hopkins
Julie Tanska
SPECIAL THANKS:
Thanks to all of the judges
Nelson Azevedo for providing photos to GMV

MAJOR SPONSOR
Max's & Maxine's
maxs.com.au
SPONSORS
Drip Club
Gen-Tec
Lima 1 Protection Service
No Days Off
Hybrid Performance Nutrition
Optimum Nutrition
Readyfit Meals
Australian Muscle
ATP Science
EHP Labs
Iron Gym
The Base
Comptan Aust
Livingbeauty.com.au
Wild Bull
GlamFit Bikinis
BSN
Scitec Nutrition
Prana On
Balance
ANS Performance
OFFICIAL PHOTOGRAPHER
Nelson Azevedo
nelsonazevedophoto.com
CAMERAWORK & EDITING,
GRAPHICS & AUTHORING:
Ollie Parke
Produced by
GMV PRODUCTIONS
Australia
WEB:
GMV.COM.AU
GMVBODYBUILDING.COM
© WORLD COPYRIGHT 2018