Tribute to Larry Scott on the passing of our first Mr. Olympia - Larry Scott at age 75.
By Wayne Gallasch, GMV Productions.
Dave Draper summed it up perfectly when he said that Larry's name and image are etched permanently on the iron of our minds. I could not say it better.
Larry Scott died on Saturday March 8th, due to complications from Alzheimer's disease. He was 75 years old. The man known in the bodybuilding world as "The Legend," was born in Idaho in 1938.
He moved to California in 1959 where he became one of the world's top bodybuilders. Larry later won the first ever Mr. Olympia contest in 1965 and repeated again in 1966 before retiring from the Olympia. Larry was known for his perfectly shaped 20-inch biceps, developed in part by doing the "Preacher Curl".
When I first started training, I always did my preacher curls, hoping to develop an arm with the perfect shape, just like Larry's arm. But it never happened. Larry was a genetic marvel and with hard work and great nutrition, became the best in the world.
He was also the major inspiration for Joe Weider to start a champion of champions contest that was finally named Mr. Olympia. The rest is now history with the 50th Mr. Olympia to be celebrated in September this year (2014). What a pity that Larry can't be there to celebrate this amazing history with us.
In 1978 Larry came to Australia and during his visit posed for Robert Nailon who did the superb painting of Larry, seen below. I first met Larry when he attended my Legends' Reunion at World Gym in Venice, October 2000. It was extremely generous of him to attend and he was happy to pose his still fantastic biceps. I next saw him for a chat and again took a photo of his amazing arm at the 2001 Olympia Expo at the Mandalay Bay Hotel in Las Vegas. (See more photos below).
Larry was known for his perfectly shaped 20-inch biceps, developed in large part by practicing the "Preacher Curl". Later named by many as the Scott Curl.
It was 5 years later that I next saw Larry. It was at the 2006 FitExpo and Iron Man Pro in California. GMV was the official videographer for this event and I recorded Larry's inspirational seminar given at the Expo. I subsequently arranged with Larry to turn the seminar into the major part of a bio DVD with all of the footage I had on him throughout his illustrious career.

The last time we photographed Larry was at the past Olympia Winners' Reunion at the 2010 Olympia in Las Vegas. This was the 45th year (1965 - 2010) and was actually the 46th Mr. Olympia. All the past winners were presented on stage with Joe, apart from Arnold who was unable to attend. Richard Rossan took this photo back stage for the GMV team, see below.
I have a video master tape of the Lifetime Achievement Award made to Larry by the Oscar Heidenstam Foundation in England in 1997. I will release this on DVD in the coming week.
Larry Scott was a true gentleman to work with and a superstar of bodybuilding. He will be greatly missed. My condolences to the Scott family.

You can click here to see my FAVOURITE GALLERY PHOTOS OF LARRY.

Back to the LARRY SCOTT DVD page.

Back to the LARRY SCOTT DIGITAL VIDEO DOWNLOAD page.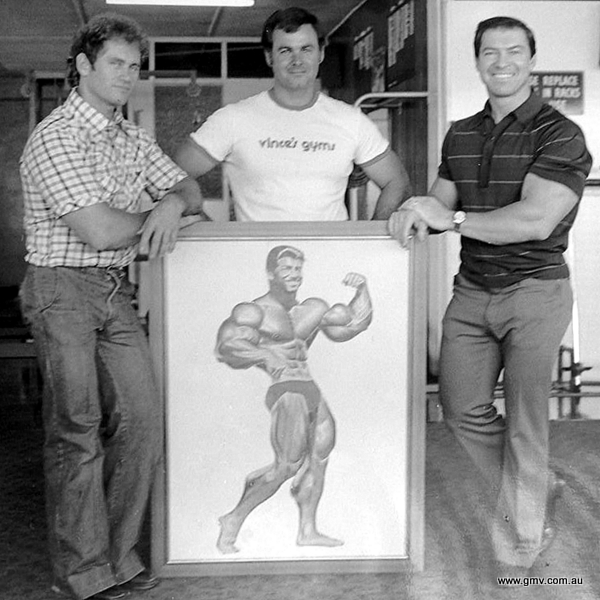 L to R Robert Nailon with his painting of Larry, Vince Basile and Larry Scott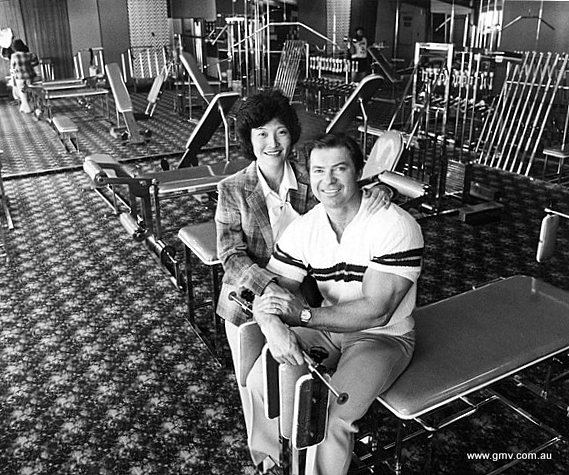 Larry and his wife Rachel, in his gym, 1980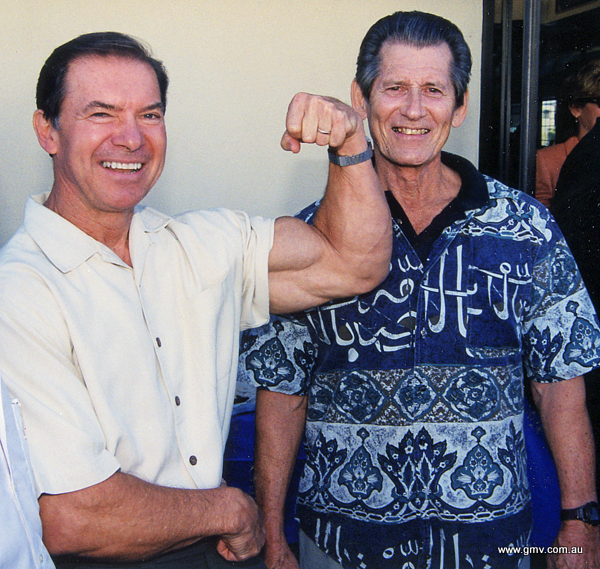 Larry and Don Howorth, Legends' Reunion, Venice, October 2000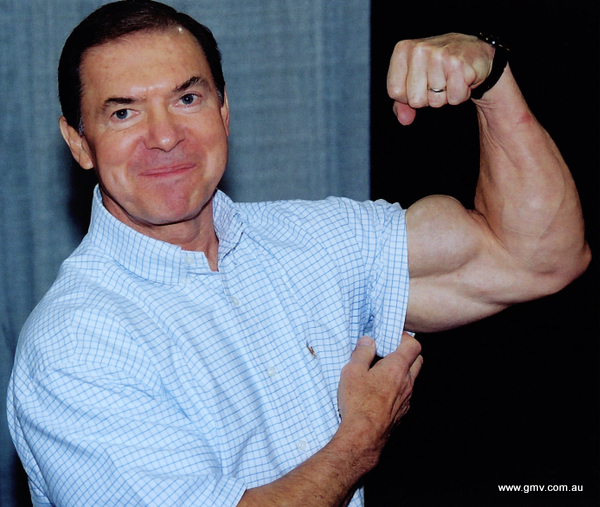 At the 2001 Olympia Expo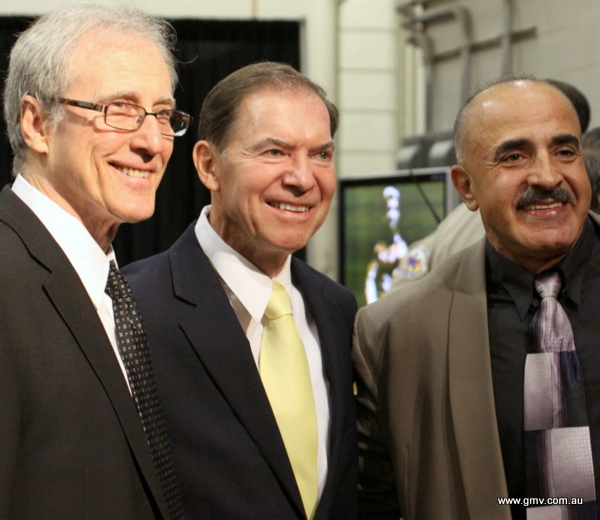 L to R Frank Zane, Larry Scott & Samir Bannout at the Olympia Winners' Reunion, 2010 Olympia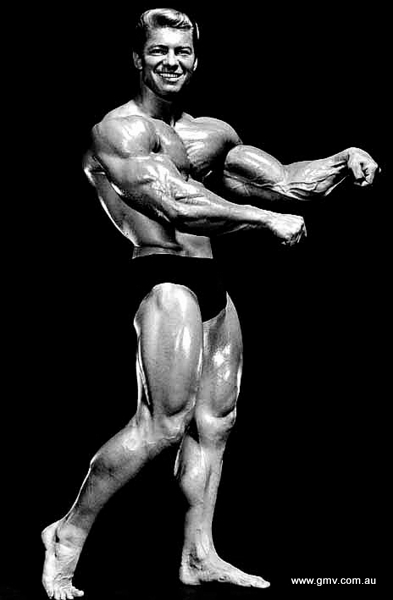 This is how we will always remember Larry, 1965/1966 Mr. Olympia