Steve Speyrer's CLASSIC ANATOMY GYM BODYBUILDING HALL OF FAME AWARD 2006

Latest Recipient - WAYNE GALLASCH of GMV Bodybuilding.


THE 2006

CLASSIC ANATOMY GYM BODYBUILDING HALL OF FAME AWARD

We congratulate WAYNE GALLASCH of GMV Bodybuilding in Australia on being our latest recipient of this prestigious award. (SEE PHOTO BELOW OF MOUNTED AWARD)

Many people involved in bodybuilding work endlessly to promote the best interests of the sport, but are sometimes never recognized for their efforts.

Through my Classic Anatomy Gym Bodybuilding Hall of Fame Award I want to show my support and appreciation for their hard work and dedication to our sport.

The most important consideration for their membership is selflessness. Someone willing to help out others and never expect anything in return. This is a rare commodity in today's world.

There are many "un-sung" heroes in our sport. Some are past "greats" who are now often forgotten. People that inspired a whole generation of bodybuilders to reach their full potential. Newcomers to the sport tend to only know current names and faces.

There are bodybuilding writers, photographers and videographers who deserve to be remembered and honored. People who lead the way in this sport before fitness became "big business".

Classic Anatomy Gym Bodybuilding Hall of Fame is proud to recognize its members and hopes to continue adding famous names and unsung heroes to the list.

Steve Speyrer
http://www.classicanatomygym.com


**********************************************************************************************************************************************************************************************

Hi Wayne,

Our mutual friend Steve Speyrer informed me recently that you have been selected for induction in the 2006 Classic Anatomy Gym Bodybuilding Hall of Fame. I extend my congratulations to you.

You have long been the archivist, and visual historian of our sport. Few realize that you not only do what you do as the nonpareil bodybuilding chronicler, but that no one was really doing this before you. You have not only mastered the task, but you were the first (and perhaps) the only one to have figured out that this task was the opportunity to do something necessary and significant. It's as if you not only run the race and win, but you discovered or invented the race to begin with. You are a true pioneer.

You engaged in this work of your own initiative when there was seemingly neither any call for it nor any appreciation of it, but you have persevered and made this mission your own.

The passion in your work is so evident, and you have married that with a fierce dedication to mastering the technical and detailed aspects of film and video, as well as combining a keen understanding of the human story and struggle bound up in the best efforts of bodybuilding. You have my utmost respect and the respect and appreciation of so many in our sport, which, as I have said, owes you very deeply.

Your work and your contribution to bodybuilding are both extensive and highly significant, and not only is it a good thing that you are recognized for it, but it's great that you are still so fully engaged, healthy, vital and continue to be in your prime. It's wonderful to see good things happen to someone as deserving as you.

Again, my congratulations to you and continued best wishes.

Regards,
Greg Sushinsky,
Bodybuilding Author
http://www.gregsushinsky.com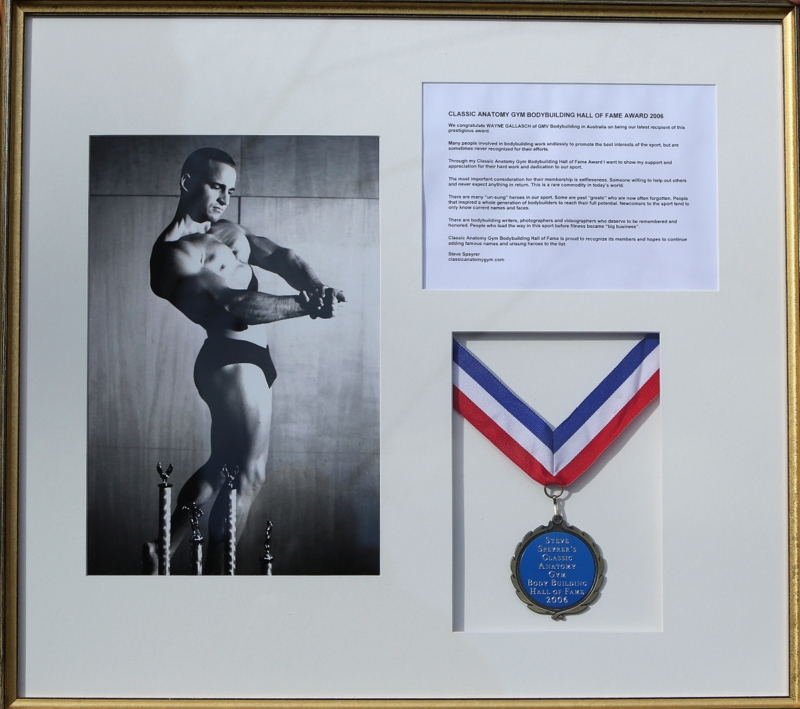 Click here for LARGE IMAGE.