This is the speech given by Wayne on the occasion of the presentation of the Iron Man Cinematography Award, presented to to him by John Balik on February 15th, 2003
Honoured guests, Ladies & Gentlemen: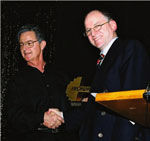 I would like to thank John Balik and Mike Neveux of Iron Man Magazine for honouring me as the first recipient of the Iron Man Cinematography award. It is said that you are usually honoured after you are dead, so I thank Iron Man for moving it forward a few years!!
I have had the pleasure of knowing John Balik since 1970. A number of times I used his old studio in Venice in the early 80s to shoot my first ever posing features to be shot on video.
It has been my good fortune to catch virtually all the greats of world bodybuilding from 1968 to the present.
Having been a competitor and keen amateur photographer in Australia in the 60's, it was a matter of preparation meeting opportunity when I first came to USA in 1970.
I felt that major events in England and USA should be recorded on film as moving images, yet no-one else seemed to care back then. It was not deemed important.
I always sensed the feeling of being present at history in the making at these USA and international contests.
I had a singular determination back in 1970 to do this as a career, and to do it for as long as I was physically able.
This year marks the 35th anniversary of my small step forward into the unknown world of physique cinematography.
Since I first started the number of bodybuilders that have passed through my cameras, including those at contests, would now be in excess of 25,000.
To conclude I would like to share a few interesting highlights of my camera work career with you.
In 1970 in London I filmed Arnold's final NABBA Universe victory.
Because it was impossible to get a press pass to shoot movie film in the theatre in those days, I used a brown paper bag to hide the camera from the security guys patrolling the aisles looking for cameras. It was my first Universe in 1970, and I have officially shot the Universe ever since - thankfully I don't need to use a paper bag these days. The organiser, Oscar Heidenstam, made me the official filmographer of the Universe from that time forward.
In 1971 I heard that Bill Pearl was to make his farewell appearance in the London NABBA Universe Pro Class, and that Sergio Oliva, Reg Park and Frank Zane had also entered. I captured this historic clash of the giants on film, a clip of which you will have seen tonight.
One week later I journeyed to Paris for the 1971 Mr. Olympia. There was only 1 competitor, Arnold, with Franco and Sergio being relegated to guest posers for political reasons.
This was Arnold's second Olympia victory and I was fortunately able to capture it on film. Contrast the single competitor of 1971 with the 25 competitors in 2002!!
In 1972 I filmed Arnold and Franco in Australia and Zane and Oliva individually in London - all posing outdoors. These are probably some of my best known films.
I photographed and filmed Mike Mentzer at his peak in the late 70s.
1980 was a truly memorable year.
I was asked to be one of the major sponsors of the Sydney Mr. Olympia through our NutraLife supplements company.
I agreed on the proviso that I could have filming rights to the event from the centre front row, and the promoter agreed.
The event was quite controversial, as head judge Bill Pearl could tell you, with Arnold narrowly defeating Chris Dickerson, with Mike Mentzer in 5th place.
Mike was in the best condition of his life and should have placed higher.
This was the 7th Mr. Olympia victory for Arnold in his comeback, and the final contest appearance by Mike Mentzer, who never really recovered from his placing that day. It was also Arnold's last contest.
My greatest disappointment is that Mike didn't put 1980 behind him and go on and claim his rightful title in say 1981 or 1982.
Thus my video, now DVD, of this sensational event is the only front of stage record of the 1980 Mr. Olympia.
In 1982 I was present in London when Chris Dickerson finally claimed his Mr. Olympia crown. He was the oldest ever winner of this title and this was the last event I shot on film. It was video only from 1983 onwards.
In 1983 I visited with Peary and Mabel Rader in Alliance, Nebraska. Peary published more of my photos, covers and articles in Iron Man than any other magazine publisher.
In 1998 Andy Olson of Magna Media International asked me to shoot the Ms. Olympia for him in Prague. This was a wonderful challenge.
In 1999 I was brought back to annual Olympia participation, due to Ben Weider, Wayne DeMilia and Andy, when I was one of the cameramen for the TV team recording the event.
As to the future, we will have all releases on DVD only as VHS videos disappear.
There are several people I would like to thank for helping me in my career. They include my friend Clive Jaques, my interviewer, photographer and general helper for the last 32 years; the late Oscar Heidenstam for granting me official Universe taping rights; Wayne DeMilia and Andy Olson for my Olympia and Grand Prix participation; my son Sean for taking over the editing of my work 8 years ago; and last but not least, my business partner and wife, Tina, for doing all the hard miles with me through thick, thin and many migraines --- hers, not mine!!
I would ask her to stand up and take a bow, but she is busy down there on my right, on the second camera.
I would also like to make a special mention of Tom Lincir and Ivanko Barbell Co for being the official sponsors of GMV Productions.
There are many others who have helped me over the years, but they are too numerous to mention - be assured however, that you are certainly not forgotten and I am eternally grateful to each and every one of you.
I hope to go on recording bodybuilding history over the next 10 years or so, with both the established stars and the up and coming new talent.
Thank you all very much.
Wayne R. Gallasch, 15th February 2003

To see this complete award to Wayne at the 2003 Iron Man Pro please click here for V-180DVD.


Customer comment:

Hi Wayne,
I also read (very belatedly, like three years later) your wonderful acceptance speech for the 2003 Iron Man award your received in cinematograhy.
Congratulations. I for one am happy for what you have done to make these videos and now DVDs available to fans who cannot attend these contests but enjoy the sport of bodybuilding.
Best wishes,
Marc R.