Wayne's Hard News Report from Columbus, Sunday night. March 8th, 2009.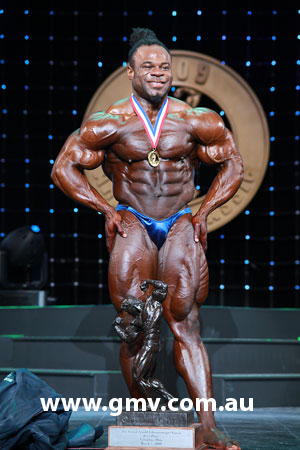 Kai Greene wins his biggest title of his career at the 2009 Arnold Classic!
My top 4 selections from the prejudging turned out to be the same as the judges when the final results were announced tonight to a packed Veteran's Memorial auditorium. It was Kai Greene is a sensational victory, also winning the Best Poser Award.; Arnold said it was the best posing he had ever seen. Branch Warren again won the Most Muscular Award.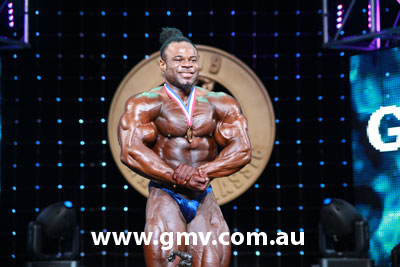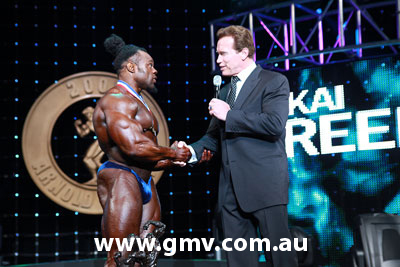 Complete Results:
2009 Arnold Classic - 21st Year
1. Kai Greene - USA
2. Victor Martinez - USA
3. Branch Warren - USA
4. Toney Freeman - USA
5. Silvio Samuel - Spain
6. Moe Elmoussawi - New Zealand
7. Dennis James - Germany
8. Sergey Shelestov - Russia
9. Johnnie Jackson - USA
10. Ronny Rockel - Germany
11. Gustavo Badell - USA
12. Ahmad Haidar - Lebanon
13. Marcus Haley - USA
Derek Poundstone of USA won the Strongman Contest in a very close finish.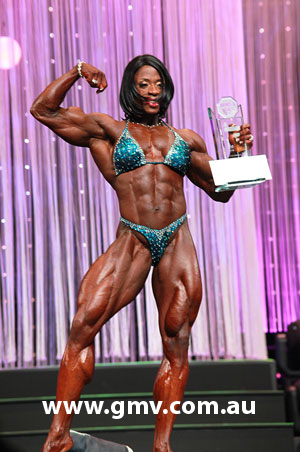 Iris Kyle takes the title in style at the 2009 Ms International on Friday (Women's) night at the Veterans Auditorium.
Iris convincingly won the 2009 Arnold Classic Ms International which carried a prize purse of $25,000 As soon as I saw Iris at Prejudging my thoughts were "OK she is #1 so who will fill the other placings". This win tied Iris for the all time records of Arnold Ms International wins at 4, the same as Yaxeni Oriquen.
Debi Laszewski placed second in a surprise placing, with former Arnold Champion Yaxeni Oriquen Garcia in third place.
Complete Results
1. Iris Kyle - USA
2. Debi Laszewski - USA
3. Yaxeni Oriquen - Venezuela
4. Heather Armbrust - USQA
5. Dayana Cadeau - Canada
6. Betty Adkins - Venezuela
7. Isabelle Turell - USA
8. Cathy LeFrancois - Canada
9. Dena Westerfield - USA
10. Mah Ann Mendoza - USA
11. Brenda Raganot - USA
12. Rosemary Jennings - USA
13. Maria Carmen-Gomez - Mexico
GMV will be release a DVD of the complete Women's Prejudging for all 3 classes same as usual, plus a DVD of the Women's Finals.
Jen Hendershott wins her second 2009 Arnold Fitness International title.
The reigning Ms Fitness Olympia Jennifer Hendershott won the 2009 Arnold Fitness Classic to make it two victories at both major events. As usual Jen's routine was simply incredible, as was Regiane DaSilva's routine and Regiane deserved 2nd place in my opinion. Julie Palmer placed second.
Complete Results
1. Jen Hendershott - USA
2. Julie Palmer - USA
3. Tracey Greenwood - USA
4. Regiane DaSilva - Germany
5. Tina Durkin - USA
6. Shannon Meteraud - USA
7. Trish Warren - USA
8. Nicole Wilkins - USA
9. Oksana Grishina - Russia
10. Mindi O'Brien - Canada
11. Tanji Johnson - USA
12. Bethany Gainey - USA
13. Erin Riley - USA
14. Nicole Duncan - USA
15. Jessica Clay -USA
16. Heidi Fletcher - USA
Zivile Raudoniene wins the 2009 Arnold Figure International for Lithuania.
Lithuania achieved its first ever Pro bodybuilding title with Zivile Raudoniene winning the 2009 Arnold Figure International. The 2008 Arnold Figure winner Gina Aliotti was in my opinion unlucky to have placed second as she had by far the more complete physique. I was pleased to see the very popular figure star Monica Brant placed sixth.
The competitor who had by far the best Figure Physique in the contest was Brazilian star Juliana Malacane. Take a look at her in the DVD in due course and judge for yourself. Her body was incredible but was not the look the judges wish to promote. They placed Juliana 13th.
Complete Results:
1. Zivile Raudoniene - Lithuania
2. Gina Aliotti - USA
3. Amy Fry - USA
4. Kristal Richardson - USA
5. Felicia Romero - Mexico
6. Monica Brant - USA
7. Heather Mae French - USA
8. Sonia Gonzales - USA
9. Sherlyn Roy - USA
10. Erin Stern - USA
11. Chastity Slone - USA
12. Latisha Wilder - USA
13. Juliana Malacarne - Brazil
14. Huong Arcinas - USA
15. Lenay Hernandez - Cuba
16. Brenda Smith - USA
17. Georgina Lona - USA
Post Expo Report.
Just back in my room, 5:15PM after walking back from the Expo to the Doubletree, wheeling my big black case for some exercise. Balmy day here with people in T shirts and tank tops walking the streets! Now some quick pieces of news while fresh in my mind.
AC went great last night, with good lighting. Kai was an easy winner in my opinion and I had the top 5 all correct as all were clear cut. After packing up and getting a ride back to my hotel from the guy sitting next to me.
At the venue yesterday I watched the afternoon rehearsals - I always stay in the theatre all day as I do at every contest I shoot, keeping an eye on my gear. The event stage manager/producer (who also sends me all the theatre camera footage) kindly invited me into the staff dining room for a meal with them at 5:30PM. A first ever in the basement of the complex. Great food too. Shades of the Mandalay Bay Hotel staff cafeteria I ate in once in 1999. The contest finished at around 9:30PM. Arnold was his usual chatty and funny self on stage. He is so loyal to the event that carries his name.
Got to the Expo a bit later than I had hoped for after packing all my interview camera gear and still camera of course. It was TOTAL CHAOS there, could not move, could not set up or get near BB.com as I had planned as they had a line of people 40 to 50 yards long waiting to go past their booth to get free stuff. I stood nearby in a state of shock as it was obvious that due to the crowds, biggest they said had ever attended on a Sunday, and the noise and general crush, it was impossible. I stood near the very wide entrance area taking stock and working out what to do next and where to go.
I recalled that Zane's booth was in Aisle #2 on the outside in the quietest area so went and saw him. I only had to wait till he finished with one customer and then he told me again how much he loved the Golden Years Mr. O DVD and in particular loved the 1971 Olympia, and he loved the Bach background music. I said I liked the 79 Olympia stuff the best due to its quality, and he agreed that was pretty neat. I got my 10 signed DVDs from him in swap for 10 of my Golden Years, and bought 2 of his small books.
I then saw a sign saying Booth 138 for the new Reg Park DVD. That was also in a quiet aisle being in the last row and bought the 2 DVDs, the other being Jon Jon Park's DVD showing Reg's training methods. I chatted to the producer who knew me from my emails and having met briefly last AC. They made 500 numbered copies of each DVD!
I next saw Rose Romero from Sydney, working the SAN booth. Saw Gunter and his wife Kim, Lou Ferrigno, Bob Kennedy and his wife Tosca, Jorge Betancourt and Hide Yamagishi and took pix of all of them. I also caught up with, and [photographed Andy Haman and Pauline Nordin.
I was at the Expo till they put the lights down low at 4PM, telling us to leave. Had endless free protein drinks, pre-workout drinks and pieces of protein bars for my lunch and afternoon tea!! No wonder I had all this energy for the long walk back. Saw no other Aussies apart from Rose.
There was nothing of interest on the main stage and saw it was table tennis. Saw Stan McQuay on a booth but did not see Denis Sergovskiy on any booth. Quincy Taylor was the only male pro I saw working on a booth, at Musclemag. Plus of course Hide. Had a chat again with Bob Kennedy and had a photo taken with him and his wife.
As I was leaving from the front of the Hyatt Regency Hotel I spotted huge unbelievable calves. It was Eric Fankhouser. I introduced myself and he and his wife recalled my emailing them a year or so ago asking if Eric would do a training DVD with me. They are still interested, when he is in shape, and Eric is having a rest year till he competes in the NY Pro, May 2010. They will keep in touch. I did a couple of non-physique photos of Eric. Back at the hotel I chatted to Dayana Cadeau. Saw Ronny Rockel leaving my hotel to go to the airport and back home.
Now I will down load my pix from the last 48 hours as that may trigger a few more things for this report's next chapter. At this moment I must start packing my tangle of cables and gear, thrown into my cases at the end of the contest last night. I then check out about 9:3AM Monday and to the airport for the very long journey home. I think it is 6 hours to fill in at LAX. They let you check in about 5 hours before the flight. Once checked in I can go to the Qantas Club lounge and use my laptop and eat free high calorie, high salt nibbles, and drink diet coke! I also have stuff to read and work to do.
Wayne R. Gallasch