WAYNE'S HARD NEWS - 2010 OLYMPIA REPORT
Up at 5AM and left Adelaide, South Australia on Thursday September 16th, for Las Vegas via Sydney, arriving on the wonderful and massive A-380 after a 14 hour flight to LAX. Through immigration and then on to Las Vegas, still arriving on the same day. The reason for my early arrival in USA is to allow time to recuperate from jet lag before the Olympia camerawork begins on the following Wednesday.
MONDAY - Sept. 20
Host and team member Dick Rossan and I went to Gold's Gym (East Flamingo) to meet Roelly Winklaar and his trainer/manager Sibil Peeters to discuss our planned video shoot with him. However Sibil felt uncomfortable to work with anyone else, due to his Muscular Development contract, even though this was to be a video for Roelly to also sell to his fans. Despite our best attempts including some high level help, such permission was never obtained from MD. It is beyond my comprehension why they would wish to stand in the way of an athlete to earn extra money shooting a training DVD with GMV (or anyone else) when a top bodybuilder's career is so short. As it later turned out, Roelly looked better and sharper when he competed in the Arnold Classic and the Aussie Grand Prix, earlier this year.
TUESDAY - Sept. 21
We checked into the host hotel - The Orleans. I can say without hesitation that the registration personnel were extremely efficient, checking us in at midday.
WEDNESDAY - Sept. 22
At 10AM we obtained our press passes and ID bands for entrance to back stage for the 4 member GMV Team – Dick Rossan, our two assistants Eli Blahut (a top 22 year old competitive BB from LA) and Teddy Marty, a natural competitive BB from Buffalo, and myself. Both assistants were very helpful, personable, funny - and late on only one occasion! At 1 PM there was a technical meeting for all staff and people involved at the Arena and Expo to discuss all arrangements for the event for audio/lighting and DVD production.
At 7PM this year at the Male Athletes Meeting, the 202 lb class was weighed first, followed by the Mr. Olympia meeting. The only 202 class competitor who did not make weight was Eduardo Correa of Brazil who it seems was 3 pounds over the limit. I later heard that Eduardo returned 3 hours later and had to strip in order to make the weight class, which he did.
We asked him how he lost 3 pounds in such a short time and among other things he was in a sauna, did cardio and possibly used a few other tricks of the trade. On Sunday Eduardo told us he will not go through this stress again and will in future compete as an open pro class competitor, probably coming in at a contest weight of around 220-225 lbs. I will not be surprised to see him in the Mr. Olympia lineup next year!
THURSDAY - Sept. 23
While strolling through the Orleans Hotel, we saw Ronny Rockel in the gift shop . He was in incredible condition, and asked us to pinch his paper-thin skin to see the shape he was in. His skin was like tissue paper and as tight as a drum. He said he felt he should place 5th this year. He was close in his prediction by placing 6th, his first time in the top 6.
The Press Conference began at noon, and included all 22 Mr. Olympia competitors with the main contenders grouped together in the centre front row. The MC was again Bob Cicherillo, but minus Dan Solomon, and this year Bob spoke with all the guys, including those who spoke little English. Paco Bautista who spoke no English at all replied in Spanish for his fans. Although Ronny Rockel is not a natural English speaker, he did better than in previous years. All the guys replied to the questions with respect for each other and all in all it was good entertainment. Dennis James made a nice farewell speech saying this was his last Olympia at age 44.
I also met Mike Pulcinella for the first time. He is the well known producer of the Kai Greene DVDs and much more.

The Meet the Athletes function began at 7 PM in the Orleans Arena Concourse. This is a large and excellent area for such an event. Here the competitors from all 6 classes, men and women, sit at tables to sell their photos and DVDs, and have their picture taken with their fans. In the past this has been organized chaos at times with long lines of people snaking their way around corners. This year it was open and orderly with lots of room for everyone.

We started off with an interview with our Aussie figure competitor, Rosa Maria Romero, the first ever Australian to compete in the Figure Olympia. Our interviewer was John Hansen who once again did an outstanding job. We also interviewed comeback queen and winner of the first ever Fitness Olympia title, Mia Finnegan. We had hoped to interview defending Mr. Olympia Jay Cutler. However he had the longest line of anyone, with his fans waiting to see him, and he had a veritable shop set up behind his table selling DVDs, photos and other items, with help from his assistants. I also caught sight of Jim Lorimer of Arnold Classic fame, enjoying the occasion.
At 10PM it was back to my room to prepare the video camera for the next day, fitting the long lens ready for an early trip on Friday to the Las Vegas Convention Center in order to set up at 9AM and be ready for the day's work of recording all that would take place on the main Expo stage.
FRIDAY- Sept. 24
Arrived at the Expo Hall at the Convention Center just after 9AM and with the help of my team, set up the big camera on the riser, ready for the day ahead, starting with the prejudging for the 4 women's classes, for the Olympia Women's DVD. The first day of the EXPO is always an exciting occasion and I greatly look forward to it. I spent the entire day taping women's pre-judging starting at 10:30AM, followed by a massive number of entrants in the Model Search for women, and then for the men, and finally the strongest bodybuilder contest between Ben White and Stan Efferding, Day 1:The Bench Press.
During his very first lift Ben White appeared to pull or at least strain a muscle in the chest, failing his attempt, and could not take his remaining attempts. This made it a cake-walk for Stan Efferding who really pulled off some great lifts.
This year my TV riser camera position was perfectly positioned next to the audio/video control area which fed the display to the 2 big screens on the either side of the stage. Although I had no time to wander around the Expo, the attendance was at least as large as last year or perhaps even larger. We broke down the equipment, packing up at a little after 4PM and piled onto the shuttle bus to return to the hotel. Had a quick bite to eat, met good customers Phil Carman and Cesar Medina, and then hurried over to the Arena to set up in the pump room backstage by 6PM for some candid video work with various competitors prior to their appearance on stage.
Starting at 7PM, Friday night is Mr. Olympia Prejudging night and there were so many comparisons such that I am sure nobody could complain that the competitors were not adequately compared. It was also Finals night for Fitness, Bikini and Ms. Olympia. It was quite late by the time we packed up the gear and trudged back to the hotel. Now for a few quick comments on what I observed by seeing each competitor up close backstage, as they were given their final coat of tan or did some light pumping up.

Of the men, JAY CUTLER seemed very calm and relaxed and as usual did virtually no pumping, just a few tensions and resting most of the time. I suspect he was dehydrated and was also conserving energy.
TROY ALVES Alves looked in fantastic condition with great muscle separation.
KAI GREENE was covered up till he had to walk out on stage and appeared to be in his own world and not concerned with anything else around him. He had his game face on!

BRANCH WARREN did a little pumping and it was obvious he was really "on" this year and he looked the best I have ever seen him look, and in rock hard condition. He looked extremely determined and positive in his demeanor.

PHIL HEATH looked outstanding – hard, ripped, symmetrical with a tiny waist, and from what I saw backstage, appeared to be the man to beat, although Jay looked equally as impressive in a massive sort of way, displaying good abs and separation.
DENNIS WOLF looked the best he has looked in several years but does need more calf size for better overall symmetry.
RONNY ROCKEL is also at the peak of his career, with amazing delts and quads, and is so symmetrical he hardly has a weakness.
DEXTER JACKSON looked great with his wonderful back and overall hard condition and I felt he would be a threat to Branch Warren as I was sure these 2 would fight it out for 3rd and 4th and that is how it turned out on the next night.

Kai lacked the hardness needed to place higher than his 7th place and he must have been disappointed. It was my feeling that he was carrying a little too much weight and this took away from his impact and his symmetry. The general feeling at the end of the men's prejudging was that Phil Heath was a fraction in front of Jay.
Regarding the women bodybuilders, it was once again a clear cut victory for IRIS KYLE in the Ms. Olympia over a very impressive YAXENI ORIQUEN GARCIA with DEBI LASZEWSKI finishing up 3rd. This was Olympia crown #6 for Iris and at the moment nobody can seem to beat her.

In the Bikini Olympia, SONIA GONZALES was simply too good in every area for the other women. She had everything that is expected of a top Bikini woman, symmetry, the right degree of hardness/softness depending on what you want to call it, plus great looks and the demeanor of a winner. 2nd and 3rd place trophies went to NATHALIA MELLO and NICOLE NAGANI, respectively.

In the Fitness Olympia class, once again ADELA GARCIA was unbeatable with the incredible overall package she brings to the stage. 2nd place went to veteran competitor TANJI JOHNSON who maintained her winning edge over fast rising future star of Fitness in Trish Warren. Here's a small prediction – watch out for Trish who I feel will be the next Fitness Olympia, possibly as soon as next year! She looked incredible and her routine was equally outstanding. I admired the way she and her husband Branch support each other backstage. It was a memorable night in every way.
SATURDAY - Sept. 25
Up early again and taxied back to the EXPO for early set-up to be ready for the 202 lb class prejudging, due to start at 10:30AM. For once it started a little late but this was of no consequence with only 15 competitors to be judged. I hope this class will increase in size over the next 12 months so that around 19 to 20 competitors will hit the stage at the next Olympia! This year no individual posing routines were included as part of the prejudging.
It was soon obvious that the real battle was between the top 4, namely, Kevin English, David Henry, Eduardo Correa and a fast improving Jose Raymond. Not far behind Jose was the very experienced Jason Arntz. This is the order they eventually finished in on the Saturday night. You could see the shock and disappointment on David Henry's face when for a second year he was announced in second place. I agreed with his shock as his polished physique was tighter and more defined than that of Kevin English who won mainly on size it would seem. Summing up all aspects of separation, symmetry and condition I also found it surprising that David was not announced as the winner.
In my mind the battle for second place would have been between Kevin and Eduardo, but as the saying goes, it is hard to dethrone the sitting champion: so Kevin English still reigns supreme in the 202s. He carries so much muscle he appears to be around 215-220 which is a great illusion to create if you can do it.
Next at the Expo followed the Finals for the Bikini Model Search and Male Fitness Model Search with Bob Cicherillo doing a superb job to make these contests fun and great entertainment for the large crowd. The fun continued with his annual Mr. Punyverse contest. Then it was back to some serious business with Day 2 of the World's Strongest Bodybuilder Challenge – The Deadlift. It turned out to be another victory for Stan Efferding who now holds the title of World's Strongest Bodybuilder.
Team GMV then hurriedly returned to the hotel, had a quick meal, and set up back-stage in the pump room area for the finals of the Mr. Olympia, 202 Showdown and Figure Olympia. Since this was the 45th anniversary of the Mr. Olympia contest, all of the former Mr. Olympia winners were invited so that they could be presented on stage. Backstage we mingled with them and shot some amazing video of Larry Scott, Sergio Oliva, Frank Zane, Franco Columbu, Chris Dickerson, Samir Bannout, Lee Haney and Dorian Yates. We also saw very briefly Ronnie Coleman looking big enough to still be competing. The 2 other most recent winners, Jay Cutler and Dexter Jackson, were there as part of that evening's contest. A huge crowd was in attendance for this historic year which possibly will be the last time Joe is seen on stage with all of the Olympia winners. See photo below by John Corlett. The Arena appeared to be around 90% full which was most pleasing.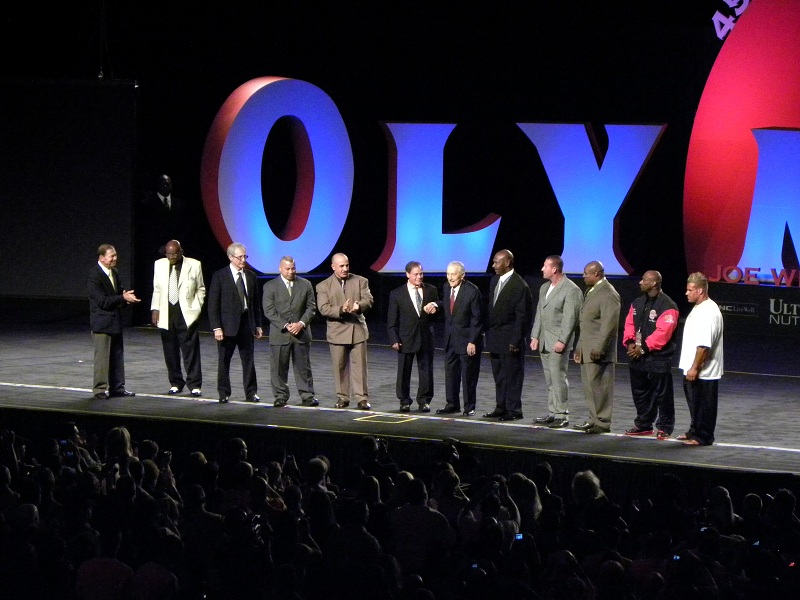 Arnold was not able to attend but did send a video clip thanking Joe Weider and wishing him all the best on his 89th birthday, which was also being celebrated on this occasion. Joe Weider will actually be 89 in November. During the presentation of past Olympia winners, video clips were played on the big screens showing highlights from their careers. Then the screens would cut to the former champ standing on stage - to the applause of the crowd. We were proud at GMV to have been able to supply some of the early footage shown of a number of the early Mr. Olympia winners.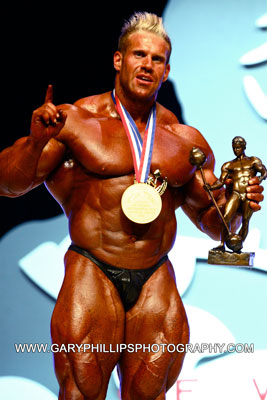 After the prejudging on Friday, the rumor was that Phil Heath was slightly in front of Jay Cutler. However Jay looked a little better on Saturday night though Phil still looked fantastic. It was going to be virtually a toss up with both men obviously so close. After a moment of great tension on stage, Jay was announced as the winner making it 4 victories out of 5 years. Branch was 3rd from Dexter in 4th place leaving the 2 Germans – Dennis Wolf and Ronny Rockel battling it out for 5th and 6th, respectively. With the audience split roughly 50/50 between Jay and Phil, Jay Cutler managed to hold on to his title against a rapidly improving Phil Heath who was snapping at his heels.

Phil had a lot of supporters in the crowd and this night was not going to be any "gift for Phil". Naturally Jay had a lot of fans too, and it is rare to see such an audience split down the middle over two great champions. As Ronnie Coleman said one year, you have to knock the champion out if you want to take his title! In other words, in a very close decision, the reigning champ is going to win, all things being equal. Unless Jay comes in to the event a fraction off his game with his condition, or unless Phil or some other competitor surpasses his size and muscularity I don't see Jay losing. Having said that I also see Phil Heath as a sure winner, possibly as soon as next year. I know the judging is based on the merits of each competitors in that particular year, and at this time they obviously reward size and condition over smaller aesthetics and condition. I can't wait for the battle to be resumed next year.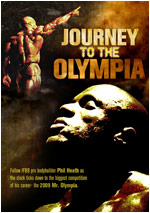 Phil and Jay did their final photos for the photographers and Dan Solomon interviews backstage, and then we packed up our equipment and trudged back to our rooms with another superb Olympia competition now part of bodybuilding history. My congratulations to Robin Chang and his organizing team and also to Martin Carrillo and his technical team, plus the Orleans staff for a superb job, meticulously planned and carried out to perfection. I should also mention the great lighting with input from John Balik.
SUNDAY Sept. 26
The traditional Sunday poolside video and photo shoots at Andy Olson's place took place in 100 degrees heat. During the very hot day we had Dan Hill, Eli Blahut, Teddy Marty, Cody Lewis and Eduardo Correa in front of the cameras. Eli, Teddy and Cody posed as individuals and then had a posedown as a trio of muscle. My thanks to Andy for his hospitality and support and to Ed Connors for his help.
MONDAY Sept. 27
The last day of GMV shooting was at Gold's Gym, with the titanic trio of "Young Guns" Eli, Teddy and Cody. We got through 5 hours of nonstop videotaping with Dick Rossan recording every muscle twitch and pose with his photos. Of special note was Eli Blahut turning on an incredible performance with one amazing drop set lasting for almost 15 mins! It has to be seen to be believed.
One of the sensations this year has been teen competitor Cody Lewis. We were pleased to tape this winner of the Teen Heavyweight Class at the Teen Nationals and the North American Teen Championships. It is hard to believe what an impressive mature physique this 19 year old has achieved. This gym shoot should be released after Xmas as a "Young Guns" super workout 2 DVD set featuring all 3 guys.
Finally it was time to pack up the camera gear at the conclusion of a very intense 6 days of taping in Las Vegas. It was possibly our best year ever. My very special thanks to Las Vegas team member and associate Richard Rossan for assistance on this report, and for all of his help and support during the whole of the Olympia period, and also throughout the year.
See the Complete 2010 Olympia Results here.