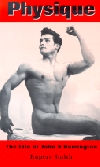 PHYSIQUE: THE LIFE OF JOHN S. BARRINGTON by RUPERT SMITH.
In the bomb blasted streets of wartime London, an eccentric figure stalked through the blackout sporting a monocle, long hair, a Malacca cane and a camera slung around his neck. In the brightly lie underworld of cafes and bars he chased the soldiers, sailors, and airmen, adrift in the West End looking a bed for the night. He befriended them, and photographed them.

Over the decades, John S. Barrington established himself as a pioneer of physique photography - the genteel forerunner to the physique magazine explosion of the '70s.
He was also the first famous photographer to discover Rick Wayne in London.

Illustrated with over 100 black and white photographs (including Helmut Riedmeier and John Hamill).

224 pages. Soft cover.


See Helmut in this 1974 NABBA Universe where he won his Pro height Class, V-149DVD.