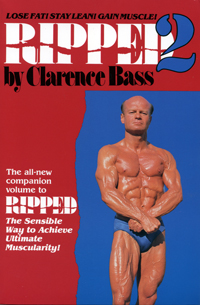 Clarence Bass' RIPPED 2
In Ripped 2, Clarence Bass reveals his secrets for staying lean, gaining muscle, peaking and training longevity. In Ripped, thousands of people, men and women, found the path to a leaner, stronger, healthier body - Ripped 2 continues the journey. Soft back.

Check out the 9 books we have in stock by Clarence Bass click here. There is also a SPECIAL DEAL - 3 BOOK SET FOR RIPPED 1, 2 & 3 - click here.

Please click here for details on the RIPPED DVD COLLECTION complete set of 3 Ripped DVDs.

Click here to read an article on Clarence Bass.