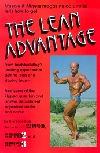 Clarence Bass' THE LEAN ADVANTAGE - soft cover
From one of bodybuilding's leading exponent of getting lean and staying lean - four years of the Ripped question and answer department organised under one cover!
Interesting and thought provoking, the author explains how proper diet, weight training and aerobic exercise combine to produce a leaner, stronger, healthier body.
Packed with secrets and tips! Book #1 in this series of 3.
Check out the 9 books we have in stock by Clarence Bass click here. There is also a SPECIAL DEAL 3 BOOK SET FOR RIPPED 1, 2 & 3 - click here.

Please click here for details on the RIPPED DVD COLLECTION complete set of 3 Ripped DVDs.

Click here to read an article on Clarence Bass.