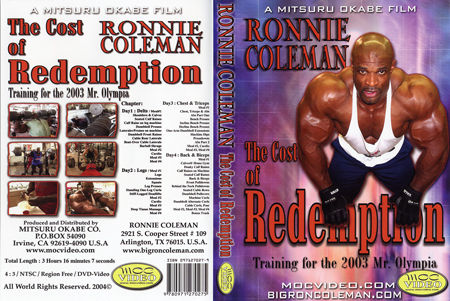 Ronnie Coleman: The Cost of Redemption

Also on Download Part 1. Preview clip.

Also on Download Part 2. Preview clip.


This is Mr. Olympia Ronnie Coleman how we all love to see him - training and training hard. It showcases his campaign for the 2003 Olympia, when he came in bigger, harder and more ripped than we have ever seen him before.

An iconic video on Ronnie which has been one of the most popular and biggest selling training feature DVDs of all time. The weights that are lifted in the gym are truly amazing.

Another Classic video from MOCVIDEO.

Part 1 Contents:
Day 1
Shoulders & calves
Meals
Cardio
Day 2
Legs
Meals
Cardio
Deep tissue massage
RT: 94 mins
Part 2 Contents:
Day 3
Chest, triceps & abs
Meals
Cardio
Day 4
Calves at home gym
Back and biceps
Posing
Meals
Bonus
RT: 101 mins

PHOTO GALLERY.

CONTEST HISTORY & PERSONAL STATS.

The total running time is 3 hours 15 minutes. More than 3 whole hours of Ronnie.
Ronnie Coleman - On The Road.

See Ronnie's full HARDCORE WORKOUT and POSING when on the road! Shot in Australia over 3 days in October 2005 with 3 cameras, just 5 days after his historic 8th Olympia victory. Ronnie is hard and ripped - you've never seen him like this for a full body workout shoot.

Between sets, Ronnie explains how and why he does each exercise - Mr. Olympia reveals his secrets. Witness the insanely heavy weights used, this isn't performed for the camera, it's real and intense.


2003 Mr. Olympia - Prejudging & Finals - Double DVD.

At last you can enjoy the Mr. Olympia contest at home using your DVD player for maximum definition of the world's greatest physiques! This special double-DVD release includes both the 90-minute Prejudging Video (with the Symmetry Round, the solo compulsory poses of every athlete, and the Muscularity Round man-against-man comparisons); PLUS The 90-minute Finals DVD with the individual posing routines of every athlete, an appearance by Arnold Schwarzenegger, award presentations, and Ronnie Coleman's victory speech.


* Available in NTSC DVD Only (Region Free)