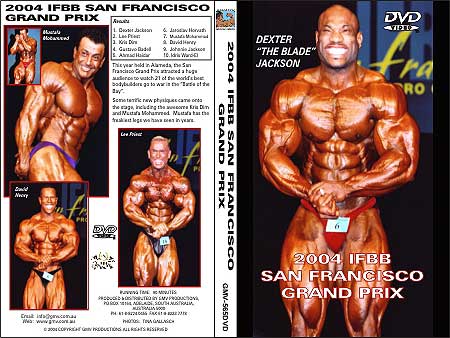 2004 IFBB San Francisco Grand Prix
Held this year on March 13th, in the Kofman Auditorium, Alameda, near Oakland - the San Francisco Grand Prix attracted a huge audience to watch 21 of the world's best bodybuilders go to war in the "Battle of the Bay". 19 actually made it to the Finals with Bob Cicherillo and Chris Cormier withdrawing after the Prejudging. This is one of the few pro shows we have that includes footage of Bob Cicherillo.

SAMIR BANNOUT had entered this contest in order to make his Comeback but later chose to guest pose at the evening FINALS. He still looked amazing. It had been 21 years since he won the 1983 Mr. Olympia in Germany.
Some terrific new physiques came onto the stage, including the awesome Kris Dim and Mustafa Mohammad. Mustafa, a former Overall Mr. Universe, had the freakiest legs we have seen in years.

From the COMPLETE PREJUDGING to the complete POSING ROUTINES of all 19 who made it to the FINALS, this DVD has it all, and is destined to be a classic Grand Prix DVD.
We shot this contest from the best seat in the house, namely, fromt behind the head judge's chair. This gave us some amazing closeups of all of the competitors. We include Dexter's speech along with the posedown and awards.
Lee Priest was in awesome condition and it took the very best condition that future Mr. Olympia DEXTER JACKSON could bring to the stage in order to to beat Lee. The high placing of KRIS DIM was another sensational result.

Running time: 90 mins
Click here for a Matt Canning Review
Results
1. Dexter Jackson - USA
2. Lee Priest - Australia
3. Kris Dim - USA
4. Gustavo Badell - Puerto Rico
5. Ahmad Haidar - Lebanon
6. Jaroslav Horvath - Slovakia
7. Mustafa Mohammad - Jordan
8. David Henry - USA
9. Johnnie Jackson- USA
10. Idris Ward-El - USA
11. Paul Baker - Jamaica
12. Stan McCrary - USA
13. Ntuk Ntuk - Nigeria
14. Mohamed Antouti - Lebanon
15. Dragan Paunovic - Yugoslavia
16. Christian Lobarede - Chile
16. Clifton Torres - USA
16. Fabrizio Zittucro - Italy
Withdrew:
Bob Cicherillo
Chris Cormier

NTSC DVD, OPEN REGION