click here for preview.


THE CLASSIC COLLECTION # 1

Digital Download.
Our first release on DVD from the Golden Era of Bodybuilding and Weight Lifting.
This will read like a who's who of the iron game as the famous names go on and on. Here is a brief run down on the champions we identified.
You'll see BOB HOFFMAN one arm lifting and OTTO ARCO performing his famous muscle control and balancing act. Not to be missed, the muscle control and legendary posing of JOHN GRIMEK. Also muscle control by JOHN FARBOTNIK, and the best known posing footage of the great STEVE REEVES, pictured front cover.

The overall quality of these rare movies is surprisingly good. But the 16mm black and white films are old, some over 55 years and several short segments have been repeated. But the unique value of this video goes beyond the quality, the early camera work and the content. Such is the excitement of seeing rare glimpses of history. This video, now on DVD, is a 'rare gem' – a true collector's item from the '40s to the '60s.

The DVD also includes some rare footage on Steve Reeves. I met Steve in Paris in 1977 at the Worlds, and again in 1998 at the NABBA Universe 50 Years Reunion. Steve was the inspiration to many to take up bodybuilding. (1926 - 2000)
OHF Hall of Fame DVD # 1: Steve Reeves & Reg Park

DVD #1 is a COMBINED DVD of the 1993 & 1994 HALL of FAME DINNERS. 1993 REG PARK 2nd Annual OHF Dinner & Hall of Fame Awards. This DVD encapsulates all of the action at these 2 Awards Dinners, including speeches by both of these legendary bodybuilders.
1994 STEVE REEVES 3rd Annual OHF Dinner & Hall of Fame Awards. A large number of guests, making it a sell-out crowd, attended the 1994 awards to honour STEVE REEVES.


THE 50TH ANNIVERSARY NABBA UNIVERSE DINNER & POSING HIGHLIGHTS: 1948-1998
This DVD is a very special record of the 50th Anniversary NABBA Universe Dinner and Posing Highlights. It consists of half an hour's posing highlights of the major Mr. Universe winners from Arnold in 1970 right up to 1997 inclusive. Regretfully we couldn't include all the winners in this 30 minute segment.

However it does also include short posing segments by 4 of the all time greats prior to 1970 - Grimek, Reeves, Park and Pearl. The second part of the DVD running for 60 minutes contains the highlights of the 50th Anniversary NABBA Universe Dinner and contains the complete speeches of STEVE REEVES, REG PARK, BILL PEARL and MICKEY HARGITAY, plus scenes of many other famous people in the audience that night. GMV-294DVD
Running time: 60 minutes, black and white. Background music added.

NAMES ARE LISTED IN APPROXIMATE ORDER OF APPEARANCE WHERE WE CAN IDENTIFY THE GUYS, AS SEVERAL ARE UNKNOWN.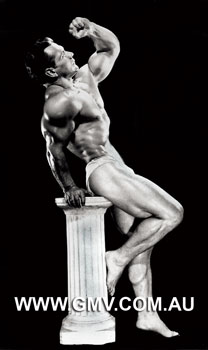 JOE DE PIETRO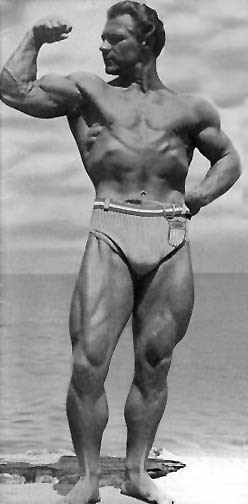 JOHN DAVIS lifting and jerking the famous Appolon axle wheels
TOMMY KONO
DAVE SHEPHERD
JIM GEORGE
'47 PARIS WEIGHTLIFTING CHAMPS
FAYAD & SHAMS
DOUG HEPBURN
JOHN DAVIS
JOHN GRIMEK (see 4 photos this page)
LUD SHUSTERICH
VICTOR NICOLETTI
GEORGE EIFERMAN
ED JUBINVILLE
ALAN STEPHAN
REG LEWIS
JOHN GRIMEK
OTTO ARCO
CLYDE EMRICH
STEVE STANKO
JAMES BRADFORD
JOHN GRIMEK
JOHN FARBOTNIK
JACK DELINGER
MELVIN WELLS
SIGMUND KLEIN
GEORGE EIFERMAN
NORB SCHEMANSKY
FRANK SPELLMAN
BILL PEARL
REG PARK
MARVIN EDER
STEVE REEVES
CLARENCE ROSS
STEVE REEVES (Again)
THE YORK GANG (GRIMEK, BACON, HOFFMAN, BACHTELL)
STEVE REEVES & REG PARK

Also includes VAL PASQUA, KIMON VOYAGES, ED THERAULT, LEO ROBERT, ALAN PAVIA & RENE LEGER and Mr. America Highlights from '46, '47, and '49.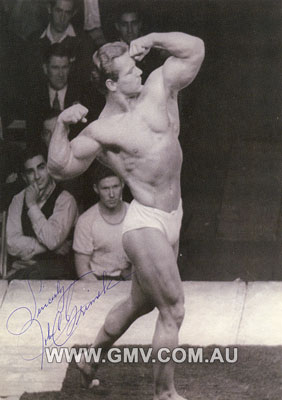 Please click here for Classic Collection #2, GMV-179DVD.

Please click here for Classic Collection #3, GMV-285DVD.

Please click here for Classic Collection #4, GMV-286DVD.

Please click here for Classic Collection #5, GMV-328DVD.

Please click here for Classic Collection #6, GMV-329DVD.

Please click here for Classic Collection #7, GMV-330DVD.

Please click here for Classic Collection #8, GMV-331DVD.







Take a trip back in time to the Golden Days of the iron game.
See the greatest legends in our sport, posing in all their glory:
Reeves, Grimek, Pearl, Park and many more!
Photo bottom right of Grimek by Paul Moor.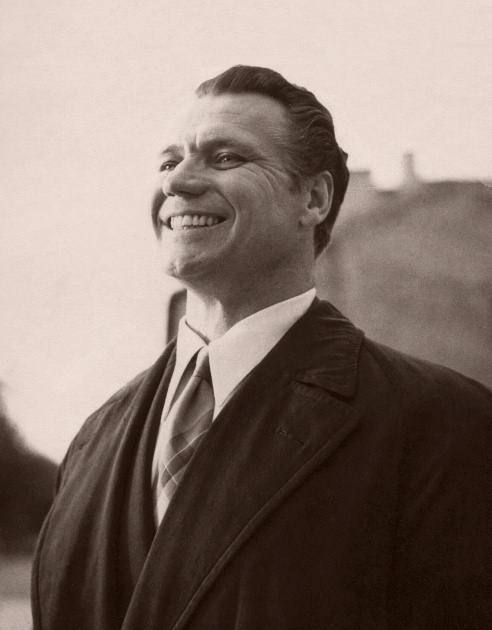 STEVE REEVES statue below as once produced and sold by Wayne of GMV in 1972.