Click here for preview.

1980 Mr. Olympia
Digital Download.

SPECIAL EDITION DVD - DIGITALLY REMASTERED CLASSIC.
Held October 4th, 1980 at the Opera House in Sydney, Australia. This is the contest in which Arnold made his "comeback" after five years of retirement, and gained his seventh Mr. Olympia title.

See our 1980 MR. OLYMPIA PHOTO GALLERY.

See our Arnold's Career PHOTO GALLERY.

HOW THE VIDEO PRODUCTION WAS MADE.
Because so many people ask for more details on this historic DVD, we have written a separate explanation below, setting out some of the interesting facts as to how this video came about. Here we are 40 years later in 2020, and so it is time to update and reprint what I wrote some years ago.
EXPLANATION OF THE MAKING & CONTENT OF THE 1980 Mr. OLYMPIA VIDEO, DVD & DOWNLOAD.
Some younger bodybuilding fans have asked why our video of the 1980 Mr. Olympia, V-103DVDSP is nothing like the quality, style and content of the modern day Olympia DVDs. Shot with multiple cameras and complete with full on-stage live sound, with the comments and name announced for every competitor. Plus an interview with the winner, complete judging and posedown and every second of the awards, and so on.
1. Back in the early Olympia period, 1965 to 1981, there was no official film or video made of the Mr. Olympia contest. The first 100% shot on video Mr. Olympia recording was in 1982 in London, thanks to a company called Video 4. This 1982 Olympia contest is now available on Download as well as on DVD. It is called THE GOLDEN AGE OF MUSCLE: PART 1 "1982/83 MR. OLYMPIAS" plus "BATTLE FOR GOLD" the Documentary, A-1167DVD.
From 1982 to the year 2015 inclusive, the Mr. Olympia contests have been offered on DVD each year. At that point they were stopped. We are hoping to get the Olympia DVDs resumed, this time on Blu-ray DVD.
2. In 1980 VHS home videos had only just started to appear, super 8 film was still very popular, and hardly anyone had the luxury of a VHS VCR. At that time (1980) I recorded all contests and features on Super 8 film, the same as I had done since 1968. Movie film was mostly silent, sound movie cameras were somewhat unreliable in the sound recording department. The cost of film and processing were very expensive back then compared to the cost of blank video tape, CF cards and the hard drive recorders of today. The technological advances since 1980 have been staggering. Digital cameras and DVDs had not even been thought of!
3. The old fashioned technology of 1980 was shooting on 50' long super 8 rolls of film that ran for just over 3.5 mins each, and cost a lot of money. For the whole of the 1980 Olympia contest I had a bag full of blank 50' films, sufficient to last for about 75 minutes shooting time, and that was it. When it got to the final awards I was down to my last 50' reel of film. The MC, although outstanding, was really spinning it out, and it took a lot of time to get through the awards from 6th to 1st place due to the very loud audience participation and reaction as each placing was announced!
4. I had to conserve film or have none left to show Arnold as the winner, and capture the final contest moments. It was a terrible and somewhat nerve- wracking position to be in.
5. After filming the 6th place award, I really tightened up on what I captured till the winner was announced, because I waited to use up my last moments of film right at the very end. So no, there was not a second of my filmed awards that was edited out from the final presentation.
6. Through my supplements company at that time called "Nutra-Life", we were one of the main sponsors of the event. This included the right for me to film the whole contest from my centre front 3rd row seat. I had no desire or interest to go back stage or side stage, with my total concentration being on filming the prejudging and finals from my superb central position in the iconic Sydney Opera House.
7. CBS Sports network came to Australia from USA to record the event, but for some various reasons, they did not put the event to air. It was said that they later "went over their tapes"! I am not sure if this was true. That being the case, my 8mm record is now the ONLY record showing the contest exclusively from front of stage.

8. There was a 16mm film documentary shot which chronicled Arnold's comeback and also starring Tom Platz, called "THE COMEBACK". Being that it was Arnold's comeback contest after having been retired for 5 years. This contest turned out to be Arnold's last contest ever - and it was also Mike Mentzer's last contest. The contest gave Arnold's his 7th and final Olympia victory. Frank Zane, the defending Mr. Olympia champion from 1979, placed 3rd behind Chris Dickerson who was the outstanding runner-up.
9. As mentioned, an Aussie documentary crew did film parts of the contest and some backstage footage highlighting Arnold and others. This was later released on video and DVD as "The Comeback".
10. Unfortunately in 1981 there was NO OFFICIAL FILM OR VIDEO SHOT on the complete Mr. Olympia contest, which was won by Franco Columbu. Fortunately there was some 8 mm film shot from the audience in those early years. Plus a short TV highlights version put to air for the 1977 Mr. Olympia won by Frank Zane. plus our version we produced from some very professional film footage shot from the audience.
11. When our original video was edited, the standard video mastering length was 60 mins, hence its one hour running time. This meant that a small amount of interesting footage that I shot had to be initially left out. Subsequently another fan and good friend of mine, Norm Komich, also shot some great super 8 footage that day. It was shot from the centre of the Sydney Opera House from a totally different position to mine, further back.
12. He very kindly later shared his film footage with me in order to make, along with my omitted footage, a new longer complete version on video. It included various parts of the event which I had not originally recorded making a wonderful 22 minutes addition of priceless unseen footage. Although Norm shot without the aid of a tripod, as tripods were not allowed inside the Sydney Opera House, it is still wonderful and historic bonus footage.
13. I called this new or extra footage "The Lost Footage" because it was such a wonderful discovery. Originally I had missed filming some of the awards from 6th to 1st place. They are all now included. But that is not the only good news. I found, in a box of old films, my film out-takes from the 1 hour edit of this original video production.
14. By putting together all of this "new found footage", we have the missing pieces from the 1980 Mr. Olympia. The footage is primarily form the prejudging where you will see 13 of the 16 competitors as they walk out on stage. The competitors are shown in the symmetry round 1 in a full lineup, and then quarter turns in groups of 3, 4 and 5. You see plenty of Arnold being compared with various people from Mike Mentzer to Zane to Roger Walker.
15. Next it is Round 2 comparisons with the compulsory poses, in groups of 4. Again see Arnold and Mike Mentzer side by side. You will also see a group comparison which happens to include the top 3. This segment includes Boyer Coe and Roger Walker standing on either side of Arnold with Zane, Mentzer and Chris Dickerson all together. Followed by Arnold, Coe, Zane and Callendar as they fight it out, pose for pose.
16. The tape also includes John Terilli posing as winner of the Best in Australia amateur contest, plus an excerpt of Reg Park guest posing on the Olympia stage. You will see posing clips from the following Olympians: Danny Padilla, Boyer Coe, Arnold Schwarzenegger, Roger Walker, Roy Callendar, Mike Mentzer, Tony Emmott, Samir Bannout, Frank Zane, Chris Dickerson, Dennis Tinerino, Tom Platz and Casey Viator.
17. Finally it was time for the exciting posedown of the top 7 as Walker and Callendar were level on points in 6th place at this stage. After a further posedown, Roger Walker took 6th place with Callendar finally taking 7th. The top 7 were compared in compulsory poses and then it's the exciting overall pose down. See the complete awards from 6th place through to 1st place. The top 6 were as follows:
1. ARNOLD SCHWARZENEGGER - Austria/USA
2. CHRIS DICKERSON - USA
3. FRANK ZANE - USA
4. BOYER COE - USA
5. MIKE MENTZER - USA
6. ROGER WALKER - AUSTRALIA
The other competitors from 7th to 16th were:
7. ROY CALLENDAR - Canada
8. DENNIS TINERINO - USA
9. TOM PLATZ - USA
10. DANNY PADILLA - USA
11. ED CORNEY - USA
12. TONY EMMOTT - USA
13. ROY DUVAL - USA
14. CASEY VIATOR - USA
15. SAMIR BANNOUT - Lebanon
16. KEN WALLER - USA
18. My very special thanks to the late Norm Komich for sharing with me his original 1980 Mr. Olympia films so that I could transfer them to video for adding to my own previously unseen footage. What makes this video so memorable is that it is the very last contest video of two of the greatest legends of bodybuilding - Arnold and Mike Mentzer. It is also the only front of stage record of the contest from Prejudging highlights through to the awards.
In the photo shown you see Arnold during the Prejudging. The IFBB on-stage official in Dennis Stallard of Wales, a former Mr. Britain winner from 1951.

19. Enjoy the highly competitive comparative compulsory poses in various groups, and later Frank Zane said that this footage is some of the best ever footage depicting his fine condition at this stage of his career.
SOUND TRACK NOTES.
Some years back, our original video was a digitally remastered from the 8mm films to a new DVD transfer, with some music added in places. Mostly some live ORIGINAL MUSIC soundtrack can be heard in the background, with special voice-over comments from Wayne Gallasch who filmed this historic contest on super 8 film.
Being that the contest was shot almost 40 years ago, this was the best technology available to Wayne at the time. It is an historic video and not meant to be a state of the art, modern day video production. This is very rare historic footage of an incredible event. Please regard it as a true collector's item and enjoy it for what it is - a slice of bodybuilding history.
All photos were purchased and licensed from Robert Nailon for this DVD set and Download and remain his copyright.
SPECIAL THANKS.
My thanks to the promoter and producer of this event, PAUL GRAHAM, who was also President of the AFBB (IFBB Australia) at that time. If it had not been for his foresight, vision and hard work, this event would never have come to Australia. This was the last time the Olympia has been held in the Southern Hemisphere. It has now gone down in history as one of, if not the greatest, Mr. Olympia contests of all time.
**********************************************************************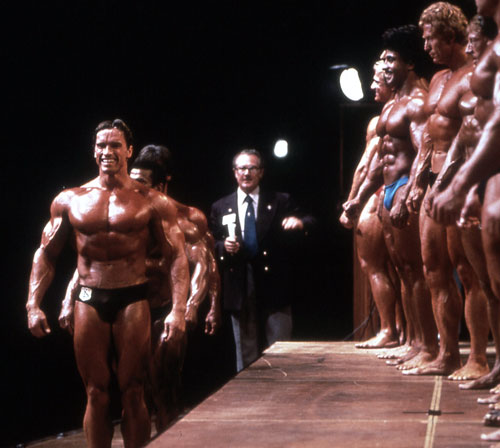 "Arnold has a gift that cannot be acquired no matter how hard an athlete trains, no matter how many pep talks - replete with references to Michelangelo's sculpture - he absorbs.

It is, of course, the gift of charisma, something capable of magically compelling his opponent's collapse and the judges' favorable votes."
Jimmy Savile.

See the 1980 Mr. Olympia JUDGES' SCORE CARDS.

See the CASEY VIATOR PHOTO GALLERY.
















The Comeback: Arnold at the 1980 Mr. Olympia.

This is the story of one of the greatest comebacks of all time. Also starring with Arnold are Tom Platz plus appearances by a number of the Mr. Olympia contenders - Frank Zane, Boyer Coe, Dennis Tinerino, Mike Mentzer, Chris Dickerson, Samir Bannout, Roy Callendar and Roger Walker. Includes scenes of Arnold training in the gym in Sydney, plus contest pump room scenes, interviews, and contest posing by some of the other competitors. See the complete posing routines of Arnold, Platz and Zane, plus the incredible posedown.


Arnold - The Early Years.

Apart from the 73 minutes of early contest and outdoor posing footage of Arnold and Franco, the bonus material from this collector's DVD includes more recent out-takes, on-stage and behind the scenes video from the Arnold Classic. See approximately 109 minutes of Arnold. In 1980 Arnold made his comeback in Australia at the Mr Olympia contest held at the Sydney Opera House. It was to be Olympia victory # 7. See his solo posing, many comparisons, compulsory poses and more as Arnold once again stands victorious. Includes scenes of many of his closest rivals from Mentzer to Zane etc. A tour de force with Arnold, since voted the most popular bodybuilder of all time.
Pumping Iron.

The 25th Anniversary special edition DVD of Pumping Iron is now available. Most of the film focuses on the intense rivalry and competition between Arnold Schwarzenegger and Lou Ferrigno.

The production also features some segments on other bodybuilders such as Franco Columbu, Ken Waller, Mike Katz, Ed Corney, Serge Nubret, Paul Grant and other top men of that time.
GENERATION IRON the DVD (EXTENDED DIRECTOR'S CUT).

This Limited Edition Extended Director's Cut* with over 10 minutes of new scenes, is not available in DVD stores!
"Generation Iron" follows the world's top seven bodybuilders as they fight to bring home the coveted Mr. Olympia title. The film features current Mr. Olympia title holder Phil Heath, along with Kai Greene, Branch Warren, Dennis Wolf, Ben Pakulski, Hidetada Yamagishi and Roelly Winklaar.

Also on Blu-ray, A-1433BRDVD.

(See my
1980 contest ticket and program
at the bottom of this page! You will see that I shot this contest from the 3rd row from the front, Row C, and central seat #38. Wayne Gallasch.)
The
BEST IN AUSTRALIA
amateur men's contest at this Olympia is shown in another DVD and was won by
JOHN TERILLI
, see
V-100DVD.


RUNNING:
82 minutes.
1980 Mr. Olympia - The Results

1 Arnold Schwarzenegger - Austria/USA
2 Chris Dickerson - USA
3 Frank Zane - USA
4 Boyer Coe - USA
5 Mike Mentzer - USA
6 Roger Walker - Australia
7 Roy Callender - Canada
8 Dennis Tinerino - USA
9 Tom Platz - USA
10 Danny Padilla - USA
11 Ed Corney - USA
12 Tony Emmott - UK
13 Roy Duval - UK
14 Casey Viator - USA
15 Samir Bannout - Lebanon
16 Ken Waller - USA
Customer Comments:
Hello Wayne.
Its Steve Buccilli again.
I received the 1980 Mr. Olympia dvd (2 disc set). As I watched it tears almost came to my eyes. What a great thing you have done for the sport to perserve the memories and contest on footage.
Its amazing to see how the sport has progressed, but at the same time how impressive the guys in that show where.
Even though they were 25 to 60 lbs (or 12.5 kgs, to 27 kgs) lighter then todays athletes they still impressed me. Not only that but its my opinion that they looked better. No distended guts, and the posing routines were all majestic.

Then it hit me. You were there! You got to see it! Its my opinion that you have lived a charmed life.

I cannot thank you and your family, and your company enough for doing what you have done. If I ever win $1,000,000.00 I'll buy your entire stock of dvd's and ! videos!

Thanks again, Wayne.

**************************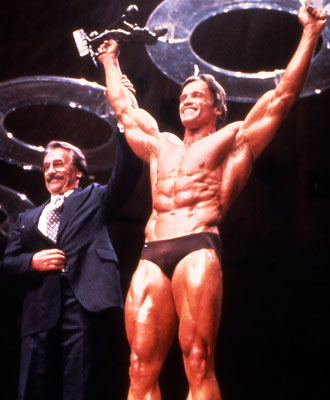 Click here to read a customer review on this DVD.
Click here for details on Arnold the Early Years, GMV-250DVD.

Click here for the Mike Mentzer triple pack V-209DVDSP.

* NTSC DVD, OPEN REGION


See Wayne' Opera House contest ticket and Programme below: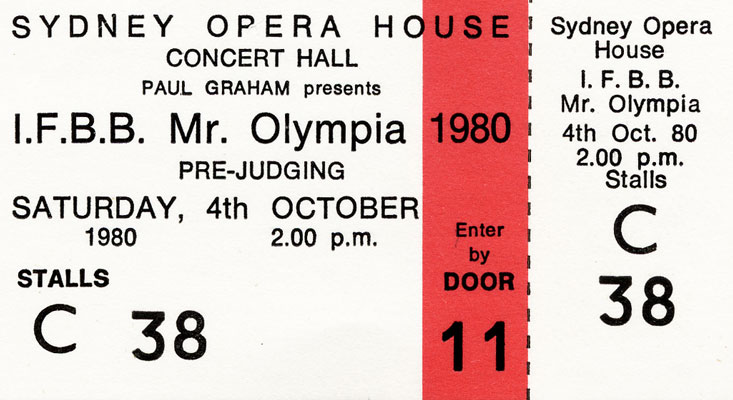 UNIQUE POSTERS FROM GMV NOW AVAILABLE.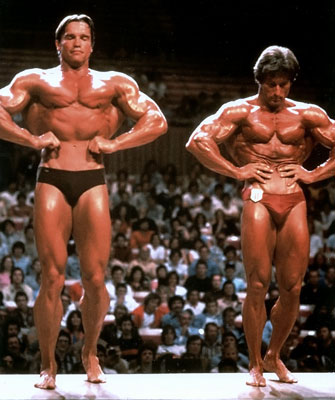 MIKE MENTZER POSTER #1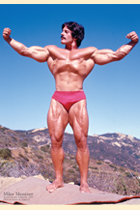 Master photographer Wayne Gallasch has selected some of the very best muscle photos from his archives and is releasing the first one as a limited edition full color poster. For Mike Mentzer posing at the famous Muscle Rocks, USA. Please click here.

******************************************************