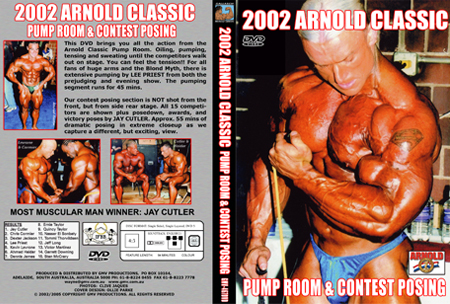 2002 ARNOLD CLASSIC - PUMP ROOM & FINALS CONTEST POSING
Also available as a Digital Download
This DVD brings you all the action from the Arnold Classic Pump Room. Oiling, pumping, tensing and sweating until the competitors walk out on stage. You can feel the tension!! For all fans of huge arms and the Blond Myth, there is extensive pumping by LEE PRIEST from both the prejudging and evening show. The pumping segment runs for 45 mins.
The following athletes are featured in the Pump Room:
Nasser El Sonbaty, Lee Priest, Garrett Downing, Chris Cormier, Dennis James, Jay Cutler, Ahmad Haidar and Kevin Levrone.
Our FINALS CONTEST POSING section is NOT shot from the front of stage, but from side rear stage. All 15 competitors are shown plus posedown, awards and victory poses by JAY CUTLER.
See approx. 55 mins of dramatic posing in extreme closeup as we capture a different, but exciting view of the FINALS.

Our Men's Prejudging DVD was shot from the centre of the front row in the Press Pit, making this our only front view of the men at the Arnold Classic for 2002. Click here for the ARNOLD CLASSIC PREJUDGING, GMV-464DVD.


SPECIAL NOTE: Due to contractual arrangements between the TV company at the event and the organisers, it was not possible for us to purchase front of stage videotaping rights for the evening shows of both the men's and women's events. However, we were permitted to shoot from on-stage at both evening finals and got a pretty good closeup image of all the action right through to the Awards with Arnold. We were up close but from a side or rear view.
The Ms. International final was shot from side stage, and the Arnold Classic shot from rear-side stage.
The Women's contest posing follows the pump room section of the 2002 MS. INTERNATIONAL DVD, GMV-468DVD.
The very good news is that our 3 separate PREJUDGING DVDs, namely the Arnold Classic GMV-464DVD, Ms. International GMV-465DVD and Fitness International GMV-466DVD - were all shot from front of stage from our excellent camera position.

Who would have thought in 2002 that in 2007 we would see VICTOR MARTINEZ as the winner of the Arnold Classic! For details on the 2007 ARNOLD CLASSIC DVD, please click here.

The 2002 Lifetime Achievement Award pictured below right was presented to JIM LORIMER. (Photo backstage before the presentation by Wayne Gallasch)
Click here for GMV-464DVD, 2002 Arnold Classic Prejudging.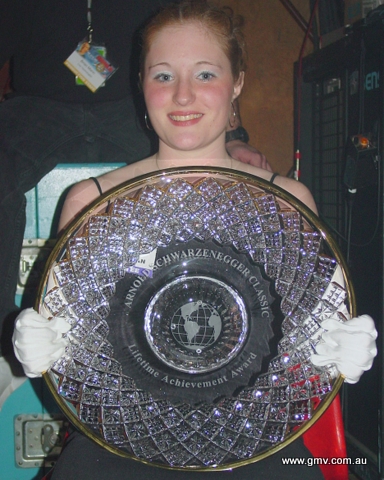 Click here for GMV-468DVD, 2002 Ms. International Pump Room and Finals Contest Posing.
Click here for GMV-466DVD, 2002 Fitness International Prejudging and Women at the Arnold Expo.
Click here for GMV-465DVD, 2002 Ms. International Prejudging.
Click here for GMV-469DVD, 2002 Men at the Arnold Expo PLUS Strongman Contest.

MOST MUSCULAR MAN WINNER: JAY CUTLER
2002 ARNOLD CLASSIC RESULTS
1. Jay Cutler
2. Chris Cormier
3. Dexter Jackson
4. Lee Priest
5. Kevin Levrone
6. Ahmad Haidar
7. Dennis James
8. Ernie Taylor
9. Quincy Taylor
10. Nasser El Sonbaty
11. Tommi Thorvildsen
12. Jeff Long
13. Victor Martinez
14. Garrett Downing
15. Stan McCrary
Click here to see our COMPLETE COLLECTION OF ALL ARNOLD CLASSIC DVDs.

NTSC DVD, OPEN REGION