Please click here for the preview clip.

Men Of Muscle # 3: The Young Bucks
The third in our spectacular Men of Muscle series devoted 100% to the outstanding young men of world bodybuilding.
In this one hour DVD we present the most incredible young talent on the physique horizon - guys who are teenagers through to about the age of 23 years. You will see some interesting, entertaining - even bizarre - posing routines.
We have two videos on Steve Avery (
GMV-039DVD
, and
GMV-244
). Others to go on to fame and fortune include Ian Harrison, now an IFBB Professional and pro wrestler, and Shaun Davis - an IFBB Pro, affectionately known as 'The Dinosaur'. See his DVD SHAUN "THE DINOSAUR" DAVIS: WORKOUT
A-4042DVD.
Joe DeAngelis has been a regular competitor in the NABBA Universe as a Pro having won the Amateur Tall Class a few years ago. Joe's feature DVD for GMV Productions is
GMV-148DVD
. Michael Melksham has been seen as Gladiator "Taipan" on Australian TV, and his feature GMV feature DVD number is
GMV-253DVD.
Other stars with GMV feature DVDs are Peter Wall with Shannon Monroe -
GMV-197DVD
, and the very popular David Kilroy -
GMV-051DVD
. Andy Hornby died about a year after his segment was shot.
A Men's Index listing all GMV Men's Bodybuilding DVDs is available on request. Email
wayne@gmv.com.au
to request an Index.
A separate Women's DVD Index is also available.
See our
COMPLETE INDEX LISTING OF ALL MEN OF MUSCLE DVDs
here.
The stars include:

Colin Hall - Australia
Ian Harrison - England (Pictured front cover when he won the 1988 NABBA Junior Mr. Universe. See his contest history below.)
Steve Avery - England (Pictured in the background of the rear cover)
Shaun Davis - England
Joe DeAngelis - U.S.A. (Pictured rear cover)
John Alberts - Australia
Michael Melksham - Australia
Gavin Jans Van Rensberg - South Africa
Derek Immervoll - Australia
Andy Hornby - England
Darren Garvie - Australia
Peter Wall - Australia
Shannon Monroe - U.S.A.
Bruce McCall - England
Darren O'Brien - England
Kevin Chambers -Australia
Phillipe Aglietta - France
Roger Bartley - England
Pierre Van Der Weisthuisen - South Africa
Markus Schierloh - Germany
Sherif Derias - Australia
David Kilroy - England
Elliot Lee - England
Thomas Rosen - Germany
Ian Harrison Contest History

Height 5'10"
Weight 258lbs
Born January 3, 1969 in England, UK
1988
NABBA Mr Britain, Junior, 1st
NABBA Mr Universe, Junior, 1st
NABBA Super Body Power Classic, Junior, 1st (GMV-084DVD)
1989
IFBB British Championships, HeavyWeight, 1st
IFBB British Championships, Overall Winner
1993
IFBB Grand Prix England, 6th (GMV-171DVD)
1994
IFBB Chicago Pro Invitational, 8th
IFBB Night of Champions, 10th
1995
IFBB Arnold Classic, 7th
IFBB Grand Prix England, 6th (GMV-214DVD)
IFBB Grand Prix Germany, 7th
IFBB Grand Prix Spain, 8th
IFBB Mr. Olympia, 14th (A-0837DVD)
IFBB San Jose Pro Invitational, 3rd
1997
IFBB Arnold Classic, 11th
IFBB Iron Man Pro Invitational, 10th (V-094DVD)
IFBB San Jose Pro Invitational, 8th
1998
IFBB Arnold Classic, 9th

Running time: 60 mins

* Available in NTSC (region free)

Customers who viewed this DVD also viewed: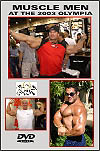 Click here for GMV Productions complete list of Male Muscle DVDs.