Charles Clairmonte - A Profile: Workout & Posing

Digital Download.
A Profile On Mr. Universe, IFBB Grand Prix Winner, and top Mr. Olympia Competitor.
Click here for a complete list of DVDs that mention or include Charles Clairmonte.

Born in Barbados and living in England, Charles has won virtually every contest he has entered. From competing in the Mr. Britain to 4 times NABBA Mr. Universe, Mr. Pro World, to 4 IFBB Grand Prix victories. This DVD brings you Charles' display gym workout, and tips on training, together with posing and contest highlights of his career from 1986 to the present day. In this workout, Charlie demonstrates many of his favourite exercises. It is not a complete hardcore gym workout and is the only known training footage of Clairmonte.

Charles Clairmonte is without doubt one of UK's greatest physique champions of all time. His record is truly amazing. After competing in the 1985 Mr. Britain he won the '86 NABBA Amateur Universe, then the Pro Universe three years in a row from 1988 to 1990, followed by the '90 NABBA Pro World title in Australia. Then Charles had great success against top ranking IFBB Professionals placing high at the '93 and '94 Mr. Olympias and winning FOUR first places in the 1993 IFBB European Grand Prix circuit. The most prestigious of these was the English GP, where he beat Flex Wheeler who only two weeks before was placed second in the Mr. Olympia.

Its character and style that sets Charles apart. He presents a complete package and not just a mass of raw muscle. We salute a great champion!!

At 6' tall (184cms) and 240lbs (109 kg) and with 21" (53 cm) arms, Clairmonte is an awesome physique with style and symmetry.

His back is huge, rugged and V-shaped, his pecs striated and ripped, and delts like huge coconuts, showcasing his massive, peaked biceps. He has colossal thighs that defy description and abs and calves most bodybuilders would kill for!
See also our MASSIVE PHOTO GALLERY for Charles.

Please click here for GMV-118DVD to see Charles winning the 1990 NABBA Professional Mr. Universe in his all time best NABBA condition.

CHARLES CLAIRMONTE COMPLETE CONTEST HISTORY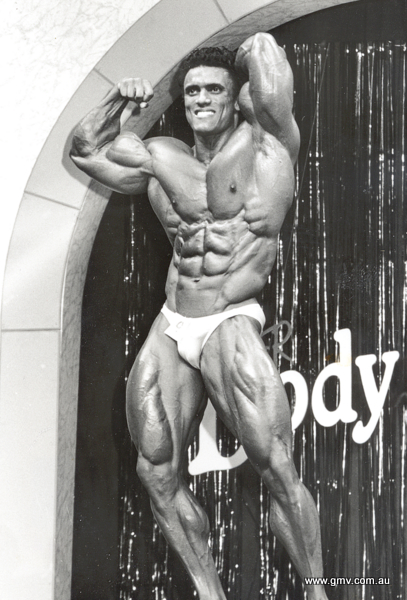 1985
NABBA Mr Britain, 2nd
NABBA European Championships, Tall Class, 1st
NABBA European Championships, Overall Winner
NABBA Mr Universe, Tall Class, 2nd
NABBA World Championships, Tall Class, 2nd

1986
NABBA Mr Universe, Tall Class, 1st
NABBA Mr Universe, Overall Amateur Winner
NABBA World Championships, Tall Class, 3rd

1988
NABBA Mr Universe - Pro - Winner

1989
NABBA Mr Universe - Pro - Winner

1990
NABBA Mr Universe - Pro - Winner
NABBA World Championships - Pro - Winner

1992
IFBB English Grand Prix England, 17th
IFBB German Grand Prix, 15th
IFBB Dutch Grand Prix, 8th

1993
IFBB English Grand Prix, Winner
IFBB Finnish Grand Prix, Winner
IFBB French Grand Prix (2), Winner
IFBB German Grand Prix (2), 4th
IFBB Spanish Grand Prix, Winner
IFBB Night of Champions, 4th
IFBB Mr Olympia, 7th

1994
IFBB English Grand Prix, 3rd
IFBB French Grand Prix (2), 3rd
IFBB Italian Grand Prix, 3rd
IFBB Mr Olympia, 8th

1995
IFBB Arnold Classic, 3rd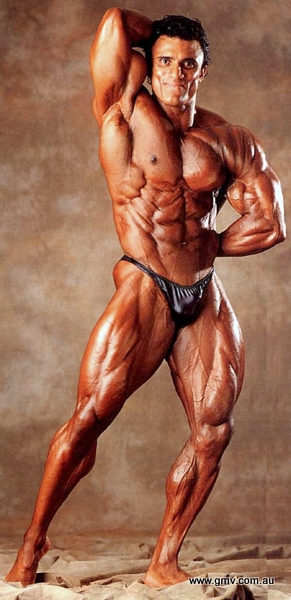 IFBB English Grand Prix, 3rd
IFBB French Grand Prix, 2nd
IFBB German Grand Prix, 6th
IFBB Russian Grand Prix, 4th
IFBB Spanish Grand Prix, 6th
IFBB Ukrainian Grand Prix, 5th
IFBB Mr Olympia, 10th
IFBB San Jose Pro Invitational, 2nd

1996
IFBB Czech Grand Prix, 6th
IFBB English Grand Prix, 10th
IFBB German Grand, 11th
IFBB Russian Grand Prix, 7th
IFBB Spanish Grand Prix, 6th
IFBB Spanish Grand Prix (2), 10th
IFBB Swiss Grand Prix, 7th
IFBB Mr Olympia, 9th

1997
IFBB Grand Prix England, 10th
IFBB Mr Olympia, 12th
That superb record was 4 NABBA Universe titles, 1 NABBA Pro World title and 4 IFBB GP victories.

* Available in NTSC (region free)