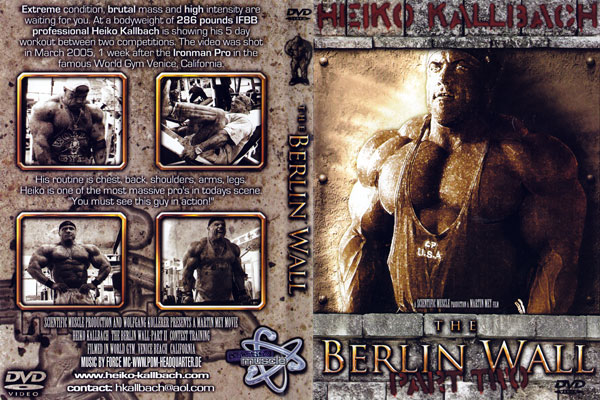 Heiko Kallbach - The Berlin Wall Part 2

The second DVD in the series on bodybuilding's mass monster Heiko Kallbach. You will see extreme condition, brutal mass and high intensity training. At a bodyweight of 286 pounds IFBB professional Heiko Kallbach is showing his 5 day workout between two competitions.

The video was shot in March 2005, 1 week after the Iron Man Pro in the famous World Gym Venice, California.

His routine is chest, back, shoulders, arms, legs. Heiko is one of the most massive pros in today's bodybuilding scene.

You must see this guy in action!! He is the German version of Dorian Yates!!!

He was always a big star when ever he appeared at FIBO, see below.

Click here for part one A-1087DVD Heiko Kallbach Berlin Wall.

Running time: 108 mins
HEIKO KALLBACH - BERLIN WALL WORKOUT

Heiko Kallbach - the Berlin IFBB Professional demonstrates his personal training style in his first film. A COMPLETE 5-DAY WORKOUT WITH FULL INTENSITY.

He also gives general advice on training methods and nutrition. Experience Heiko in a private atmosphere and amongst his fans. Also includes posing routines.

A-1087DVD | $39.95
FIBO 2003 - Marvellous Muscle Men

The annual FIBO muscle extravaganza took place in Essen Germany, in May 2003. The highlight was the All Stars stage and their "Show of Strength" posing shows.

This year we had a slightly different format as we follow some of the stars from pumping and oiling back stage to posing on stage and working out in the weights area.


V-181DVD | $29.95.

Heiko Kallbach Contest History .

2002
Night of Champions - IFBB, Did not place
Toronto Pro - IFBB, Did not place

2003
Grand Prix Hungary - IFBB, 5th
Maximum Pro Invitational - IFBB, 7th
Night of Champions - IFBB, 12th

2004
Hungarian Pro Invitational - IFBB, 11th
Night of Champions - IFBB, 17th
Toronto Pro - IFBB, 6th

2005
Iron Man Pro Invitational - IFBB, 15th
San Francisco Pro Invitational - IFBB, 14th

2006
Grand Prix Australia - IFBB, 10th
Iron Man Pro Invitational - IFBB, Did not place
San Francisco Pro Invitational - IFBB, Did not place

* Available on DVD (Region Free)