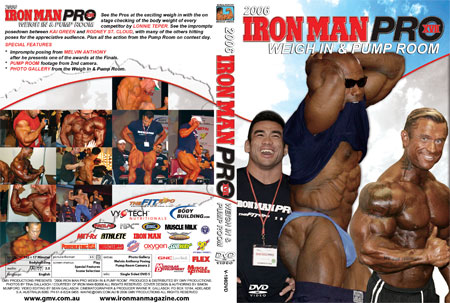 Click here for preview clip #1 and

Click here for preview clip #2


2006 Iron Man Pro - Weigh In & Pump Room
Also on Digital Download.

See the Pros at the exciting weigh in with the on stage checking of body weight of every competitor by Lonnie Teper (world's best bodybuilding MC ).
See impromptu posedown between Kai Green and Rodney St. Cloud, with many of the others hitting poses for the appreciative audience. Plus all the action from the Pump Room on contest day. This was the year of LEE PRIEST!

Another exciting DVD for all Iron Man fans!!

RT: 102 mins + 17 mins = 119 mins

Special Features:

Impromtu posing on stage from Melvin Anthony at the finals.
Pump Room footage of Lee Priest from a 2nd camera. (14 mins)
Photo Gallery from the Weigh In & Pump Room.

Click here for the 2006 Iron Man Pro DVD.

2006 Iron Man Pro

It was sweet success at last for LEE PRIEST as he took the title at this year's event and achieved his first ever IRON MAN PRO victory. It was a very strong field with David Henry pushing Lee every inch of the way. See Eryk Bui make his sensational pro debut gaining 8th position.

The DVD includes the complete posing routines of the top 15 finalists plus posing from all of the non finalists. It includes key comparisons from prejudging, plus posedown and awards.



V-196DVD

Contest Results:

Men

1. Lee Priest
2. David Henry II
3. Troy Alves
4. Kris Dim
5. Mark Dugdale
6. Mustafa Mohammad
7. Toney Freeman
8. Eryk Bui
9. Ahmad Haidar
10. Chris Cook
11. Armin Scholz
12. Martin Kjellstrom
13. Oliver Adzievski
14. Moe El Moussawi
15. Nathaniel Wonsley

DNP:

Mohamed Anouti
Paul Baker
Tamer El Shahat
Derik Farnsworth
Kai Greene
Heiko Kallbach
Evgeny Mishin
Ntuk Ntuk
Dragan Paunovic
Arnaud Plaisant
Heinz Senior
Rodney St. Cloud
Emmanuel Tzinidis
Hidetada Yamagishi

Click here for our COMPLETE LIST OF ALL IRON MAN PRO DVDs.

* Available in NTSC, Open Region