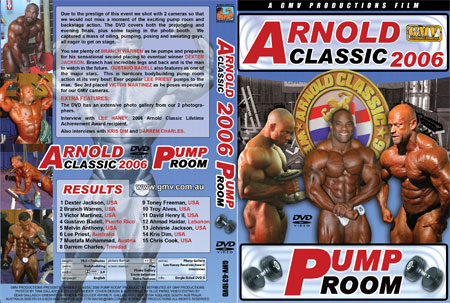 Click here for DVD preview with Kenny Kassel.

2006 Arnold Classic - Pump Room
Also on Download. Preview clip.

Due to the prestige of this event we shot with 2 cameras so that we would not miss a moment of the exciting pump room and backstage action. The DVD covers both the prejudging and evening finals pump rooms, plus some posing in the photo booth. We captured a mass of oiling, pumping, posing and sweating guys, all eager to get on stage.
You see plenty of BRANCH WARREN as he pumps and prepares for his sensational second placing to eventual winner DEXTER JACKSON. Branch has incredible legs and back and is the man to watch in the future. GUSTAVO BADELL also features as one of the major stars. This is hardcore bodybuilding pump room action at its very best! Ever popular LEE PRIEST pumps to the max. See 3rd placed VICTOR MARTINEZ as he poses especially for our GMV cameras.

The DVD has an extensive photo gallery from our 2 photographers.

Extra Scenes:
Interview with Lee Haney, 2006 Arnold Classic Lifetime Achievement Award recipient.
Also interviews with Kris Dim and Darrem Charles.

Please click here for the 2006 ARNOLD CLASSIC 2 DVD SET - PREJUDGING & FINALS, A-1132DVDSP.

Please click here for a brilliant VIDEO REVIEW ON THIS DVD.

Results:

1 Dexter Jackson, USA
2 Branch Warren, USA
3 Victor Martinez, USA
4 Gustavo Badell, Puerto Rico
5 Melvin Anthony, USA
6 Lee Priest, Australia
7 Mustafa Mohammad, Austria
8 Darrem Charles, Trinidad
9 Toney Freeman, USA
10 Troy Alves, USA
11 David Henry II, USA
12 Ahmad Haidar, Lebanon
13 Johnnie Jackson, USA
14 Kris Dim, USA
15 Chris Cook, USA

Running time: 80 mins.

Photos by Tina Gallasch & Doug Schneider.

* Available in NTSC (region free)
Customers who viewed this DVD also viewed:






Click here for GMV Productions complete list of Male Muscle DVDs.