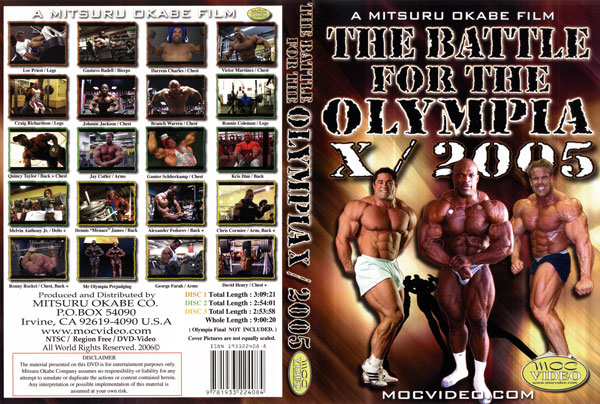 Click here for preview clip


The Battle for the Olympia 2005 3 DVD Set (Dual price US$39.95 or A$49.95 in Australia)
This is a Massive 3 DVD Set!!

This fantastic 3 disc set running a massive 540 minutes total is always one of our best selling DVD sets each year.

This year is the 10th anniversary of this classic series showing the guys training as they prepare for the 2005 Mr Olympia.
Featured Athletes:
Lee Priest : Legs
(Before he changed his mind about competing in the Olympia.)
Gustavo Badell : Biceps
Darrem Charles : Chest
Victor Martinez : Chest
Craig Richardson : Legs
Johnnie Jackson : Chest
Branch Warren : Chest
(Branch & Johnnie train together)
Ronnie Coleman : Legs
Quincy Taylor : Back + Chest
Jay Cutler : Arms
Gunter Schlierkamp : Chest
Kris Dim : Back
Melvin Anthony Jr. : Delts +
Dennis "The Menace" James : Back
Alexander Fedorov : Back +
Chris Cormier : Arms, Back +
Ronny Rockel : Chest, Back +
2005 Mr Olympia Prejudging highlights
(Mr Olympia Final NOT Included. )
George Farah : Arms
David Henry : Chest +
Running time: 540 mins
See our complete INDEX LISTING of all Battle for the Olympia DVDs.

* Available in NTSC DVD (Region Free)

Dual pricing policy.
* All customers outside of Australia/New Zealand will be charged in US dollars. If the item has dual pricing (that is in Australian and US dollars), all customers outside of Australia and New Zealand will only be charged the US dollar price.
Unfortunately, our site cannot cope with dual pricing and will default to the US dollar price. Regardless of this, all customers will be charged the correct price. Please refer to our FAQ section for any other questions, click here.

Customers who viewed this DVD also viewed: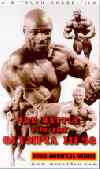 Click here for GMV Productions complete list of Male Muscle DVDs.