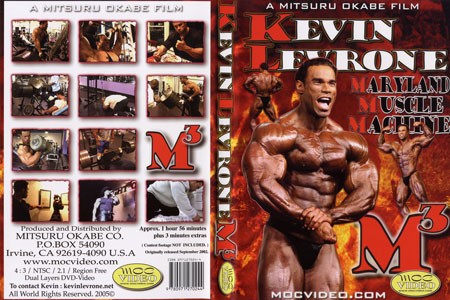 Kevin Levrone / Maryland Muscle Machine: M3

Part 1 on Digital Download. Preview clip 1.

Part 2 on Digital Download. Preview clip 2.

This classic feature was originally released in September, 2002. Kevin was one of the all time greats in pro bodybuilding winning probably more GPs than any other bodybuilder. He will go down in history as the uncrowned Mr Olympia.
The filming took place just prior to the 2000 Mr Olympia. It Includes his whole body workouts as follows:

1,500 lbs leg-presses,
100 lbs dumbbell curls,
495 lbs bench presses,
405 lbs shoulder presses,
100 reps non-stop weighted crunches and more!!
All insert music provided by his own "Fulblown" band.

Click here for the KEVIN LEVRONE PHOTO GALLERY.

Kevin said:
" I needed to go to the gym to train myself after watching this video at 10 p.m.!!
This M3 video really inspires me!

SPECIAL NOTE:
Several weeks later GMV recorded Kevin in the Mr Olympia Pump Room. For full details on these 3 DVDs, please see below.
GMV-500DVD.
GMV-501DVD.
GMV-502DVD.

* Available in NTSC DVD Only (Region Free)

Customers who viewed this DVD also viewed: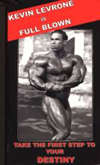 Click here for GMV Productions complete list of Male Muscle DVDs.