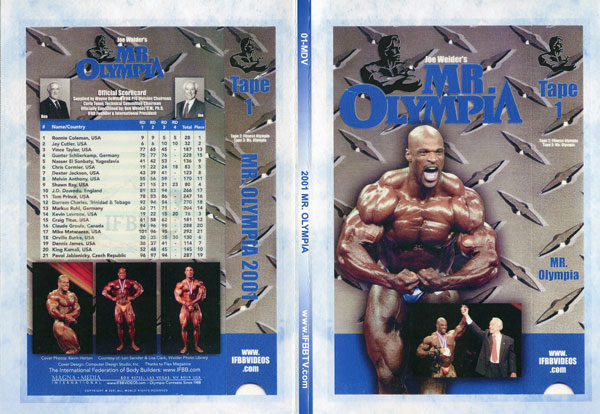 2001 Mr. Olympia Finals (Historic DVD)

2001 MR. OLYMPIA FINALS. The fiercest battle ever! Jay Cutler was beating Ronnie Coleman by 6 points after the first two rounds before the reigning Mr. Olympia turned on the power in the performance and posedown rounds to muscle out a victory by only 4 points.
Jay Cutler came from nowhere to capture second place. We also saw one of the favourites in Chris Cormier go to 5th place and Nasser El Sonbaty drop to 9th place. It was an extremely exciting show!
For details on the separate 2001 Mr Olympia Prejudging DVD which is A-1054DVD, please click here.
2001 Mr. Olympia Results
October 27, 2001 at Las Vegas, Nevada
1 Ronnie Coleman USA
2 Jay Cutler USA
3 Kevin Levrone USA
4 Shawn Ray USA
5 Chris Cormier USA
6 Orville Burke USA
7 Dennis James USA
8 Dexter Jackson USA
9 Nasser El Sonbaty Yugoslavia
10 Shari 'King' Kamali USA
11 Melvin Anthony USA
12 Craig Titus USA
13 Vince Taylor USA
14 Markus Ruhl Germany
15 Gunter Schlierkamp Germany
16 Tom Prince USA
17 J.D. Dawodu England
18 Darrem Charles Trinidad
19 Pavol Jablonicky Czech Rep.
20 Claude Groulx Canada
21 Mike Matarazzo USA

This is an authorized and licensed copy made directly from the broadcast-quality master tape.

Running time: 90 minutes.

* Available in NTSC DVD Only (Region Free)

Customers who viewed this DVD also viewed:







Click here for GMV Productions complete list of Male Muscle DVDs.