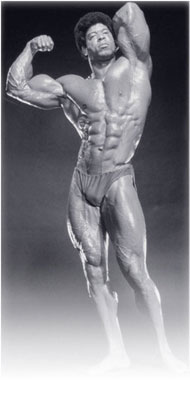 Bill Grant & Warren Frederick
The famous Bill Grant "Hands" video. Unusual and unique. Bill is a mass of hard muscles, cuts, and veins as he ripples and flexes under the oiling and massaging hands. All shot in front of the famous leopard skin rug in the London Studio in the early 70s. Bill is pictured above.
The second half shows nude physique studies of Warren Frederick and amazing posing session with young French-Algerian bodybuilder, Daman.
Running time:
30 mins
NTSC DVD, OPEN REGION


Customers who viewed this DVD also viewed:





Click here for GMV Productions complete list of Male Muscle DVDs.