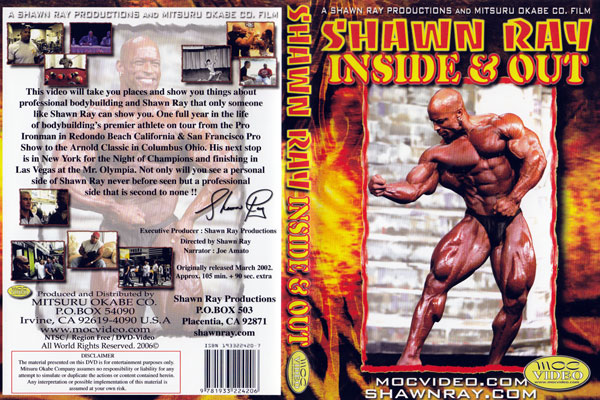 Shawn Ray - Inside and Out
(Dual price US$34.95 or A$44.95)

This is a great look back at one of Bodybuildings favorite sons. Shawn has now moved on to become a successful contest promoter. Shawn Ray is also a well known lobbyist for athletes' rights and he still has a strong voice in the world of Bodybuilding today. This is a must see DVD on a true champion.
This DVD will take you places and show you things about professional bodybuilding and Shawn Ray that only someone like Shawn Ray can show you!!
One full year in the life of bodybuilding's premier athlete on tour from the Pro Iron Man in Redondo Beach California and San Francisco Pro Show, to the Arnold Classic in Columbus, Ohio. His next stop is in New York for the Night of Champions and finishing in Las Vegas at the Mr. Olympia. Not only will you see a personal side of Shawn Ray never before seen, but you'll also see a professional side that is second to none.

Running Time: 107 minutes.
* Available in NTSC DVD Only (Region Free)

Dual pricing policy.
* All customers outside of Australia/New Zealand will be charged in US dollars. If the item has dual pricing (that is in Australian and US dollars), all customers outside of Australia and New Zealand will only be charged the US dollar price.
Unfortunately, our site cannot cope with dual pricing and will default to the US dollar price. Regardless of this, all customers will be charged the correct price. Please refer to our FAQ section for any other questions, click here.

Customers who viewed this DVD also viewed:






Click here for GMV Productions complete list of Male Muscle DVDs.