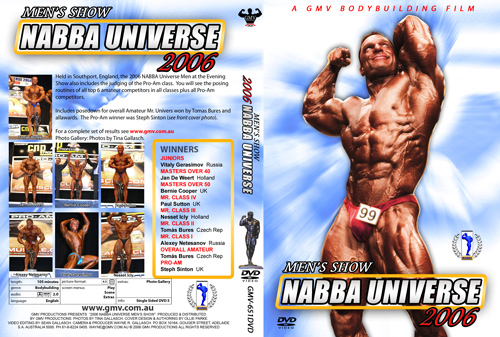 Click here for DVD preview.


2006 NABBA UNIVERSE - Men's Show
Held in Southport, England, the 2006 NABBA Universe Men at the Evening Show also includes the judging of the Pro-Am class. You will see the posing routines of all top 6 amateur competitors in all classes plus all Pro-Am competitors. Includes posedown for overall Amateur Mr. Universe won by Tomas Bures plus all awards.
The Pro-Am winner was Steph Sinton. He has now won the treble of overall Amateur Mr. Universe and overall NABBA Mr. World.
Photo Gallery: Photos by Tina Gallasch.

Special Thanks: This was the last Universe for GMV team member Clive Jaques, who had assisted Wayne on the shootingof the NABBA Universe since 1971. He passed away from Alzheimer's disease on December 10, 2011.
See our tribute to Clive Jaques here.

Click here to read Wayne's FULL CONTEST REPORT on the 2006 NABBA Universe.

Click here for our COMPLETE INDEX OF NABBA UNIVERSE DVDs.

Please click here for the 2006 NABBA UNIVERSE MEN'S PREJUDGING, GMV-650DVD.

2006 NABBA UNIVERSE - Men's Prejudging.

Held in Southport, England, the 2006 NABBA Universe Men's Prejudging provides an in-depth look at all the amateur competitors.

Includes the posing routines of all competitors, line-ups of Round 1 and at least 3 sets of key comparisons from all Round 3s.


Both DVDs Include a
Photo Gallery
:
A photo DVDs from the whole events is available as follows:
They include photos from prejudging and the show. They contain high quality images which are large files. You can view the photo DVD in your computer DVD drive or through your DVD player - if it can play back jpegs. If both these options are not possible, let us know and we will make your photos on one or two CDs for you.
Please click here for the Photo DVD product page. Contest Photo DVDs are Available in NTSC (region free).

Please click here for the WOMEN'S DVD FROM THIS EVENT, GMV-652DVD.

2006 NABBA UNIVERSE - Women's Prejudging & Show.

Held in Southport, England, the 2006 NABBA Universe Women's DVD saw strong competition in 4 separate classes being FIGURE CLASSES 1 & 2, PHYSIQUE and FITNESS.

You will see the posing routines of every single competitor from the prejudging and the top 6 in each class posing at the show. Includes rounds 1 and 3 from prejudging, plus the posedown for Overall Figure Champion, as well as all the awards, and all the fitness routines from the show.


2006 NABBA Universe Results

7th October 2006, Southport, U.K.
OVERALL WINNERS:
Amateur Mr. Universe: Tomás Bures, Czech Rep

Pro-Am Mr. Universe: Steph Sinton, UK

THE MEN

Juniors
1 Vitaly Gerasimov Russia
2 Damian Cloete South Africa
3 Giovanni Azpeitia Mexico
4 Nathan de Asha UK
5 Graison Hom South Africa
6 Lucky Hatzipantelis Australia
NP
Oskars Stals Latvia
Sergey Klenyshev Russia
Nathan Robinson UK

Masters Over 40
1 Jan De Weerd Holland
2 Dayo Audi UK
3 Hugh Ross USA
4 Grant King Australia
5 Aivars Visockis Latvia
6 David Steele UK
NP
Nortom James Murayama
Paul Dillon UK
Lawrence Civelli Malta
Mark Stocks UK
Jari Mustonen Finland
David Stecca UK
Fernando Obregon Mexico

Masters Over 50
1 Bernie Cooper UK
2 Andrzej Brzezinski Poland
3 Tony Rizzo Australia
4 Graham Park UK
5 Earl Maduro Holland
6 Mauri Heikkinen Finland
NP
Francisco Rios Mexico
Werner Hoh Germany
Roy Caunce UK

MR. CLASS IV
1 Paul Sutton UK
2 Marilandio Ponchet Brazil
3 Leonardo Flores Mexico
4 Jerry Koolhoven Holland
5 Daryl Aldis UK
6 Paul Lans Holland
NP
Jefferson Ferreira Cuaglio Brazil
Philippe Eichler France
Diego Martinez Italy
Raphael Chevailler France
Luis Antonio de Jesus Brazil
Carlos Rojero Mexico
MR. CLASS III
1 Nesset Icly Holland
2 Alexandre Nataf France
3 Phil Carlon UK
4 Fernando Almeida Brazil
5 Charles Duca Australia
6 Fabio Augusto dos Santos Brazil
NP
Petr Vanis Czech Rep.
Edward Selsby UK
Steve Cart UK
Jorg Fuchs Germany
Ladislav Kurcik Czech Rep.
Gary Halliwell UK
Gilbert Cuschieri Malta
Aleksey Shaykin Russia
Pavlo Zelenko Ukraine

MR. CLASS II
1 Tomás Bures Czech Rep
2 Alistair Smyth UK
3 Babak Moaeri Dubai, UAE
4 Bruno Matias France
5 Samuel Vieira Brazil
6 Darren Smith UK
NP
Eric Eifler Germany
Anastasios Minidis Greece
Blue Shinners Rep. of Ireland
Alex McDonnel UK
Darius Buksnaitis Lithuania

MR. CLASS I
1 Alexey Netesanov Russia
2 Julio César de Freitas Brazil
3 Gino Barios Holland
4 Neven Corak Croatia
5 Radek Lonc Czech Rep
6 Elias Triantafilou Greece
NP
Neil Rushden UK
Leon Gezea Holland
James Scott UK
Kenneth Prescott UK
Martin Fannan UK
Roberto Morando Australia
Aldo Gomez Mexico
Luiz Moreira UK
PRO-AM
1 Steph Sinton UK
2 Tomás Bures Czech Rep
3 Peter Elvis Brown UK
4 Charles Mario Brazil
5 Joao Bispo De Andrade Brazil
6 Billy Bourne Rep. of Ireland
7 Geoff Hargreaves UK
* Available in NTSC (region free)

Customers who viewed this DVD also viewed:





Click here for GMV Productions complete list of Male Muscle DVDs.