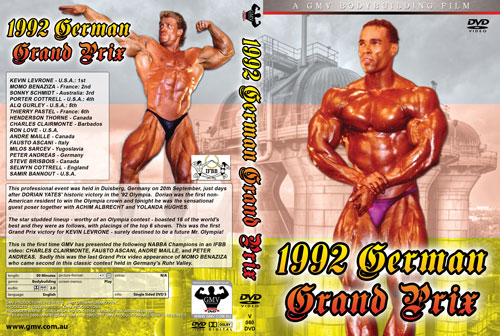 1992 German Grand Prix
Also on Digital Download.

This professional event was held in Duisburg, Germany on 20th September, just days after DORIAN YATES' historic victory in the '92 Olympia. Dorian was the first non-American resident to win the Olympia crown and tonight he was the sensational guest poser together with ACHIM ALBRECHT and YOLANDA HUGHES.
The star studded lineup - worthy of an Olympia contest - boasted 16 of the world's best and they were placed as follows, see RESULTS below.

This was the first Grand Prix victory for KEVIN LEVRONE - surely destined to be a top Mr. Olympia competitor!
Click here for the new KEVIN LEVRONE PHOTO GALLERY.

This is the first time GMV has presented the following NABBA Champions in an IFBB video: CHARLES CLAIRMONTE, FAUSTO ASCANI, ANDRE MAILLE, and PETER ANDREAS.

Sadly this was the last Grand Prix video appearance of MOMO BENAZIZA who came second in this classic contest. He then went on to win the Dutch GP but sadly Momo was found dead in his hotel room in Zeeland, Netherlands on October 4, 1992. As far as we know there is no DVD of this Dutch event.
COMPLETE RESULTS:

1992 IFBB German Grand Prix
Duisburg, Germany September 20th, 1992
1. Kevin Levrone - USA
2. Mohammed Benaziza - France
3. Sonny Schmidt - Australia
4. Porter Cottrell - USA
5. Alq' Gurley - USA
6. Thierry Pastel - France
7. Henderson Thorne - Canada
8. Ron Love - USA
9. Steve Brisbois - Canada
10. Milos Sarcev - Serbia
11. Samir Bannout - USA
12. André Maille - Canada
13. Selwyn Cottrell - UK
14. Peter Andreas - Germany
15. Charles Clairmonte - Barbados/UK
16. Fausto Ascani - Italy

* Available in NTSC DVD Only (Region Free)

Customers who viewed this DVD also viewed:








Click here for GMV Productions complete list of Male Muscle DVDs.