Click here for DVD preview.


GMV Legends Collection - Lance Dreher: Mr. Universe
Also on Digital Download. Preview clip.

Lance Dreher - 1981 IFBB Mr. Universe & 1986 NABBA Professional Mr Universe - Straight from the Archives of GMV Productions.

Lance Dreher is one of the most genuinely likeable bodybuilders we have ever worked with. He's a great guy - and his physique isn't half bad either!! The DVD starts with Lance in jeans and no shirt, with him pumping up from all angles, showing off his sensational arms, chest and back. Then in trunks he continues superb pumping-up and concentrated flex pump scenes.

PHOTO GALLERY, shot by Wayne during the video shoot.

Then Lance poses in full-body and body part closeups… awesome muscle mass and size. Finally he shows off those 'outta sight' 21" arms and mighty chest in very close, intensely powerful scenes.

Lance is justly renowned for those massive, perfectly formed biceps. His height is 5'8"

We have also included some footage of Lance at his all-time peak, guest posing and speaking at a 1985 show in Australia… ripped to shreds.
And there's a short segment of Lance winning the 1986 NABBA Professional Universe title. Click here to see the SHOW AT THE 1986 NABBA UNIVERSE, GMV-054DVD.

Running time: 30 mins

Cover and Gallery photos all by Wayne Gallasch, copyright GMV Productions.

Lance Dreher Contest History
Lance Dreher is a two time Mr. Universe and former Mr. America. Lance was born in Chicago, Illinois on June 27, 1955. Dreher has placed in the top 3 of 10 professional body building championships. In 1981, Lance was the Overall Winner at the IFBB World Amateur Championships in Egypt. See V-155DVD.

Possibly his greatest victory was in the 1986 NABBA Pro Universe where he defeated a star studded field.
One of Lance's most outstanding body building features is his 21-inch biceps. After his last competition in 1992, Lance completed his PhD in Physical Therapy and is a certified life coach.
Contests: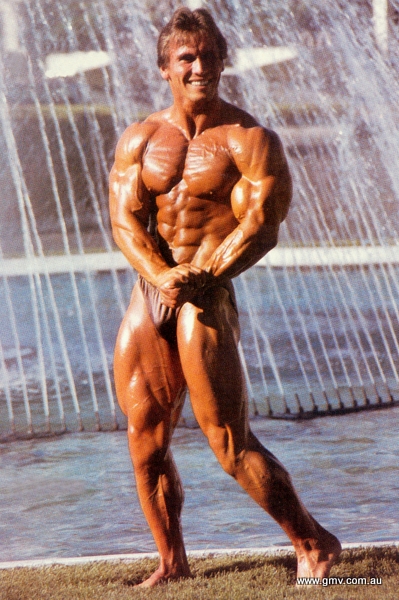 1974
AAU Teen Mr America, 4th
1976
AAU Collegiate Mr America, Winner
1977
AAU Mr America, Medium, 9th
1980
AAU Mr America, HeavyWeight, 3rd
1981
AAU Mr America, HeavyWeight, 1st
NPC Gold's Classic, HeavyWeight, 3rd
IFBB World Amateur Championships, Overall Winner
IFBB World Amateur Championships, HeavyWeight, 1st
1982
IFBB Mr Olympia, 15th
1983
IFBB Mr Olympia, 15th
1984
NABBA Pro Universe, 3rd
WABBA World Championships, Professional, 3rd
1985
NABBA Pro Universe, 3rd
WABBA Pro World Championships, 5th
1986
NABBA Pro Universe, Winner
1988
IFBB Chicago Pro Invitational, 6th
1989
IFBB Arnold Classic, 9th
1991
IFBB Musclefest Grand Prix, 15th
1992
IFBB Chicago Pro Invitational, 19th




Click here to see more details on Lance as he poses in the contest DVD from the 1983 Mr. Olympia, A-1167DVD.

NTSC DVD, OPEN REGION

Customers who viewed this DVD also viewed:






Click here for GMV Productions complete list of Male Muscle DVDs.