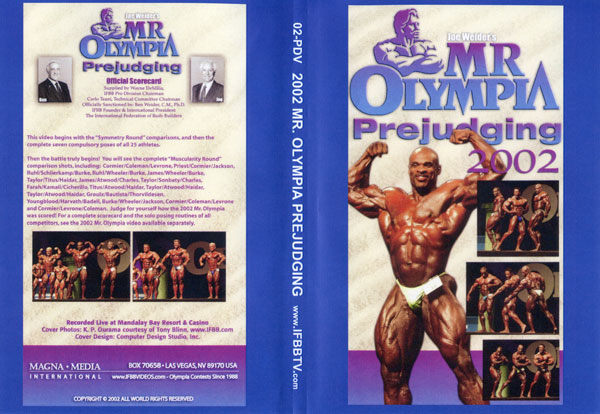 2002 Mr. Olympia - Prejudging
Dual Price (US$39.95 or A$49.95 in Australia)

A completely separate tape for the Prejudging - with all of the comparisons. See the top men side by side.
Sadly this was the last Mr Olympia appearance by the great Flex Wheeler.
2002 MR OLYMPIA COMPLETE RESULTS:
1. Ronnie Coleman
2. Kevin Levrone
3. Chris Cormier
4. Dexter Jackson
5. Gunter Schlierkamp
6. Lee Priest
7. Flex Wheeler
8. Markus Ruhl
9. Orville Burke
10. Dennis James
11. Craig Titus
12. Art Atwood
13. Ahmad Haidar
14. Ernie Taylor
15. Nasser El Sonbaty
The following were placed 16th
Gustavo Badell
Francisco Bautista
Darrem Charles
Bob Cicherillo
George Farah
Claude Groulx
Jaroslav Horvath
King Kamali
Tommi Thorvildsen
Don Youngblood

Running time: 90 mins
Please click here for the 2002 Mr Olympia Finals DVD, A-1065DVD.

Please click here for Prejudging Pump Room DVD #1, GMV-500DVD.
Please click here for Prejudging Pump Room DVD #2, GMV-501DVD. They are all totally different DVDs.
Please click here for Evening Show Finals Pump Room DVD #3, GMV-502DVD.

Please click here for the 2002 Mr. Olympia - Men at the Expo DVD, GMV-504DVD.

NTSC DVD, OPEN REGION

Important GMV Dual pricing policy.
* All customers outside of Australia/New Zealand will be charged in US dollars. If an imported item has dual pricing, (that is in Australian and US dollars), all customers OUTSIDE of Australia and New Zealand will only be charged the US dollar price.

Unfortunately, our site cannot automatically cope with dual pricing based on your country of residence and will default to the US dollar price on the order form you see displayed. Regardless of this, all customers will be manually charged the correct price based on the above.
To refer to our FAQ section for this and any other questions, please click here.