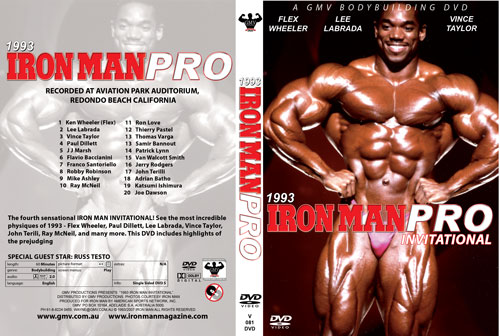 Preview clip.

1993 Iron Man Pro Invitational
See 1993's early season line-up of the best pro bodybuilders in the world.
The 4th sensational Iron Man Pro Invitational DVD showcases the best, most incredible physiques of the early nineties. See such legends as Flex Wheeler, Paul Dillett, Vince Taylor, Lee Labrada, John Terilli, Samir Bannout, the late Ray McNeil and many more.
After a titanic battle, a ripped Flex Wheeler emerged victorious. The DVD includes highlights of the prejudging as well as the evening finals.

The event was shot at Aviation Park Auditorium, Redondo Beach, California and was produced for Iron Man by American Sports Network, Inc.

Click here for the FLEX WHEELER PHOTO GALLERY.

Cover photo by Mike Neveux, Iron Man magazine.
Distributed under license from Iron Man by GMV Productions, Australia.

Running time: 60 mins
Complete Results:
1 Ken "Flex" Wheeler
2 Lee Labrada
3 Vince Taylor
4 Paul Dillett
5 J J Marsh
6 Flavio Baccianini
7 Franco Santoriello
8 Robby Robinson
9 Mike Ashley
10 Ray McNeil
11 Ron Love
12 Thierry Pastel
13 Thomas Varga
13 Samir Bannout
14 Patrick Lynn
15 Samir Bannout
16 Van Walcott Smith
17 Jerry Rodgers
18 John Terilli
18 Katsumi Ishimura
18 Joe Dawson
18 Adrian Batho

Click here for our COMPLETE LIST OF ALL IRON MAN PRO DVDs.

NTSC DVD, OPEN REGION

Customers who viewed this DVD also viewed:








Click here for GMV Productions complete list of Male Muscle DVDs.