GMV MUSCLE VIDEO MAGAZINE # 1 - STARS OF THE LATE 70s.

Also on Digital Download. Preview clip.

CONTENTS:
1977 Gold's Gym Mr. America Day Parade..
1980 AAU Mr. America Show
1980 Mr. Surf Festival contest at Venice Beach
Mike Sable & Don Knipp pumping up
1983 IFBB Men's World Championships, Singapore
1977 Mr. America Show at the final presentations
MAE WEST presents overall Mr. America trophy to DAVE JOHNS.
***********************************************************************

This 60 MINUTES "all-star" DVD is somewhat like a previews DVD, as it contains so many famous champions. It has more stars than a Mr. Olympia line-up!
It also contains the 1977 Gold's Gym Mr. America Day Parade, conceived and superbly carried out by Ken Sprague.
Although we have titled the DVD throughout listing major contests and solo stars, there simply isn't space to list on-screen all the champions. This product page gives you a complete 'body by body' word description of all that takes place, and lists all the physiques in order of appearance. We suggest you keep a copy of this page with the DVD for future reference.

See the JOHN KEMPER PHOTO GALLERY.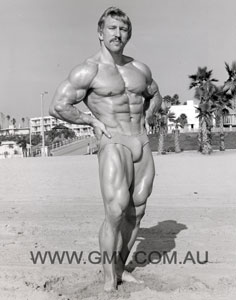 GMV Muscle Video Magazine #1 opens with a look at the light heavyweight line-up of the 1980 AAU Mr. America Show, held in the beautiful Santa Monica Civic Auditorium in California on September 6th. You will see Bob Jodkiewicz, Bronston Austin, and James Seitzer.


The lightweight class solo posing commences with John Burkholder (pictured left and right on the Santa Monica beach in 1977) and Joe Distinti, then the light weight class posedown, won by blond Ken Passariello from John Burkholder. Ken is presented his trophy by Chris Dickerson, future 1982 Mr. Olympia.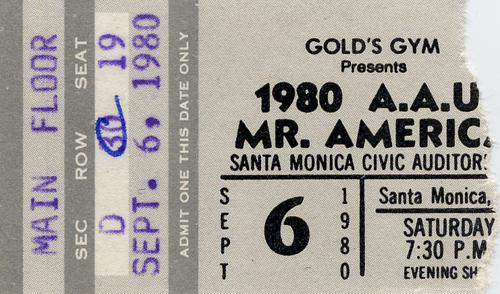 The middleweight solo posing commences with Tony Pandolfo, Bill Register, Mike Torchia, Richard Baldwin and Casey Schneider. Then the class posedown, won by Richard Baldwin and presented by Casey Viator.
The light-heavyweight solo posing commences with Ernie Santiago, James Seitzer, Pat Hayes, Bronston Austin, Larry Jackson and Bob Jodkiewicz, followed by the class posedown, showing Austin, Glass, Teufel, Santiago and Seitzer. The class was won by a very charismatic and elated Bronston Austin who does some victory posing before thanking everyone.
See the CHARLES GLASS PHOTO GALLERY.

*****************************************************
Click here to see an EXTENSIVE PHOTO GALLERY.

*****************************************************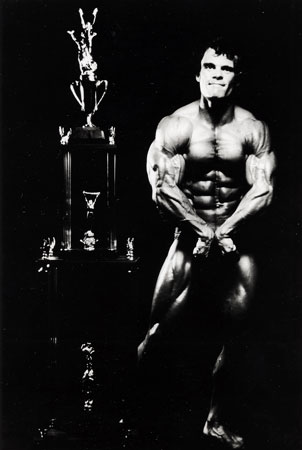 The 1980 heavyweight class solo posing is preceded by guest posing from Ray Mentzer followed by contestants John Brown, Billy Arlen, Rufus Howard, Gary Leonard, Marlon Darton, Greg (Rocky) DeFerro, John Kemper and Lance Dreher.

Next the fantastic heavy-weight posedown, said by some of the judges to rival the quality of a typical Mr. Universe contest.

This was one of the toughest and best heavyweight line-ups ever seen in a Mr. America contest.

The posedown feature Kemper, Arlen, DeFerro, Leonard (the winner of the class) and Dreher.



Next the overall Mr. America posedown between the 4 class winners. It was a narrow victory for GARY LEONARD (pictured left with his massive trophy) over Bronston Austin, with the trophy presented by big Lou Ferrigno.
Leonard hits more victory poses for the cameras.
A full report of this fantastic contest appeared in Iron Man Magazine November 1980 Vol. 40 #1. A number of these top men went on to become our present day professional champions.

Please click here for the 1980 AAU MR. AMERICA RESULTS.


Gallasch Muscle Videos also made out door solo features on many of these Mr. America contenders such as:
Gary Leonard, Lance Dreher, John Kemper, Billy Arlen, Marlon Darton, Ron Teufel, Charles Glass, Ernie Santiago, Robert Jodkiewicz, Larry Jackson, Pat Hayes, Jesse Gautreaux, George Palmiero, Richard Baldwin, Mike Torchia, Tony Pandolfo, James Gaubert, Joe Distinti plus trophy presenters Dickerson and Viator!


Next we present the 1980 Mr. Surf Festival contest at Venice Beach. You see a lively posedown plus solo posing by the winner Jim Tarleton, in the Californian sunshine on September 1st, 1980.
Our DVD now moves to a preview of Mike Sable pumping up, prior to his outdoors solo video feature. Then a similar outdoor preview of Masters Over 40 champ Don Knipp, pumping with cables on the Santa Monica beach.




Wayne's camera now moves to Singapore in 1983 for the IFBB World Championships, where he filmed big blond Frank Gay of Switzerland, posing and pumping at pool side, shot on video. Other solo features were also filmed this same day with Chuck Williams and Charles Glass, pictured left, see GMV-005DVD.
1977 Gold's Gym Mr. America Day Parade
Our video next takes us back to 1977 and the old Gold's Gym in Santa Monica, with then owner Ken Sprague posing in front of the gym with his top physiques for the TV news camera. We caught this rare moment on video, with all the big boys, which included: Manuel Perry, Bill Grant, Kent Kuehn, Larry Gordon, Larry Jackson, and present joint owner of Golds, Pete Grymkowski. See a group photo (bottom of page below) in front of Gold's Gym in 1979.



This TV segment was to promote the 1977 AAU Mr. America Day Parade, Saturday July 16th. This special street parade, from the Santa Monica Pier along Ocean Ave to the Santa Monica Civic Auditorium, was caught by Wayne's video camera. It's pure nostalgia. See if you can spot the following people - Bob Reis, Pete Samra, Dan Lurie and Bert Goodrich (in open cars), Dave Dupre, Rudi Hermosillo, Ken Waller, Bill Grant, Tony Pearson, Bill Pettis and more. Note that DuPre, Hermosillo and Waller are the crazy ones riding the elephants!
See Dupre with his elephant below.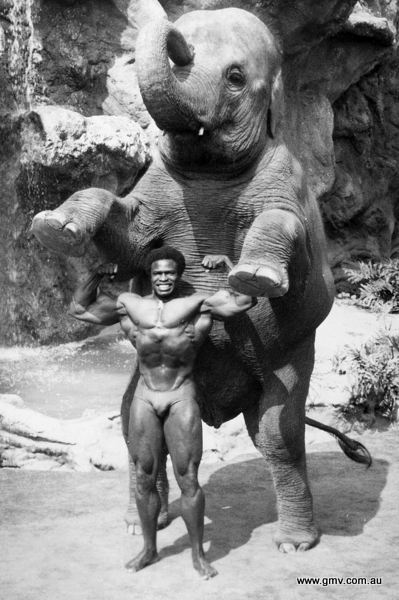 Finally to the on-stage action at the 1977 Mr. America Show at the final presentations. This was later in the day, after the parade and prejudging. Over 100 of the nation's top bodybuilders competed for the major awards. You will see in the posedown line-ups Tom Platz, C.F. Smith, Ron Teufel, Dave Johns, Doug Beaver, Manuel Perry, Clint Beyerle and Pete Grymkowski.

Legendary film goddess MAE WEST presents the overall Mr. America trophy to a jubilant DAVE JOHNS who hits poses for his fans. He also took the most muscular award and went on to win the overall title at the 1978 NABBA Amateur Mr. Universe in London.
You may spot a very young Andreas Cahling in the background of this last scene. Johns, Perry and Teufel were the three class winners in this all time classic contest video, and none of this footage has been released by us before. We believe this was Mae West's last public appearance. She was the star of the film "Sextette".
We subsequently shot solo features on the following guys from this event:
Manuel Perry, Clint Beyerle, Pete Grymkowski, Dave DuPre, Louie Perotta, Doug Beaver, Larry Gordon, James Pittman, Tom Platz and Don Peterson.
A sad note. I asked Bronston Austin and Dave Johns to shoot solo posing features with me. They both politely declined saying that they would shoot and make their own posing films later. I am sorry to say that it never happened and it was an opportunity lost for bodybuilding history.

All footage was recorded on silent super 8 film, transferred to video, then digitally remastered to DVD, with music added. This is a star-studded collection of the finest in body building presentations from 1977 and 1980 from our library of physique classics. Plus a highlight from 1983.

SPECIAL NOTE: In 1976 The Weiders merged with some big promoters to form AFAB. By 1980, AFAB became the NPC under Jim Manion. There is some slight confusion by me re exactly what banner some of these old contests were held under. Especially where I have no program from the event.

* FINAL NOTE: This is probably the greatest collection of physique stars I have ever presented on a single DVD. Wayne Gallasch

Click here for full contest results. * Available in NTSC DVD Only (Region Free)