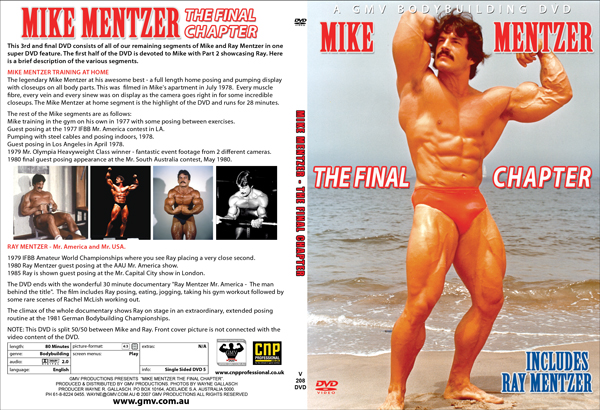 Preview clip.

MIKE MENTZER - THE FINAL CHAPTER, with RAY MENTZER
Digital Download.

* See our large PHOTO GALLERY bottom of this page.

This 3rd and final DVD consists of all of our remaining segments of Mike and Ray Mentzer in one super DVD feature. It is a tribute to these 2 wonderful bodybuilders who sadly passed away in June 2001. The first half of the DVD is devoted to Mike with Part 2 showcasing Ray. Here is a brief description of the various segments.
MIKE MENTZER TRAINING AT HOME
The legendary Mike Mentzer at his awesome best - a full length home posing and pumping display with closeups on all body parts. This was filmed in Mike's apartment, in West L.A. in July 1978. It was the final solo posing session Wayne shot with Mike. He was in ripped pre-contest condition and performed muscle control that will blow your mind, including the incredibly difficult rope isolation pose!! Every muscle fibre, every vein and every sinew was on display as the camera goes right in for some incredible closeups.

MIKE & RAY MENTZER PHOTO GALLERY.
Mike displayed each body part in slow, deliberate flexing, rippling poses. He gave his absolute all. Includes oiling, pumping and dumbell workout. A brutal filming session - according to a sweat soaked Mike! See in the photo below what he had to say about this filming session in his comments, written into his training book he signed and gave Wayne at the end of the shoot!

For 21" arm lovers and those who appreciate the magic and charisma of MIKE MENTZER at his peak, this whole DVD is a must.
The Mike Mentzer at home segment is the highlight of the DVD and runs for 28 minutes. This segment was originally part of VHS Video V-128.

See B&W photos at the bottom of this page for pix taken during this apartment shoot.
The rest of the Mike DVD segments are as follows:
Mike training in the gym on his own in 1977 with some posing between exercises.
Guest posing at the 1977 IFBB Mr. America contest in LA.
Pumping with steel cables and posing indoors, 1978.
Guest posing in Los Angeles in April 1978.
1979 Mr. Olympia Heavyweight Class winner - fantastic event footage from 2 different cameras.
1980 final guest posing appearance at the Mr. South Australia contest, May 1980.
NOTE: This DVD is split 50/50 between Mike and Ray.

MIKE'S CONTEST HISTORY: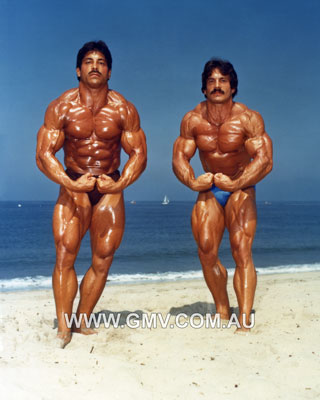 1970
Mr Pennsylvania - AAU, Winner
1971
Mr America - AAU, 10th.
Teen Mr America - AAU, Most Muscular, 2nd.
Teen Mr America - AAU, 2nd.
1975
Mr America - IFBB, Medium, 3rd.
Mr East Coast - IFBB, Medium, 2nd.
Mr USA - IFBB, Medium, 2nd.
1976
Mr America - IFBB, Medium, 1st.
Mr America - IFBB, Overall Winner.
Universe - IFBB, MiddleWeight, 2nd.
1977
North American Championships - IFBB, MiddleWeight, 1st.
North American Championships - IFBB, Overall Winner.
Universe - IFBB, HeavyWeight, 2nd.
1978
USA World Qualifier - IFBB, HeavyWeight, 1st.
USA vs the World - IFBB, HeavyWeight, 1st.
World Amateur Championships - IFBB, HeavyWeight, 1st.
1979
Canada Pro Cup - IFBB, 2nd.
Florida Pro Invitational - IFBB, Winner.
Night of Champions - IFBB, 3rd.
Olympia - IFBB, HeavyWeight, 1st.
Pittsburgh Pro Invitational - IFBB, 2nd.
1980 Olympia - IFBB, 5th.

SPECIAL NOTE FROM WAYNE GALLASCH - CEO GMV PRODUCTIONS.
This final DVD on Mike and Ray has been 12 months in the making as we researched and gathered together all of our material. In the years 1977 and 1978 I took around 250 photos of Mike and Ray. I went through every photo on file in selecting the best ones for the DVD photo gallery. I have selected 36 exquisite photos of the brothers which had never ever been scanned or seen before.
I think you will enjoy this unique look at the Mentzers at their peak in both colour and B&W photos. These rare unseen photos were all taken at my various filming sessions with them in those 2 years.

RAY MENTZER - Mr. America and Mr. USA.

This half of the DVD starts off with Ray in contest mode:
1979 IFBB Amateur World Championships where you see Ray placing a very close second to Jusup Wilcosz in the heavyweight class.
1980 Ray Mentzer guest posing at the AAU Mr. America show.
1985 Ray is shown guest posing at the Mr. Capital City show in London.
The DVD ends with the wonderful 30 minute documentary "Ray Mentzer Mr. America - The man behind the title". GMV purchased the copyright to this rare gem which has been unseen outside Europe. Full English soundtrack. Shot in Germany in 1981 when Ray was guest posing at the German Championships, it starts out with various sites in and around Munich, Germany. See Ray Interviewed by his friend Rachel McLish, Ms Olympia. The film includes various scenes of Ray posing, eating, jogging, taking his gym workout followed by some rare scenes of Rachel McLish working out.

Ray was quite an all-round sportsman and you even get to see his skill as he goes windsurfing. The climax of the whole documentary shows Ray on stage in an extraordinary, extended posing routine at the 1981 German Bodybuilding Championships.

More on Mike Mentzer at the Beach and Muscle Rocks V-112DVD.
More on DVD #2 Mike and Ray in the gym, V-121DVD.
More on the Triple Pack Special Deal Set of all 3 Mike Mentzer DVDs, V-209DVDSP.
More on the special MIKE MENTZER LARGE A2 POSTER, see below.
Read a review of the DVD Mike Mentzer at the Beach & Muscle Rocks.
Read Wayne's tribute to Mike and Ray - RIP. Mike and Wayne were very close friends.
**********************************

RAY'S COMPLETE CONTEST HISTORY: Please click here.

SPECIAL FEATURES:
DVD Includes a Photo Gallery featuring Mike and Ray.

RUNNING TIME: 80 mins
Photographers & Copyright Warning:
All outdoor and gym photos are by Wayne Gallasch.
All 1980 Olympia photos are from Robert Nailon.
All other contest photos are by Garry Bartlett.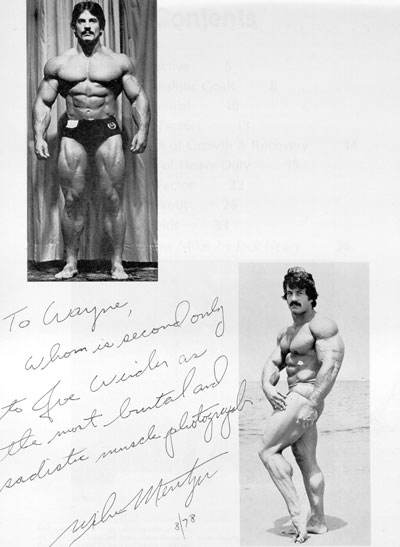 Mike Mentzer Classic Photos
Mike Mentzer Photos copyright Wayne Gallasch 1978.


Mike Mentzer DVDs available from GMV.





Mike Mentzer Collector's Item Poster (large A2 still available)

Click here
to read Wayne's tribute to Mike and Ray Mentzer.
NTSC DVD, OPEN REGION