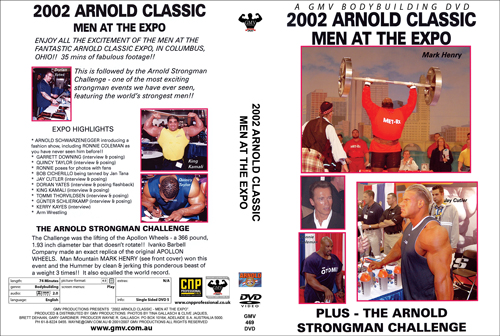 2002 Arnold Classic: Men at the Expo & the Arnold Strongman Challenge
Also Available as a Digital Download
Please click here to order the Strongman Event footage from the 2007 Arnold Classic - V-206DVD.

"ENJOY ALL THE EXCITEMENT OF THE MEN AT THE ARNOLD CLASSIC EXPO"

Running time: 74 mins
This is followed by the Arnold Strongman Challenge - one of the most exciting strongman events we have ever seen, featuring the world's strongest men!!
EXPO HIGHLIGHTS
See some of the biggest names in World Bodybuilding!!
* ARNOLD SCHWARZENEGGER introducing a fashion show, including RONNIE COLEMAN as you have never seen him before!!
* GARRETT DOWNING (interview & posing)
* QUINCY TAYLOR (interview & posing)
* RONNIE poses for photos with fans
* BOB CICHERILLO being tanned by Jan Tana
* JAY CUTLER (interview & posing)
* DORIAN YATES (interview & posing flashback)
* KING KAMALI (interview & posing)
* TOMMI THORVILDSEN (interview & posing)
* GÜNTER SCHLIERKAMP (interview & posing)
* KERRY KAYES (interview)
* Arm Wrestling
THE ARNOLD STRONGMAN CHALLENGE

The Challenge was the lifting of the Apollon's Wheels - a 366 pound (169kg), 1.93 inch diameter bar that doesn't rotate!! Ivanko Barbell Company made an exact replica of the original APOLLON'S WHEELS. Man Mountain MARK HENRY (see front cover) won this event and the Hummer by clean & jerking this ponderous beast of a weight 3 times!! It also equalled the world record.

2002 Arnold Strength Summit - Final Results and total points.

1. Mark Henry 25 points
2. Svend Karlsen 22.5 points
3. Phil Pfister 21.5 points
4. Mark Philippi 20 points
5. Andy Bolton 16 points
5. Raimonds Bergmanis 16 points
7. Brad Gillingham 13 points
8. Brian Schoonveld 10 points


Click here for GMV-464DVD, 2002 Arnold Classic Prejudging.
Click here for GMV-467DVD, 2002 Arnold Classic Men's Pump Room and Finals Contest Posing.
Click here for GMV-466DVD, 2002 Fitness International Prejudging and Women at the Arnold Expo.
Click here for GMV-465DVD, 2002 Ms. International Prejudging.
Click here for GMV-468DVD, 2002 Ms. International Pump Room & Finals Contest Posing.

Customers who viewed this DVD also viewed: