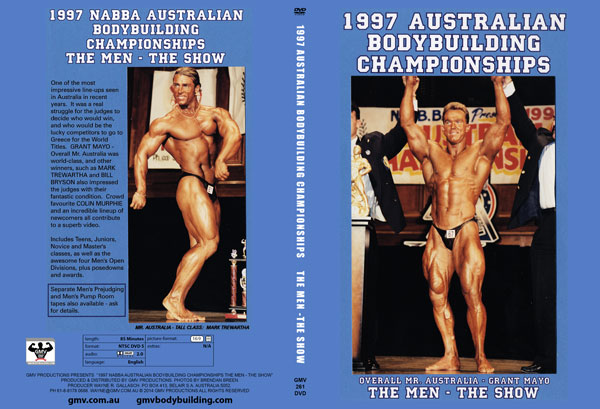 1997 NABBA Australian Championships: The Men - The Show
One of the most impressive line-ups seen in Australia in recent years. It was a real struggle for the judges to decide who would win, and who would be the lucky competitors to go to Greece for the World Titles.

GRANT MAYO, Overall Mr. Australia, was world class; and other winners, such as MARK TREWARTHA and BILL BRYSON, also impressed the judges with their fantastic condition. Crowd favourite COLIN MURPHIE and an incredible line-up of newcomers all contribute to a superb DVD.

CLASSES INCLUDE: Teens, Juniors, Novice and Masters classes as well as the awesome four Men's Open Divisions, plus posedowns and awards.

Please click here for THE MEN'S PREJUDGING from this event, GMV-260DVD.
Please click here for the WOMEN'S DVD FROM THIS EVENT, GMV-258DVD.
Please click here for the COMPLETE EVENT RESULTS in our RESULTS SECTION.
CLASS WINNERS:
Class 1: Mark Trewartha – SA
Class 2: George Papadopoulos – VIC
Class 3: Grant Mayo – NSW
Class 4: Colin Murphie – NSW
Masters: Tom Long – WA
Teenage: Tim Tziotas – VIC
Junior: Bob Kocoski – VIC
Men's Novice: Bryan Bennington - NSW

1997 NABBA AUSTRALIA RESULTS
25th May, 1997 Town Hall, Melbourne, VIC.
MEN'S CLASS 1
1. Mark Trewartha
2. John Quinlivan
3. John Rizzo
4. Nick Patsolandis
5. Scott Burgess
6. Robert Morando ) Tie
7. Paul Smith ) Tie
8. Craig Reid
MEN'S CLASS 2
1. George Papadopoulos
2. Anthony Bromley
MEN'S CLASS 3
1. Grant Mayo
2. Bill Bryson
3. Graeme Lancefield
4. Paul Monaghan
5. Roy Nicolass
6. Greg Besset
7. Norm Kirsh
MEN'S CLASS 4
1. Colin Murphie
2. Jim Kotantonis
3. Gavin Sapit
4. Godwin Marshall
MEN'S NOVICE
1. Brian Bennington
2. Brett Jansen
3. Mark Patience
4. Gerwin Browers
MEN'S JUNIORS
1. Bob Kocoski
2. Dave Smith
3. Sam Khadour
MEN'S TEENAGE
1. Tim Tziotas
2. Scott Pavlovic
3. Steven Stamoulis


MEN'S MASTERS

1. Tom Long
2. Godwin Abdilla
3. Tony Rizzo
4. Pepe Mercuri
5. Greg Deslanes
6. Phil Crooks
OVERALL MR. AUSTRALIA: Grant Mayo - NSW
WOMEN'S PHYSIQUE
1. Gillian Bromley
2. Christine Envall
3. Taylor Young
WOMEN'S FIGURE CLASS 1
1. Lorraine March
2. Gretal Gondor
3. Lisa Reid
WOMEN'S FIGURE CLASS 2
1. Pina Theodoridis
2. Diane Hunt
3. Deena Rosan
4. Terri Roberts
5. Kyme Brandhoff
6. Robyn Paul
WOMEN'S FIGURE OVER 35
1. Karren Farrow
2. Lyn Sims
3. Marie McEwan
WOMEN'S FIGURE – NOVICE
1. Belinda Wilton
2. Sonia Hill
OVERALL WOMEN'S FIGURE CHAMPION: Pina Theodoridis - VIC

Photos by Tina Gallasch.

Running time: 75 mins

NTSC DVD, OPEN REGION

Customers who viewed this DVD also viewed:








Click here for GMV Productions complete list of Male Muscle DVDs.