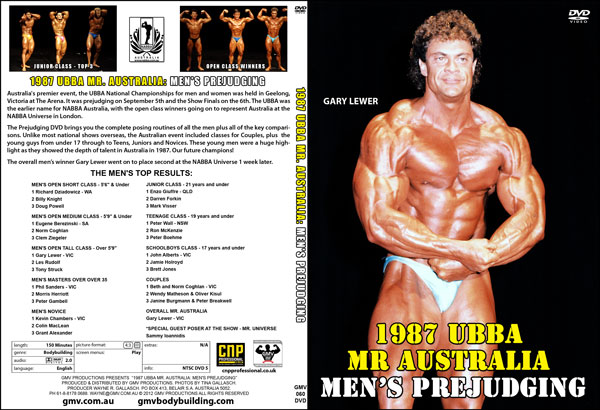 1987 UBBA Mr. Australia: Men's Prejudging
Australia's premier event, the UBBA National Championships for men and women was held in Geelong, Victoria at The Arena. It was prejudging on September 5th and the Show Finals on the 6th. The UBBA was the earlier name for NABBA Australia with the open class winners going on to represent Australia at the NABBA Universe in London.
Between the men's and women's DVDs see 62 of Australia's finest young champions.
The overall contest was won by GARY LEWER giving him his second national title.
Mr Universe, Sammy Ioannidis was the special guest poser, see The Men - The Show DVD, click here for GMV-061DVD.
Sammy was the 1986 NABBA Mr Universe class winner and he was in superb condition being one week away from defending his title at the 1987 Universe.

Please click here for THE WOMEN'S DVD from this contest PREJUDGING & SHOW, GMV-062DVD.
The Prejudging DVD brings you the complete posing routines of all the men plus all of the key comparisons. Unlike most national shows overseas, the Australian event included classes for Couples, young guys from under 17 through to Teens, Juniors and Novices. These young men were a huge highlight as they showed the depth of talent in Australia in 1987.

Gary Lewer went on to place second at the NABBA Universe 1 week later. To see Gary Lewer in his own DVDs please click here for GMV-048DVD and click here for GMV-104DVD.

To see Peter Wall in his own DVD, please click here for GMV-197DVD.
To see Gary Lewer and Sammy Ioannidis compete in the 1987 NABBA Universe: Men - The Show, please click here for GMV-064DVD.
Please click here for the COMPLETE RESULTS - MEN & WOMEN.

Running time: 150 mins
1987 UBBA MR. AUSTRALIA
THE MEN'S RESULTS:
MEN'S OPEN SHORT CLASS - 5'6" & Under
1 Richard Dziadowicz - WA
2 Billy Knight
3 Doug Powell
4 Michael Ritter
5 Noel Moss
6 Robert Stambulovski
7 Matthew Martinga
MEN'S OPEN MEDIUM CLASS - 5'9" & Under
1 Eugene Berezinski - SA
2 Norm Coghlan
3 Clem Ziegeler
4 Sam White
5 Dan McKay
6 Shane Blood
7 Barry Whitnell
8 Phil Douglas
9 Peter Breakwell
MEN'S OPEN TALL CLASS - Over 5'9"
1 Gary Lewer - VIC
2 Les Rudolf
3 Tony Struck
4 Andrew Nakone
MEN'S MASTERS OVER OVER 35
1 Phil Sanders - VIC
2 Morris Herriott
3 Peter Gambell
4 Jackie Kirk
5 Nev Williams
6 Des Sunderland
MEN'S NOVICE
1 Kevin Chambers - VIC
2 Colin MacLean
3 Grant Alexander
JUNIOR CLASS - 21 years and under
1 Enzo Giuffre - QLD
2 Darren Forkin
3 Mark Visser
4 Roy Visser
5 Dean Spendlove
6 Con Venios
7 Andrew Schluter
TEENAGE CLASS - 19 years and under
1 Peter Wall - NSW
2 Ron McKenzie
3 Peter Boehme
4 Randall Smyth
5 Derek Immervoll
SCHOOLBOYS CLASS - 17 years and under
1 John Alberts - VIC
2 Jamie Holroyd
3 Brett Jones

COUPLES
1 Beth and Norm Coghlan - VIC
2 Wendy Matheson & Oliver Kisul
3 Janine Burgmann & Peter Breakwell

OVERALL MR. AUSTRALIA
Gary Lewer - VIC
*SPECIAL GUEST POSER - MR. UNIVERSE
Sammy Ioannidis
NTSC DVD, OPEN REGION