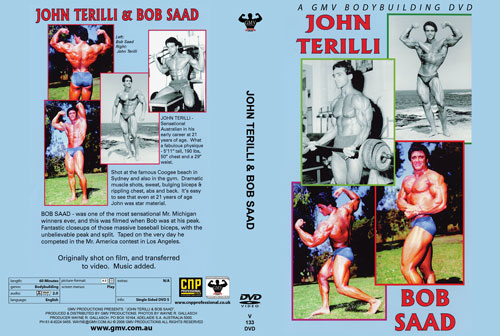 John Terilli & Bob Saad

Also on Digital Download. Preview clip.
JOHN TERILLI - Sensational Australian in his early career at 21 years of age. What a fabulous physique - 5'11" tall, 190 lbs, 50" chest and a 29" waist.
Shot at the famous Coogee beach in Sydney and also in the gym on the day after the 1980 Mr Olympia. Dramatic muscle shots, sweat, bulging biceps & rippling chest, abs and back. It's easy to see that even at 21 years of age John was star material. He later went on to win 2 Mr Universe titles as well as having a star IFBB Pro career. See Contest History below.

Click here for the JOHN TERILLI PHOTO GALLERY.
BOB SAAD - was one of the most sensational Mr. Michigan winners ever, and this was filmed when Bob was at his peak. Fantastic closeups of those massive baseball biceps, with the unbelievable peak and split. Taped on the very day he competed in the Mr. America contest in Los Angeles on September 6th, 1980. This posing footage of Bob is the best, most mind-blowing closeup biceps photography we have ever captured. He has a mini biceps peak on top of his regular biceps!

Click here for the BOB SAAD PHOTO GALLERY.
Originally shot on film by Wayne Gallasch, and transferred to DVD. Music added. All photos by Wayne Gallasch, copyright GMV.
Each segment is 29.5 minutes long.

Total running time: 60 mins
JOHN TERILLI COMPLETE CONTEST HISTORY
1980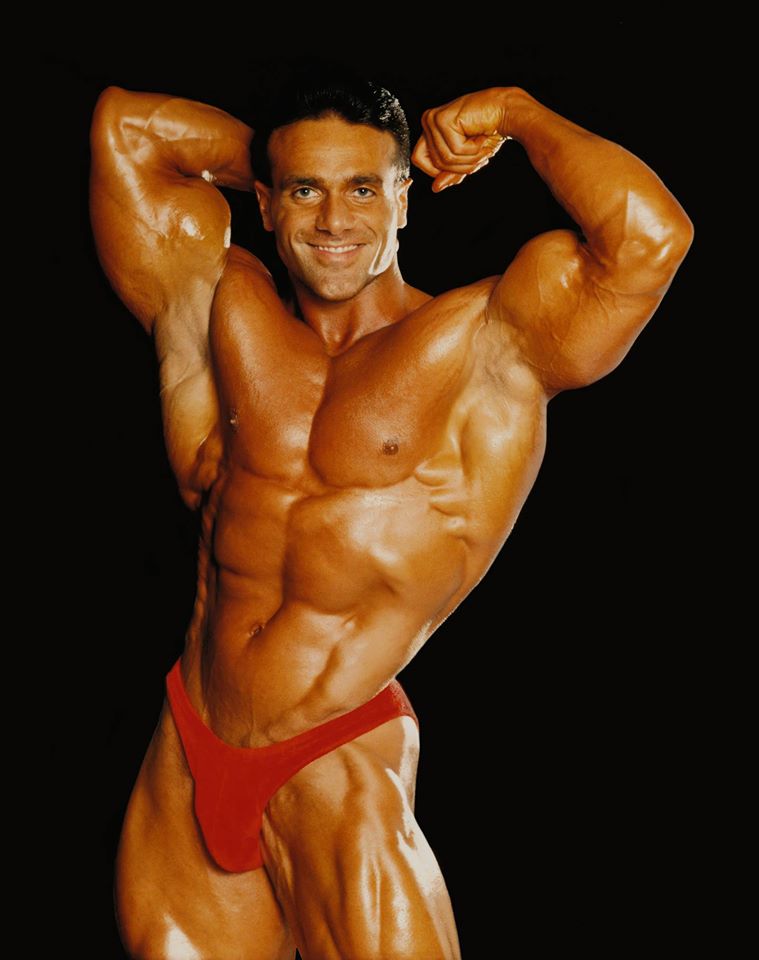 IFBB World Amateur Championships, Light-HeavyWeight, 6th
IFBB Best in Australia Amateur Contest, 1st
1982
NABBA Mr Universe - Medium, 1st
1983
IFBB Grand Prix Las Vegas, 2nd
IFBB Night of Champions, 5th
1984
IFBB World Pro Championships, 8th
1985
IFBB Night of Champions, 6th
1986
IFBB Los Angeles Pro Championships, 6th
Mr Olympia, 9th
IFBB World Pro Championships, 5th
1988
IFBB Niagara Falls Pro Invitational, 6th
1989
IFBB Arnold Classic, 13th
IFBB Grand Prix France, 13th
IFBB Grand Prix France, 12th
IFBB Grand Prix Sweden, 11th
1991
IFBB Australian Championships, Tall, 2nd
1992
IFBB Iron Man Pro Invitational, 13th
1993
IFBB Iron Man Pro Invitational, 18th
Gold Star Classic Pro/Am Bodybuilding Contest, 4th
NABBA Pro Mr Universe, 2nd
1994
NABBA Pro Mr Universe, Winner

NTSC DVD, OPEN REGION