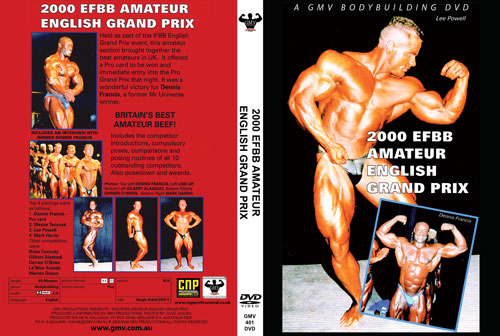 2000 EFBB AMATEUR ENGLISH GRAND PRIX
Also Available as a Digital Download
BRITAIN'S BEST AMATEUR BEEF! PRO CARD QUALIFIER.

Held as part of the IFBB English Grand Prix event, this amateur section brought together the best amateurs in UK. It offered a Pro card to be won, and immediate entry into the Pro Grand Prix that night. It was a wonderful victory for Dennis Francis, a former Mr Universe winner. Dennis is pictured lower front cover. Lee Powell is pictured upper front cover.

The DVD includes all the competitor introductions, compulsory poses, comparisons and posing routines of all 10 outstanding competitors.
Also posedown and awards, as well as an interview with overall winner DENNIS FRANCIS.

Running time: 60 mins

Top 4 placings were as follows:
1. Dennis Francis - Pro card
2. Wayne Tancock
3. Lee Powell
4. Mark Harris

Other competitors were:
Brian Connolly
Gilbert Alaskadi
Darren O'Brien
La'Mon Amede
Warren Dyson
Simon Morgan
*ALSO AVAILABLE AS A VIDEO DOWNLOAD - CLICK HERE.
2000 IFBB English Grand Prix

Ronnie Coleman triumphs again in the best lineup ever seen at the English Grand Prix. Held just one week after the 2000 Olympia all athletes are in superb condition - a truly awesome sight, as 16 outstanding champions crowd the stage.

This was in the days when Ronnie used to stick it to Jay in every contest and this was just after Ronnie won his Mr Olympia title #3.


2000 IFBB ENGLISH GRAND PRIX: THE PUMP ROOM

It includes all the major footage from our back stage camera both in the Pump Room and then on stage with rear closeup footage of the Amateurs and the Professionals.

Includes the individual compulsory poses from 2nd placed JAY CUTLER, in the best shape of his life. Plus a television interview with Ronnie Coleman.


The event was promoted by Kerry Kayes and sponsored by CNP PROFESSIONAL,
www.cnpprofessional.co.uk
NTSC DVD, OPEN REGION.