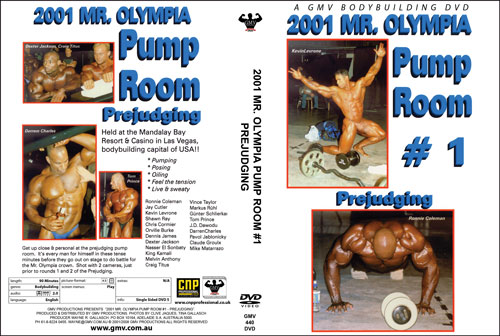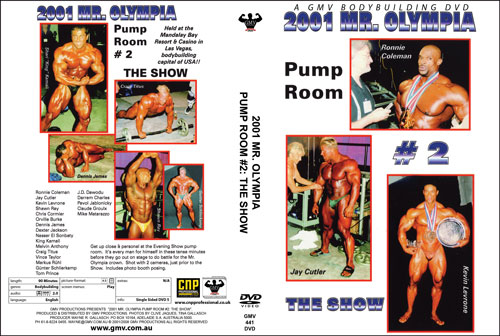 2001 Mr. Olympia: Pump Room - Prejudging and Show Special Deal

See the complete Pump Room footage from the whole event. Click on the individual DVD covers above for more information.

Total running time: 180 mins
Click here for the KEVIN LEVRONE PHOTO GALLERY, BIO & LIST OF DVDs HE IS IN.

THE FINAL RESULTS:
1. RONNIE COLEMAN USA.
2. JAY CUTLER USA.
3. KEVIN LEVRONE USA.
4. SHAWN RAY USA.
5. CHRIS CORMIER USA.
6. ORVILLE BURKE USA.
7. DENNIS JAMES USA.
8. DEXTER JACKSON USA.
9. NASSER EL SONBATY Yugoslavia
10. SHARI 'KING' KAMALI USA.
11. MELVIN ANTHONY USA.
12. CRAIG TITUS USA.
13. VINCE TAYLOR USA.
14. MARKUS RÜHL Germany
15. GÜNTER SCHLIERKAMP Germany
16. TOM PRINCE USA.
17. J.D. DAWODU England
18. DARREM CHARLES Trinidad
19. PAVOL JABLONICKY Czech Republic
20. CLAUDE GROULX Canada
21. MIKE MATARAZZO USA.
NTSC DVD, OPEN REGION

Customers who viewed this DVD also viewed:








Click here for GMV Productions complete list of Male Muscle DVDs.