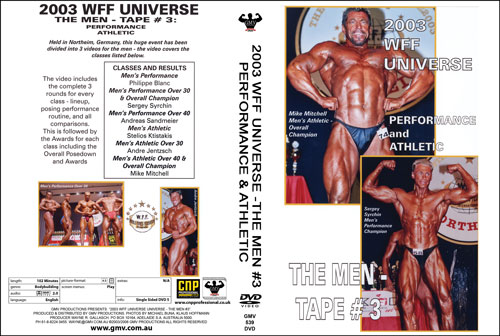 2003 WFF Universe: The Men - DVD # 3

Held in Northeim, Germany, this huge event has been divided into 3 DVDs for the men. This DVD covers the classes listed below in the RESULTS section.
The DVD includes the complete 3 rounds for every class - lineup, complete posing performance routine from every single competitor, and all comparisons.
This is followed by the Awards for each class including the Overall Posedown and Awards.

Running time: 102 mins

Click here for GMV-537DVD 2003 WFF Universe: Men's DVD # 1

Click here for GMV-538DVD 2003 WFF Universe: The Men - DVD # 2


CLASS WINNERS AND RESULTS:

Men's Performance
Philippe Blanc


Men's Performance Over 30 & Overall Champion
Sergey Syrchin


Men's Performance Over 40
Andreas Sandmeier


Men's Athletic
Stelios Ktistakis


Men's Athletic Over 30
Andre Jentzsch

Men's Athletic Over 40 & Overall Champion
Mike Mitchell
*************************************************************

Men's Performance
1 Philippe Blanc
2 Ali Reza Zahiri
3 Michael Schmidt
4 Thomas Wenzl
5 Thomas Riedel
6 Rama Mehrdad

Men's Performance Over 30
1 Sergey Syrchin (Overall winner)
2 Andrea Romboni
3 Vassili Delis
4 Hanno Schupp
5 Eddie Tannourji
6 Thomas Schramm

Men's Performance Over 40
1 Andreas Sandmeier
2 Dietmar Haubold
3 Uwe Schöffler
4 Frank Heumer
5 Neil McCluskey

Men's Athletic
1 Stelios Ktistakis
2 Karsten Schuck
3 Karim Giroussens
4 Angelo Accursio
5 Antonio Gambacorta

Men's Athletic Over 30
1 Andre Jantzsch
2 Stefan Nonn
3 Martin Schulz
4 Christodulos Sofotasios
5 Marc Friedli
6 Christophe Manuguerra


Men's Athletic Over 40
1 Mike Mitchell (Overall winner)
2 Dirk Bonenberger

NTSC DVD, OPEN REGION