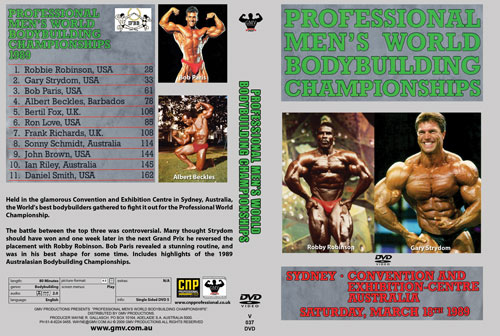 1989 IFBB Men's World Pro Bodybuilding Championships

Also on Digital Download. Video clip.

Held in the glamorous Convention and Exhibition Centre in Sydney, Australia, the World's best bodybuilders gathered to fight it out for the IFBB Professional World Championships. The battle between the top three was controversial. Many thought Strydom should have won and one week later in the next Grand Prix he reversed the placement over Robby Robinson. The judges saw Robby Robinson as clearly the best with his victory being quite clear cut. Bob Paris revealed a stunning routine, and was in his best shape for some time. Albert Beckles was 4th with Bertil Fox in 5th place.

GARY STRYDOM PHOTO GALLERY.

BOB PARIS PHOTO GALLERY.
This is a classic contest showcasing some of the very best champions of the 80s, with the brilliant Robby Robinson turning on a virtuoso performance for his many fans. A true collector's item contest! There is not a lot of footage on DVD of any of these stars, especially Robinson, Beckles and Fox. This makes the DVD even more special to their many fans.
Then DVD also includes highlights from the 1989 Australasian Bodybuilding Championships. This amateur event presented the finest amateurs in Australia and preceded the Pro show.
Please click here to see ROBBY ROBINSON win the first ever Masters Olympia title in 1994, A-0806DVD.
Please click here to see GARY STRYDOM in one of the many DVDs he is in, Ageless - Gary Strydom, A- 1147DVD.
Please click here to see BOB PARIS in his own DVD from GMV, V-110DVD.
Please click here for more on ALBERT BECKLES in his DVD, GMV-028DVD.
Please click here to see one of our many BERTIL FOX DVDs, Brutal Fox in Training, A-4033DVD.
Please click here to see RON LOVE in the 1993 English GP, GMV-171DVD.
Please click here to see FRANK RICHARD in the 1970/71 NABBA Universe DVD, V-108DVD.
Please click here to see SONNY SCHMIDT win the 1995 Masters Olympia, A-0839DVD.
Please click here to see JOHN BROWN at FIBO '90, V-064DVD. He is many of our DVDs.
The top 11 in the Pro Class were as follows:

RESULTS

1. Robby Robinson, USA
2. Gary Strydom, USA
3. Bob Paris, USA
4. Albert Beckles, Barbados
5. Bertil Fox, UK
6. Ron Love, USA
7. Frank Richard, UK
8. Sonny Schmidt, Australia
9. John Brown, USA
10. Ian Riley, Australia
11. Daniel Smith, USA

Running time: 80 mins

NTSC DVD, OPEN REGION