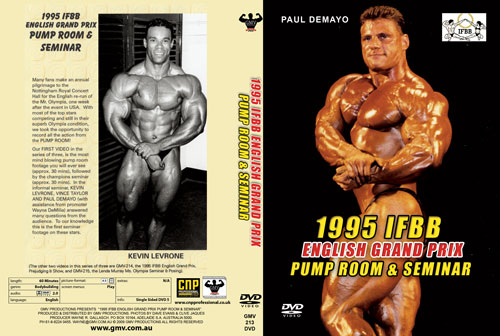 1995 English Grand Prix: Pump Room and Seminar
Also available as a Digital Download.
NOTTINGHAM, ENGLAND, SEPTEMBER 17, 1995

Many fans make an annual pilgrimage to the Nottingham Royal Concert Hall for the English re-run of the Mr. Olympia, one week after the event in USA. With most of the top stars competing and still in their superb Olympia condition, we took the opportunity to record all the action from the PUMP ROOM!

Our first men's DVD of 2 from this event, it is the most mind blowing pump room footage you will ever see (approx. 30 mins), followed by the champions seminar (approx. 30 mins). In the informal seminar, VINCE TAYLOR, KEVIN LEVRONE & PAUL DEMAYO (with assistance from promoter Wayne DeMilia) answered many questions from the audience. To our knowledge this is the first and only Grand Prix seminar footage that features any of these 3 stars.

As it turned out Vince and Kevin finished first and second in that order.
This event features some of the very rare footage that we have on Paul DeMayo who sadly passed away on June 2nd, 2005. He was headed for greatness in the 90s. See his photo below right from 1996 FIBO.


1995 English Grand Prix.

The top 5 competitors, VINCE TAYLOR, KEVIN LEVRONE, CHARLES CLAIRMONTE, NASSER EL SONBATY and CHRIS CORMIER were all so close it was a judge's nightmare. This was to be Vince's last victory at the English Grand Prix before winning 5 Masters Olympia titles. Vince is still competing today and will compete in the 2007 Mr Olympia in Las Vegas.

This is one of the few DVDs we have that includes Paul DeMayo.


GMV-214DVD.
Running time: 60 mins

Please click here for our workout DVD with Vince Taylor, V-008DVD, "Getting Pumped".
Please click here to see Vince as he wins one of his 5 Masters Olympia titles, this one in 2000, A-1020DVD.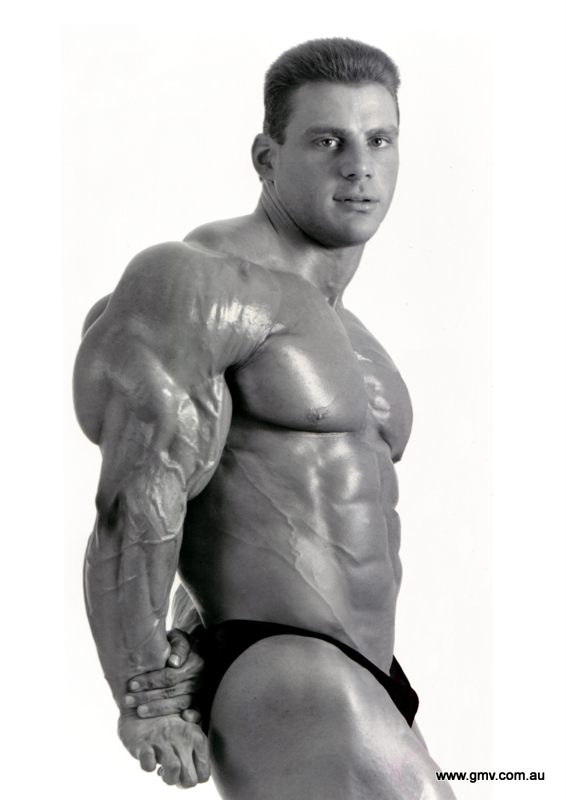 The GP results were as follows:
1 Vince Taylor
2 Kevin Levrone
3 Charles Clairmonte
4 Nasser El Sonbaty
5 Chris Cormier
6 Ian Harrison
7 Sonny Schmidt
8 Eddy Ellwood
9 Patrick Nicholls
10 Paul DeMayo

NTSC DVD, OPEN REGION