click here for preview.


2009 Iron Man Pro Pump Room and Expo Highlights - 2 DVD set

"California's #1 Fitness Weekend" & behind the scenes at the 20th & final Iron Man Pro.

Also on Digital Download - Men's Pump Room & at the Expo.

Also on Digital Download - Women at the Expo.
See the main Pump Room action from the 2009 Iron Man Pro including backstage tanning booth scenes PLUS all the Highlights from the LA Fitness Expo from both days.
The opening section of this DVD brings you the highlights from the backstage pump room. From tanning, pumping, tensing and oiling and posing for photos, this popular segment captures all of the action from back stage at the LA Convention Center.
THE MEN:
The Expo highlights include scenes of the Strongman event, the Men's Interviews plus highlights from Dexter Jackson's Mr. Olympia Seminar.
All the sections on the men (pump room and then men at the Expo, interviews etc) have been kept together as Part 1 of the DVD. A real Who's Who of Men's Bodybuilding!

THE WOMEN:
Part 2 of the Expo section is 100% Women's Highlights and interviews with Bill Dobbins. This keeps it all together for our female fans and the same for the fans of men's bodybuilding. Bill Dobbins is a master interviewer, especially with the women where he knows almost all of them personally having worked with them over the years as the world's leading women's physique photographer. See the list below of the women we featured at the Expo.
We covered the Expo & Pump Room with our 2 camera team namely Wayne Gallasch doing all of the interviews with Bill, and Michael Lenglez doing the rest in the Pump Room. Michael shot all of the pump room footage in this his first ever Iron Man event with GMV.
Richard Rossan was our main photographer for the Expo photos, with some Expo photos supplied by Iron Man magazine. Front cover photos courtesy Iron Man.
My special thanks to BILL DOBBINS www.billdobbins.com The women's footage runs for 62 mins.

2 DVD SET:
Total running time DISC #1 is over 3 1/2 hours. DVD 9 dual layer DVD. Roughly 2/3 of the DVD is footage from the Expo. WIDE SCREEN 16:9
Pump Room Running Time is 1 hour.

BONUS DISC #2 is a Photo DVD of 320 of our best photos from backstage and at the Expo from all of our photographers. A bonanza of great action photos! Special thanks to Jerry Fredrick and Iron Man magazine and Richard Rossan.

Extras Disc #1:
Photo Gallery.
Photos by the Iron Man staff, Richard Rossan and Wayne Gallasch.
Front cover Figure photo Norma Carrasquilla.

SEE MORE PHOTOS AT THE BOTTOM OF THIS PAGE.

Total Running time: 215 mins

Please click here for the 2009 Iron Man Pro Contest DVD, V-215DVD.

Please click here for our complete list of Iron Man Pro DVDs and click here for the complete list of winners 1990 to date.

Please click here for Dexter Jackson fans to see him in his DVDs, A-1092DVD and click here for his "THE BLADE DVD", A-1275DVD.
The Men's Main Stars:
PART 1.
SILVIO SAMUEL
RONNY ROCKEL
DEXTER JACKSON
HIDE YAMAGISHI
PHIL HEATH
JAY CUTLER
FLEX WHEELER
RICH GASPARI
FLEX LEWIS
QUINCY TAYLOR
BILL GRANT
DON LONG
AHMAD HAIDAR
MOE ELMOUSSAWI
CHRISTIAN BOEVING
MARK ALVISI
DAVE GOODIN
KENT KUEHN
VICTOR KONOVALOV
EDDIE ABBEW
MARCUS HALEY
SAMIR BANNOUT
JOHNNIE JACKSON
MOHAMAD BANNOUT
MARK DUGDALE
MARC LAVOIE
MARTIN KJELLSTROM
TAMER EL SHAHAT
CON DEMETRIOU
OMAR DECKARD
OLIVER ADZIEVSKI
TROY ALVES
AIMAN FAOUR
BRANDON CURRY
JEROME FERGUSON
TERRY BRATCHER
SAM OLDHAM
TREVOR PRANGLEY
STRONGMAN & STREET DANCE COMPETITION HIGHLIGHTS

The Women's Main Stars:

PART 2.
TIMEA MAJOROVA
MARIKA JOHANSSON
CHRISTINE POMPONIO-PATE
CORY EVERSON
NORMA CARRASQUILLA
ROSA-MARIA ROMERO
JENNIFER NICOLE LEE
CATHY LEFRANCOIS
RAYE HOLLITT
TANJI JOHNSON
LAUREN POWERS
SHERRY GOGGIN
RUTH SILVERMAN
GISELLE
& MANY MORE!
Please click here for the RESULTS from the 2009 Iron Man Pro.
NTSC DVD, OPEN REGION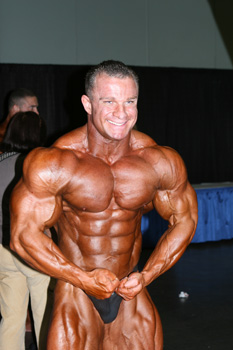 Rosa-Maria Romero at the Expo Ronny Rockel backstage