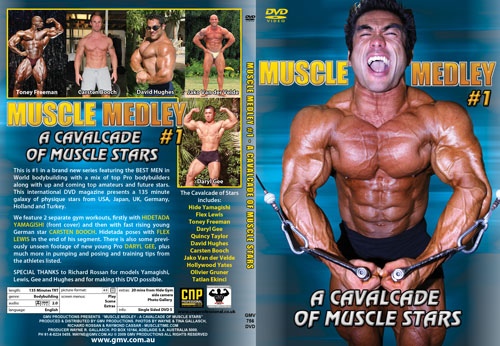 Click here for preview clip.

Muscle Medley #1 - A Cavalcade of Muscle Stars!

Digital Download.
This is #1 in a brand new series featuring the BEST MEN in World bodybuilding, with a mix of top Pro bodybuilders along with up and coming top amateurs and future stars. This international DVD magazine presents a 135 minute galaxy of physique stars from USA, Japan, UK, Germany, Holland and Turkey.
We feature 2 separate gym workouts, firstly with HIDETADA YAMAGISHI (pictured front cover above) and then with fast rising young German star CARSTEN BOOCH. Carsten is a new young German athlete who can go a long way in the sport.
*Click here for the CARSTEN BOOCH PHOTO GALLERY.
See group photo bottom of the page from the Carsten Booch shoot in Germany.

Hidetada poses with FLEX LEWIS in the end of his segment. There is also some previously unseen footage of new young Pro DARYL GEE, plus much more in pumping and posing and training tips from the following athletes:
The Cavalcade of Muscle Stars includes:
Hidetada Yamagishi
Flex Lewis
Toney Freeman
Daryl Gee
Quincy Taylor
David Hughes
Carsten Booch
Jako Van der Velde
Hollywood Yates
Olivier Gruner
Tatlan Ekinci

Please click here for Muscle Medley #2, GMV-757DVD.

Running Time Main Movie: 115 mins.
Extra Scenes: 20 mins from Hide Gym Workout from our second camera.
TRT: 135 mins
EXTRAS include a MASSIVE PHOTO GALLERY.
SPECIAL THANKS to Richard Rossan for models Yamagishi, Lewis, Gee and Hughes and for making this DVD possible.
PHOTOGRAPHERS: Richard Rossan, Raymond Cassar & Wolfgang Koellerer (Hidetada cameraman) - Muscletime.com, Wayne & Tina Gallasch.
DEDICATION.
This DVD is dedicated to the memory of our long time GMV interviewer Kenny Kassel who passed away soon after these interviews were shot. Kenny old friend, you voice and image will live on for ever in our DVDs. You are greatly missed by all of us. Wayne Gallasch, GMV.
Please click here to see our tribute page to KENNY KASSEL, RIP.

NTSC DVD, OPEN REGION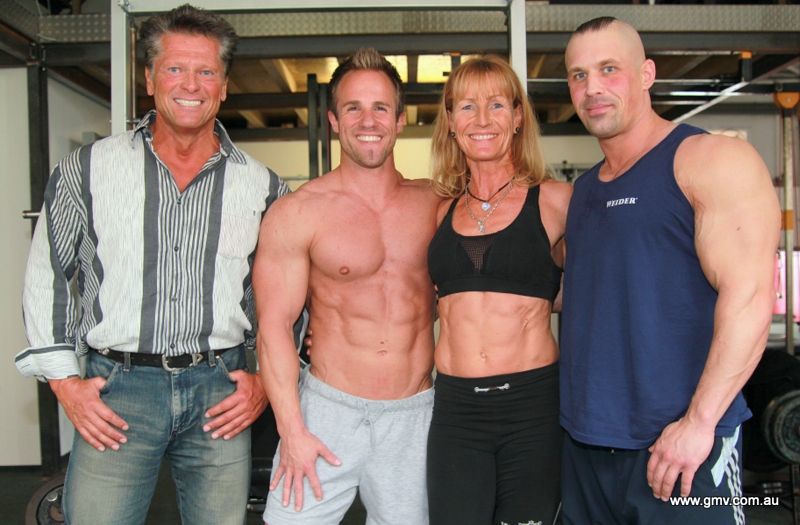 L to R - Wilfried Dubbels, Carsten Booch, Claudia Ilsemann & Stefan Riemenschneider.