Muscle Medley # 2 - The Stars Pump & Pose

Digital Download.
The Second Cavalcade of Muscle Stars!
This is #2 in a brand new series featuring the BEST MEN in World bodybuilding, with a mix of top Pro bodybuilders along with up and coming top amateurs and future super stars. This international DVD magazine presents a 130 minute galaxy of physique stars from USA, UK, Germany, Lebanon, Australia, Holland and Belgium.
FRONT COVER PHOTOS: Phil Heath & Victor Martinez, and lower photo is Ivan Sadek taken by Gary Phillips during the shooting of our video segment at Doherty's Gym on the day after the 2009 Australian Pro Grand Prix.
We feature 2 separate gym workouts, firstly with top German amateur star STEFAN RIEMENSCHNEIDER, and then with fast rising young USA NPC star WILL FURNER. Plus much more in pumping and posing, brief interviews and training tips from the following athletes:
The Cavalcade of Muscle Stars includes:
RANDY COUTURE – UFC CHAMPION
FRANK CUPPENS – FITNESS MODEL
RICH GASPARI – CEO GASPARI NUTRITION/IFBB LEGEND
STEFAN RIEMENSCHNEIDER – IFBB GERMAN STAR
VICTOR MARTINEZ – IFBB PRO
IVAN SADEK – IFBB PRO (INCLUDES MICHAEL KEFALIANOS)
LEON BROWN – THE BROWN BOMBER – IFBB LEGEND
CHARLIE POOLE – FITNESS MODEL
PHIL HEATH – IFBB PRO
MATTHIAS BOTTHOF – IFBB PRO
RICHARD MEDINA – FITNESS MODEL
WILL HARRIS – IFBB PRO
2003 IRON MAN PRO – PUMP ROOM HIGHLIGHTS
SIGGI SEGERS – IFBB PRO
CHRIS CORMIER – IFBB PRO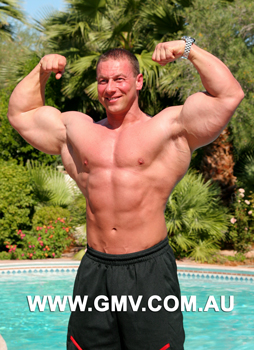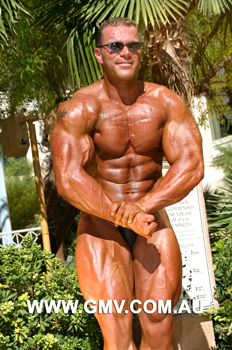 Matthias Botthof Siggi Segers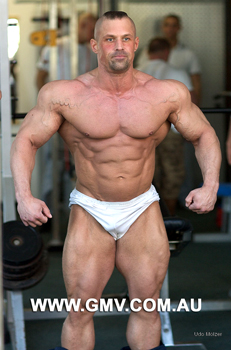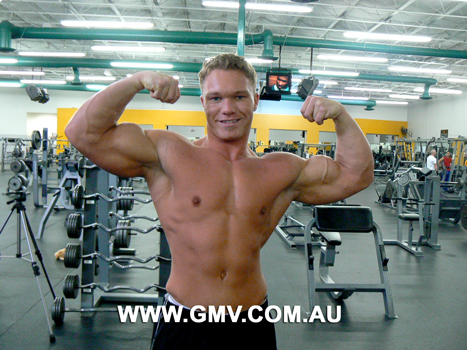 Stefan Riemenschneider Will Furner

Pl
ease click
here for
Muscle Medley #1
,
GMV-756DVD
.
Extra Scenes:
Phil Heath guest posing in UK
NPC star Will Furner
Photo Gallery
Running time: 130 mins
EXTRAS include a MASSIVE PHOTO GALLERY.
SPECIAL THANKS: Richard Rossan for models WILL FURNER, FRANK CUPPENS, CHARLIE POOLE, RICHARD MEDINA & SIGGI SEGERS and for making this DVD possible.
PHOTOGRAPHERS: Richard Rossan, Clive Jaques, Gary Phillips, & Wayne & Tina Gallasch.
NTSC DVD, OPEN REGION