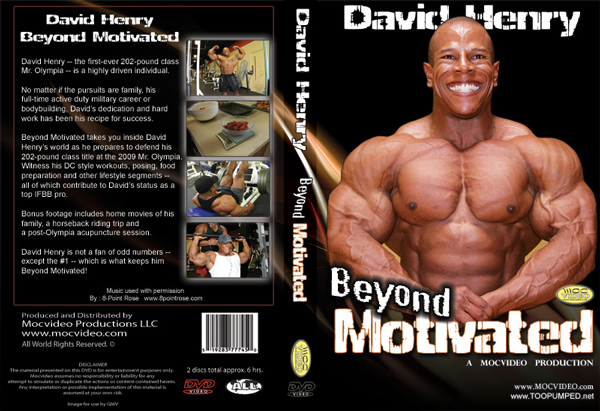 DAVID HENRY BEYOND MOTIVATED 2 DVD Set.

3 Part Video Download Set:.

Download Part 1 includes Leg workout, Pistol range, Massage therapy etc.
Download Part 2 includes Chest, shoulders and triceps, Posing practice + Sushi,
Nicky (David's wife) speaks, BBQ and home time.
Download Part 3 includes Back & biceps, in-depth interview with David, and post-Olympia acupuncture.

*****************************************************************************************************

This NEW RELEASE FROM MOCVIDEO is a MASSIVE 2 DVD set on the world's best 202 Class athlete, David Henry. It is around 6 hours long.

DAVID HENRY became THE FIRST-EVER 202 POUND CLASS OLYMPIA winner in 2008.
David is a highly motivated, highly driven individual who accepts nothing less than perfection. No matter if the pursuits are his family, his full-time active duty military career, or his pro bodybuilding career, David's dedication, hard work and positive attitude have all contributed to his blueprint for success.
Coming from a military background, David knows all about discipline, determination, dedication, never giving up, and sticking to one's goals.
"Beyond Motivated" takes you inside David Henry's world as he prepares to defend his 202-pound class title at the 2009 IFBB Olympia 202 Showdown.
Witness his incredible hard core workouts, posing and posing practice, food preparation, and other lifestyle segments -- all of which contribute to David's status as a top IFBB Pro.
BONUS FOOTAGE:
Includes home movies of his family
Horseback riding trip
Post Olympia acupuncture session with Dr. Scott Stevenson
David Henry is not a fan of odd numbers -- except the number 1 -- which is what keep's him "beyond motivated"!
Please click here for A-1286DVD to see David winning the first ever 202 Class Showdown, at the 2008 Mr. Olympia.
Please click here for David's first DVD, "David Henry - Monster Muscle Workout", A-1189DVD.
Please click here for David's second DVD, "David Henry / Xtreme Measures", A-1278DVD.

Running time: 360 mins
David Henry Contest History:
2001
Nationals - NPC, MiddleWeight, 11th
2002
Nationals - NPC, MiddleWeight, 1st
USA Championships - NPC, MiddleWeight, 2nd
2004
Florida Pro Xtreme Challenge - IFBB, 10th
Iron Man Pro Invitational - IFBB, 6th
San Francisco Pro Invitational - IFBB, 8th
2005
Arnold Classic - IFBB, 12th
Europa Supershow - IFBB, 4th
Iron Man Pro Invitational - IFBB, 7th
Olympia - IFBB, 14th
Olympia Wildcard Showdown - IFBB, Winner
San Francisco Pro Invitational - IFBB, 7th
Toronto Pro Invitational - IFBB, 7th
2006
Arnold Classic - IFBB, 11th
Colorado Pro Championships - IFBB, 3rd
Iron Man Pro Invitational - IFBB, 2nd
New York Pro Championships - IFBB, 4th
Olympia - IFBB, Did not place
2007
Arnold Classic - IFBB, 14th
Atlantic City Pro - IFBB, 3rd
Colorado Pro Championships - IFBB, 5th
Iron Man Pro Invitational - IFBB, 6th
Olympia - IFBB, 10th
2008
Arnold Classic - IFBB, 12th
Iron Man Pro Invitational - IFBB, 12th
New York Pro Championships - IFBB, Open, 4th
New York Pro Championships - IFBB, 202 Class, 2nd
Olympia - IFBB, 202 Class, 1st
Olympia - IFBB, 15th
Tampa Bay Pro - IFBB, Open, 3rd
Tampa Bay Pro - IFBB, 202 Class, 1st
2009
New York Pro Championships - IFBB, 202 Class, 3rd
Olympia - IFBB, 202 Class, 2nd
Tampa Bay Pro - IFBB, 202 Class, 1st

2010
Battle of Champions - IFBB, LightWeight, 2nd
Jacksonville Pro - IFBB, Winner
Olympia - IFBB, LightWeight, 2nd
2012
Europa Supershow - IFBB, LightWeight, 1st
Olympia - IFBB, LightWeight, 2nd
Sheru Classic - IFBB, LightWeight, 1st
2013
Olympia - IFBB, LightWeight, 2nd
Phoenix Pro - IFBB, LightWeight, 1st
Sheru Classic - IFBB, LightWeight, 1st
2014
Arnold Classic - IFBB, LightWeight, 2nd
Grand Prix Australia - IFBB, 7th
Korean Grand Prix - IFBB, LightWeight, 5th
Olympia - IFBB, LightWeight, 9th
2015
Korean Grand Prix - IFBB, LightWeight, 3rd
Olympia - IFBB, LightWeight, 4th
Prague Pro Championships - IFBB, LightWeight, 2nd
2016
Arnold Classic - IFBB, LightWeight, 3rd
Korean Grand Prix - IFBB, 2nd
Olympia - IFBB, LightWeight, 5th
2017
Arnold Classic - IFBB, LightWeight, 2nd
Korean Grand Prix - IFBB, LightWeight, 4th
Olympia - IFBB, LightWeight, 4th
2018
Arnold Classic - IFBB, LightWeight, 4th
Olympia - IFBB, LightWeight, 6th

NTSC DVD, OPEN REGION